USMNT completes Gold Cup group play tonight vs. Panama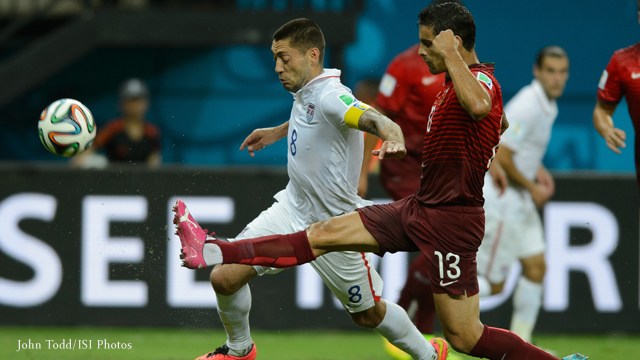 U.S. Men's National Team vs. Panama
Gold Cup – Group A
Sporting Park; Kansas City, Kansas
July 13, 2015 | 8:30 p.m. CT on Fox Sports 1
(Via U.S. Soccer) – After clinching the top spot in Group A with a 1-0 win against Haiti in front of a record-setting crowd at Gillette Stadium in Foxborough, Mass., the U.S. Men's National Team continues its title defense in the final match of group play in the 2015 Gold Cup against Panama at Sporting Park in Kansas City.
The matchup will be the second between the two teams in 2015, with the first head-to-head taking place in February in Carson, Calif., where goals from Clint Dempsey and Michael Bradley secured a 2-0 win for the U.S.
It was just two years ago that Los Canaleros  faced the USA in the Gold Cup final. Alejandro Bedoya set up Brek Shea for the game-winning goal and the U.S. won 1-0 to earn its fifth Gold Cup trophy. That win was the fourth in the line of the MNT's current streak of six straight wins against Panama. In October of 2013, the teams met in the final match of CONCACAF qualifying for the World Cup. The U.S. had already advanced, while a win for Panama would have seen them advance to an intercontinental playoff with New Zealand for a place in the 2014 FIFA World Cup. Panama held a 2-1 lead heading into second-half stoppage time, but Graham Zusi and Aron Johannsson both struck before the final whistle, eliminating the Central American team from contention for Brazil.
This game is another high-stakes matchup for Panama, which currently sits precariously in second place in Group A with two points, one ahead of both Haiti and Honduras. A win fo rLos Canaleros would guarantee advancement; anything less and the team would need to depend on other results to determine their advancement.
U.S. ROSTER NOTES:
The MNT has won its group in 12 of the 13 Gold Cups.
The U.S. is now 50-7-6 all-time in Gold Cup matches and 30-1-2 all-time in the group stage.
Clint Dempsey scored his second straight game-winning goal in the win against Haiti, which pushed his career total to eight Gold Cup goals. That ties Brian McBride for third-most in MNT history behind Eric Wynalda (9) and Landon Donovan (18).
Dempsey has now scored in three straight MNT matches and has increased his career total to 44 international goals, which ranks second on the USA's all-time list. Dempsey has scored five times in 2015
Two USA players made their Gold Cup debuts in the game against Haiti: Greg Garza and Aron Johannsson.
Against Haiti, defender Tim Ream made his first start since June 11, 2011 when the U.S. faced Panama in Gold Cup play.
The U.S. MNT has set attendance records in three straight games: #USAvGUA in Tennessee was the most-attended soccer match in state history, #USAvHON was the most-attended international match at Toyota Stadium in Frisco, Texas, and #USAvHAI was the most-attended MNT Gold Cup match at Gillette Stadium.
Ten MNT players have made their Gold Cup debuts in this tournament: Brad Guzan, Greg Garza, Timmy Chandler, Ventura Alvarado, John Brooks, Aron Johannsson, Fabian Johnson, DeAndre Yedlin, Gyasi Zardes and Graham Zusi.
Michael Bradley has played every minute of the USA's ten matches so far in 2015. In addition to Bradley, Gyasi Zardes has appeared in all ten games this year.
Chris Wondolowski (5), Kyle Beckerman, Bradley, and Mix Diskerud have all scored goals in previous Gold Cups. All five of Wondolowski's goals came in the 2013 Gold Cup, where he tied with Landon Donovan for the tournament's Golden Boot.
Sixteen players on this roster were a part of the 2014 FIFA World Cup squad, marking the highest return rate of players between the two rosters in years that the Gold Cup has followed the FIFA World Cup (1991, 2003, 2007, 2011, 2013).
Six players were a part of the USA team that won the Gold Cup in 2013: Kyle Beckerman, Alejandro Bedoya, Diskerud, Omar Gonzalez, Nick Rimando and Wondolowski.
The USA has reached the Gold Cup Final in five straight tournaments and six out of the last seven. The team finished in third place in 2003 after losing to a Kaka-led Brazil.
Dempsey (17), Bradley (13) and Beckerman (12) have all played in more than 10 Gold Cup games. Wondolowski (9) and Bedoya (8) have also seen their share of Gold Cup action.
Twelve players on the roster have previously played in a Gold Cup, of which nine have lifted the trophy.
At the start of the tournament, 23 players on the roster averaged 30 international appearances with 14 having played in a minimum of 20 matches for the U.S. MNT.
The USA has won the Gold Cup five times (1991, 2002, 2005, 2007, 2013) and finished as the runner-up four times (1992, 1998, 2009, 2011). The MNT has finished outside of the top four only once (2000).
Dempsey is the only two-time winner (2005, 2007) and the only four-time participant on the roster.
Nine different players from this roster have scored for the USA in 2015: Jozy Altidore, Bradley, John Brooks, Timmy Chandler, Dempsey, Diskerud, Aron Johannsson, Wondolowski and Gyasi Zardes.
Michael Bradley is the captain for the MNT for the USA's run in the Gold Cup. Bradley has started as the team's captain in eight straight matches.
Brad Evans assisted on the game-winning goal in the team's 2-1 win against reigning World Cup champion Germany on July 10 in Cologne. He has appeared in both Gold Cup games in this edition of the tournament, starting against Haiti
Tim Ream has earned honors as the Bolton Wanderers Player of the Year in each of the last two seasons.
Against Netherlands on

June 5

, Brad Guzan made his first appearance since he played against Colombia on Nov. 14, 2014. It was his first start of 2015. Also picking up wins against Germany, Guatemala and Honduras and Haiti, Guzan is a perfect 5-0-0 in 2015.
Fabian Johnson helped lift Borussia Mönchengladbach to a third-place finish in the Bundesliga that earned the club a spot in the 2016 UEFA Champions League group stage. The German side went 10-0-2 with Johnson in the starting lineup this season.
Johannsson recorded four goals in his final three matches as AZ Alkmaar snatched the third spot in the Dutch Eredivisie and a place in the 2016 UEFA Europa League.
Alfredo Morales played a key role in FC Ingolstadt securing first place in the second division in Germany and subsequent promotion to the Bundesliga.
Zusi was both part of the team that represented the U.S. in the World Cup last summer and this year's Gold Cup roster. He made his first appearance of 2015 in the match against Guatemala on July 3 in Nashville.
William Yarbrough, 26, was born and raised in Mexico to two American parents. He has marshaled the backline for Club Leon to the 2013 Apertura and 2014 Clausura titles.
Ventura Alvarado, who is now cap-tied to the U.S. after starting in the match against Honduras on July 7, has appeared in seven straight matches since making his debut in a U.S. uniform on

March 25

against Denmark. Alvarado is a regular starter for the Club America team that captured the CONCACAF Champions League title and a trip to the FIFA Club World Cup. He has started four of the last five games for the U.S. MNT, in which the team is 4-0-0.
Seven leagues from six countries are represented on the roster: Canada, England, Germany, Mexico, Netherlands and the United States.
Dempsey leads the team in points with 10 in 2015 on five goals.
Through two matches, U.S. head coach Jurgen Klinsmann has utilized 19 of the 23 players on the U.S. roster.
USA vs. Panama:
The U.S. and Panama met in a friendly earlier this year, with goals from Clint Dempsey and Michael Bradley helping the U.S. to a 2-0 win on

Feb. 8

at StubHub Center in Carson, Calif.
In 13 editions of the Gold Cup, the MNT has only lost once in the group stage. That loss came against Panama on June 11, 2011 in Tampa. Since then, the U.S. has defeated Panama six straight times.
Five of the players that appeared in the 2013 Gold Cup final for the U.S. are on the current roster: Nick Rimando, Kyle Beckerman, Mix Diskerud, Omar Gonzalez and Alejandro Bedoya.
The game is a rematch of the 2013 Gold Cup final where Brek Shea's 69th minute strike gave the U.S. a 1-0 victory on

July 28

at Chicago's Soldier Field. The teams also played to a 0-0 draw in the 2005 Gold Cup final before the U.S. defeated Panama 3-1 on penalty kicks at Giants Stadium in East Rutherford, N.J.
Clint Dempsey is the only player on the U.S. roster to have appeared in the 2005  final. Panama goalkeeper Jaime Penedo manned the net that day.
The MNT won both of its World Cup Qualifiers against Panama in 2013. The win in October eliminated Panama from contention in the 2014 FIFA World Cup in Brazil
This will be the fifth game between the teams during Jurgen Klinsmann's tenure as head coach. Klinsmann has never lost to Panama while at the helm, earning a perfect 5-0-0 record.
The United States is 12-1-2 all-time against Panama, and 5-1-1 in the Gold Cup.
The USA is 3-0-0 all-time at Sporting Park and 1-0-0 in Gold Cup games, with the lone game being a 1-0 W against Guatemala in 2011.
Clint Dempsey and Graham Zusi have both scored two goals in previous matches against Panama. Jozy Altidore, Kyle Beckerman, Michael Bradley and Aron Johannsson have also scored against los Canaleros.
The U.S. MNT is 5-0-2 all-time in the team's third Gold Cup group game.
Panama goalkeeper and Jaime Penedo is teammates with Omar Gonzalez and Gyasi Zardes at LA Galaxy.
Last time out:
The USA completed clinched the top spot in Group A with its 1-0 win against Haiti on July 3 in front of a record crowd of 46,720 fans in Foxborough, Mass., the most to ever view a MNT Gold Cup game at Gillette Stadium.
The win was 50th all-time victory for the USA in CONCACAF Gold Cup play
Brad Guzan earned his 11th career shutout and preserved his perfect record in 2015 (5-0-0)
Clint Dempsey scored his second-straight game-winning goal
The win clinched a spot in the

July 18

quarterfinal in Baltimore.
Jurgen Klinsmann Fact File
Jurgen Klinsmann became the 35th head coach in the history of the U.S. Men's National Team on July 29, 2011. Here is a look at the program's achievements since that time:
Overall, Klinsmann has a 40-17-12 record, third on the U.S. MNT's all-time coaching wins list. The top five include: Bruce Arena (71), Bob Bradley (43), Klinsmann (34), Bora Milutinovic (30) and Steve Sampson (26).
He won a record-setting 13 straight games at home from June 2, 2013 to Feb. 1, 2014, and has guided the team to an unbeaten record of 17-0-3 in its past 20 matches on home soil.
He led the MNT to a 12-game winning streak in 2013, the longest in program history.
The U.S. finished 2013 with a 16-4-3 record. The 16 victories and .761 winning percentage are all-time U.S. MNT records for a calendar year.
The U.S. finished the final round of 2013 CONCACAF World Cup qualifying atop the Hexagonal with a 7-1-2 overall record, including an unblemished 5-0-0 home record that was achieved by pitching clean sheets in all five matches.
The team won six straight games en route to capturing the 2013 CONCACAF Gold Cup, during which the squad scored a tournament-record 20 goals. Klinsmann is 8-0-0 in the Gold Cup with the USA.
Committed to challenging the group against the best, under Klinsmann, the United States has a 4-3-2 record against teams ranked in the top 10 in the world. With Klinsmann at the helm, the U.S. has also collected six historic victories:
o Beating four-time World Cup champion Italy for the first time
o Earning the first win against Mexico on Mexican soil
o Defeating Jamaica on the road for the first time in World Cup Qualifying
o Topping second-ranked Germany in U.S. Soccer's Centennial Celebration Match
o Beating Netherlands and Germany on the road this June
Klinsmann's U.S. coaching debut was a 1-1 draw against Mexico on Aug. 10, 2011, at Lincoln Financial Field in Philadelphia. During Klinsmann's abbreviated 2011 tenure, the USA's two victories included a 1-0 win against Honduras (

Oct. 8

) and a 3-2 victory against Slovenia (

Nov. 15

).
Klinsmann was named Germany's National Team manager in 2004 and guided Germany to a 20-6-8 record and a third-place finish in the 2006 FIFA World Cup. He earned Coach of the Year honors in Germany, and two years later, he took over the head coaching position at Germany's most high-profile club, Bayern Munich.
As a player, Klinsmann played 17 club seasons from 1981-98 with the following teams: Stuttgarter Kickers (1981-84), VfB Stuttgart (1984-89), Internazionale (1989-92), Monaco (1992-94), Tottenham Hotspur (1994-95, 97-98), Bayern Munich (1995-97) and Sampdoria (1997-98). During that time, he scored 226 goals in 506 appearances. He was named German Player of the Year in 1988 and 1994 and FWA Footballer of the Year in 1995.
Klinsmann earned 108 caps with the German National Team, scoring 47 goals. He participated in three World Cups (1990, 1994 and 1998) and won the 1990 FIFA World Cup.
Klinsmann was born on July 30, 1964, in Goppingen, Germany.
IN FOCUS: Panama
Federación Panameña de Fútbol
Founded: 1937
FIFA Affiliation: 1938
Head Coach: Hernan Gomez
FIFA World Ranking: 62
Best World Cup Finish: Never Qualified
Best Gold Cup Finish: Runners-up: 2005, 2013
Leading Cap-Winner: Gabriel Gomez (111)
Leading Goalscorer: Luis Tejada (38)
Guatemala Roster By Position:
GOALKEEPERS (3) – Jose Calderon (Coatepeque/Guatemala); Luis Mejia (CA Fenix/Uruguay); Jaime Penedo (LA Galaxy/USA)
DEFENDERS (6) – Harold Cummings (Independiente Santa Fe/Colombia); Erick Davis (Sporting San Miguelito/Panama); Luis Henriquez (Lech Poznan/Poland); Adolfo Machado (Saprissa/Costa Rica); Angel Patrick (Arabe Unido/Panama); Roman Torres (Millonarios/Colombia)
MIDFIELDERS (8)  – Miguel Camargo (Chorrillo FC/Panama); Armando Cooper (FC St. Pauli/Germany); Anibal Godoy (Budapest Honved/Hungary); Gabriel Gomez (Herediano/Costa Rica); Valentin Pimentel (Plaza Amador/Panama); Darwin Pinzon (Sporting San Miguelito/Panama); Alberto Quintero (Lobos BUAP/MEX); Alfredo Stephens (Chorrillo FC/Panama);
FORWARDS (6) – Abdiel Arroyo (Arabe Unido/Panama); Rolando Blackburn (Comunicaciones/Guatemala); Roberto Nurse (Dorados Sinaloa/Mexico); Blas Perez (FC Dallas/USA); Luis Tejada (Juan Aurich/Peru); Gabriel Torres (Colorado Rapids/USA);
PANAMA NOTES:
Luis Henriquez and Adolfo Machado are suspended from this match after earning yellow cards in consecutive games.
Panama is 10-9-9 all-time in the Gold Cup.
Thirteen players from this roster were a part of the 2013 Panama team that advanced to the Gold Cup Final.
Panama head coach Hernan Dario Gomez is an experienced manager having helmed Colombia, Ecuador, and Guatemala before taking over Panama in 2014. He led Ecuador to its first World Cup in 2002.
Seven players on the roster play for clubs in Panama.
Three players on the roster play in MLS, Gabriel Torres (Colorado Rapids), Jaime Penedo (LA Galaxy) and Blas Perez (FC Dallas)
Jaime Penedo earned the Golden Glove in the 2013 Gold Cup, and Gabriel Torres tied with Chris Wondolowski and Landon Donovan for the Golden Boot. Penedo also earned Golden Glove honors in the 2005 Gold Cup.
Blas Perez 's 10 goals are the third-most in Gold Cup history, and the most among active players. With one more goal, he'll tie Mexico's Luis Roberto Alves on the all-time list, who scored 11 of his 12 goals in the 1993 tournament. Perez scored three goals in 2013 to help Panama to their second final.
On the field against Panama:  
July 11, 2015 – StubHub Center – Carson, California – International Friendly 
USA                2          Michael Bradley 27′, Clint Dempsey, 37′
Panama          0         
Lineups:USA: 1-Nick Rimando (12-Sean Johnson, 46); 2-DeAndre Yedlin (3-Matt Hedges, 72), 13-Jermaine Jones, 5-Matt Besler, 11-Brek Shea; 4-Michael Bradley, 10-Mix Diskerud (15-Perry Kitchen, 72); 20-Gyasi Zardes, 8-Clint Dempsey (capt.) (14-Luis Gil, 81), 19-Miguel Ibarra (7-Lee Nguyen, 79); 17-Jozy Altidore (18-Chris Wondolowski, 46)
Subs Not Used:6-Wil Trapp, 16-Shane O'Neill, 21-Dillon Serna
Head coach: Jurgen Klinsmann 
PAN: 1-Jaime Penedo (capt.); 2-Leonel Parris, 5-Fidel Escobar (23-Chin Hormechea, 46), 3-Harold Cummings, 17-Luis Ovalle (11-Hécgar Murillo, 46); 8-Marcos Sánchez (16-Yairo Glaize Yau, 46), 13-Alfredo Stephens (22-Ismael Díaz, 55), 20-Aníbal Godoy, 15-Éric Davis; 7-Blas Pérez (21-Ricardo Buitrago, 56), 9-Rolando Blackburn (4-Luis Pereira, 63)
Subs Not Used: 6-Michael Amir Murillo, 10-Gabriel Torres, 12-José Calderón, 19-Jhamal Rodríguez
Head Coach: Hernan Dario Gomez