USA facing Nigeria on Friday in FIFA U-17 Women's World Cup quarterfinals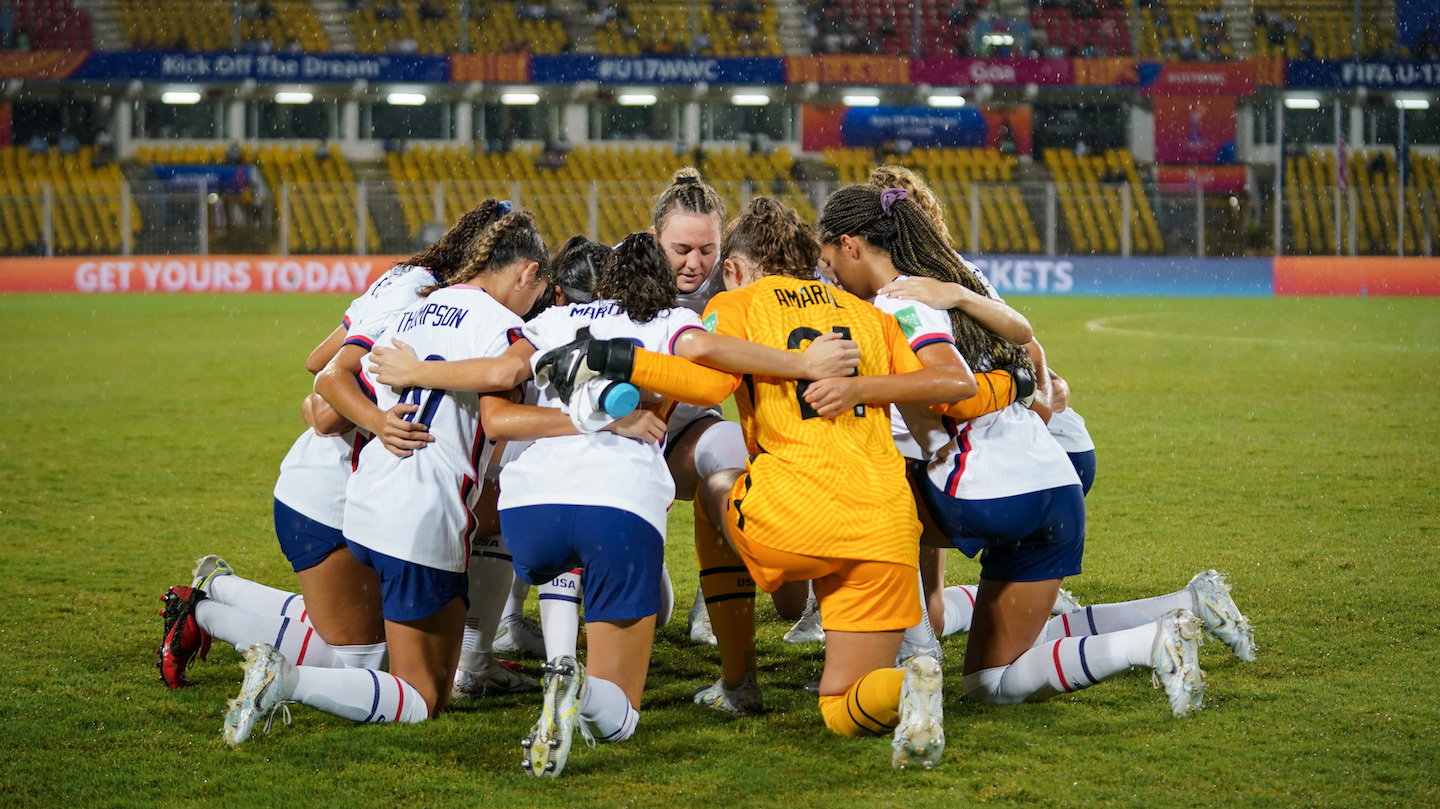 U.S. Under-17 Women's Youth National Team vs. Nigeria
2022 FIFA Under-17 Women's World Cup – Quarterfinal
DY Patil Stadium; Navi Mumbai, India
Oct. 21 – 7 a.m. ET
FS2, Universo
U-17 WYNT TRAVELS TO NAVI MUMBAI TO FACE NIGERIA IN THE QUARTERFINAL:
After scoring 13 goals in Group A play to top the group, the U.S. Under-17 Women's National Youth Team has earned a quarterfinal match against Group B runner-up Nigeria on Friday, Oct. 21, at DY Patil Stadium in Navi Mumbai (7 a.m. ET; FS2, Universo).
The 13 goals were the most scored by any team in the tournament during group play and the USA's run marked the first time in five trips to the U-17 Women's World Cup that the red, white and blue has won the group. It was also the first time the U.S. has advanced out of the group in this tournament since 2008, when it made it all the way to the FIFA U-17 Women's World Cup Final before losing to Korea DPR, 2-1, in overtime.
The USA will travel to its third, and by far largest, city in India for the quarterfinal match, Navi Mumbai. There, it will play at the DY Patil Stadium, which seats 37,700 for this tournament.
Germany finished first in Group B after rolling past New Zealand, 3-1, while resting several starters and will play Group A runner-up Brazil in its quarterfinal contest. After some dramatic finishes in Groups C and D on the last matchdays of those groups, all four quarterfinals are now set. Every quarterfinal match will be broadcast on FS2.
2022 FIFA U17 WOMEN'S WORLD CUP
QUARTERFINAL MATCHES
FRIDAY, OCT. 21
USA vs. Nigeria (7 a.m. ET)
Germany vs. Brazil (10:30 a.m. ET)
SATURDAY, OCT. 22
Colombia vs. Tanzania (7 a.m. ET)
Japan vs. Spain (10:30 a.m. ET)
GROUP C
Group C finished in dramatic fashion as Colombia beat Mexico, 2-1, and Spain, despite totally dominating China PR, could only score once. That meant that Colombia not only advanced to the knockout stage of the U-17 Women's World Cup, but also won the group. Had Spain scored two more goals (and it did out-shoot China PR, 26-4), it would have won the group based on more goals scored than Colombia. As it finished, 2018 champion Spain will have to face tournament favorite Japan in the quarterfinal, while Colombia will take on tournament darling Tanzania.
GROUP D
While Japan had clinched advancement and for all intents and purposes, the group title, after two games, the three other teams were still alive for a quarterfinal berth heading into the final matchday of this group. The second-place spot ended up going to upstart Tanzania, which drew 1-1 with Canada, a result which knocked the Canadians out of the World Cup and secured advancement for the Serengeti Girls in their first U-17 Women's World Cup appearance. France needed to beat Japan in the other Group D match to advance but fell 2-0 to a very talented Japanese side. Tanzania's historic 2-1 win against France earlier in group play proved to be vitally important to the advancement of the Women's World Cup debutante. Japan scored 10 goals through group play without conceding once.
DEPTH AND TALENT SPUR U-17 WYNT:
All 18 field players and two goalkeepers have seen action for the USA so far at the 2022 FIFA Under-17 Women's World Cup. U.S. head coach Natalia Astrain made seven changes to the starting lineup from the second group game to the third, giving some players valuable rest as the knockout round begins. Fourteen players have played between 136 and 199 minutes so far out of the 270 in group play, and only four field players have played under 100 minutes, but they are forward Nicollette Kiorpes (who scored against Brazil), forward Samantha Smith (who came on in the second half against Morocco to earn her first U-17 cap and scored twice), forward Amalia Villarreal (who assisted on two goals vs. Morocco) and midfielder Ella Sanchez (who also played a part in setting up two goals vs. Morocco).
2022 U.S. UNDER-17 WOMEN'S WORLD CUP TEAM ROSTER BY POSITION (CLUB; HOMETOWN; CAPS/GOALS): 
GOALKEEPERS (3): Abigail Gundry (NC Courage; Wake Forest, N.C.; 5), Victoria Safradin (Internationals SC; Eastlake, Ohio; 9), Valentina Amaral (Florida Kraze Crush; Oviedo, Fla.; 3)                     
DEFENDERS (6): Ella Emri (San Diego Surf; San Diego, Calif.; 6/1), Nicola Fraser (Real Colorado National; Highlands Ranch, Colo.; 11/1), Jorydn Bugg (San Diego Surf; El Cajon, Calif.; 3/0), Savannah King (Slammers FC HB Koge; West Hills, Calif.; 11/0), Cameron Roller (Solar SC; Sherman, Texas; 11/1), Gisele Thompson (Total Futbol Academy; Studio City, Calif.; 12/1)
MIDFIELDERS (5): Mia Bhuta (Internationals SC; Pittsburgh, Pa.; 13/3), Riley Jackson (Concorde Fire; Roswell, Ga.; 11/2), Charlotte Kohler (MVLA; Woodside, Calif.; 11/9), Lauren Martinho (NC Courage; Cary, N.C.; 13/5), Ella Sanchez (Racing Louisville; Louisville, Ky.; 5/0)                                           
FORWARDS (7): Emeri Adames (Solar SC; Red Oak, Texas; 6/2), Onyeka Gamero (Beach FC; Cerritos, Calif.; 11/6), Nicollette Kiorpes (NEFC; Worcester, Mass.; 9/6), Melina Rebimbas (PDA; Warren, N.J.; 13/10), Samantha Smith (Boise Thorns FC; Boise, Idaho; 1/2), Taylor Suarez (Charlotte SA; Charlotte, N.C.; 11/3), Amalia Villarreal (Michigan Jaguars FC; Lansing, Mich.; 12/8)
ROSTER NOTES:
Defender Cameron Roller leads the USA in minutes played in this tournament with 225. Charlotte Kohler has logged 199 and Lauren Martinho has played 197. Roller is the only player with 200+ minutes played.
The USA's 13 goals in the tournament are the most so far of any of the 16 teams. Germany has scored 11.
Nine different players have scored for the USA over the three matches and six different players have assists.
With her brace against India, forward Melina Rebimbas tallied her team-leading ninth and 10th career international goals. Kohler is right behind her for the team lead with nine international goals.
Kohler is tied with Germany's Loreen Bender, Colombia's Linda Caicedo and Japan's Momoko Tanikawa for the tournament lead with three goals apiece.
Riley Jackson and Amalia Amaral are tied for with two other players for second in assists in the tournament with two each.
Rebimbas' brace was the sixth individual multi-goal game in the USA's history at the U-17 WWC. Against Morocco, Kohler and Smith picked up the seventh and eight multi-goal games, respectively.
The win against India in the first game marked the USA's largest ever in a U-17 Women's World Cup. The team's previous biggest margin of victory came against Gambia, 6-0, at Azerbaijan 2012. The eight goals are the most ever scored by the U.S. in a youth Women's World Cup match.
U.S. head coach Natalia Astrain used all five allowed subs in all three matches.
When she entered the India match as a halftime substitute, defender Jordyn Bugg earned her first U-17 WYNT cap. She also got the start and went 63 minutes against Brazil and played the final 12 minutes against Morocco.
Fifteen of the 21 players on the World Cup roster helped the USA win the Concacaf Women's U-17 Championship this spring.
The six players on the World Cup roster who were not a part of the U.S. team at World Cup qualifying are goalkeeper Valentina Amaral, defenders Ella Emri and Bugg, midfielder Ella Sanchez and forwards Emeri Adames and Smith.
The roster is made up of players from 17 different youth clubs and 13 different states. Defender Gisele Thompson plays in MLS Next for the U-17 boys' team at Total Futbol Academy in Los Angeles.
Six players hail from California, four come from North Carolina and two are from Texas. Players also come from Colorado, Idaho, Florida, Georgia, Kentucky, Massachusetts, Michigan, New Jersey, Ohio and Pennsylvania.
The youth clubs who played multiple players on the roster are the NC Courage (3), San Diego Surf (2), Solar FC (2), and Internationals SC (2).
Of the 21 players on the roster, eight are currently high school seniors, 10 are in their junior year and two are sophomores. Bhuta has graduated from high school and will enroll early at Stanford University in January.
U.S. U-17 WYNT VS. NIGERIA:
This marks the first-ever match between the USA and Nigeria in a FIFA U-17 Women's World Cup. The teams have met twice in the U-20 Women's World Cup with one of those matches coming in the quarterfinal round.
This is the sixth U-17 Women's World Cup for Nigeria and the Falconets have reach the quarterfinals in three of the past five tournaments.
This will be the USA's second consecutive meeting with an African team in this tournament after facing just three African teams in the previous four tournaments: Cameroon (3-0 win in 2018), Ghana (2-1 loss in 2016) and Gambia (6-0 win in 2012).
Nigeria had a relatively easy path to this World Cup, defeating DR Congo 8-0 on aggregate in the second round of qualifying and Egypt 6-0 in the third round, but did edge Ethiopia just 1-0 on aggregate to make the World Cup.
Opeyemi Ajakaya led Nigeria in scoring during qualifying with six goals.
Twenty of Nigeria's players are based in Nigeria, with one player, Alima Attervall Alase, based in Sweden, where she plays for IFK Göteborg and was the youngest-ever player to debut for the club's first team, doing so a few months before her 14th birthday.
In Group B play, Nigeria opened with a 2-1 loss to eventual group winner Germany on a free kick goal from Miracle Usani, then rallied to beat New Zealand, 4-0, on goals from Amina Bello, Usani, Taiwo Afolabi and Edidong Etim.
Nigeria clinched its quarterfinal spot with a victory vs. Chile, 2-1, on goals from captain Blessing Emmanuel and Bisola Mosaku.
NIGERIA 2022 FIFA U-17 WOMEN'S WORLD CUP ROSTER BY POSITION (CLUB):
GOALKEEPERS (3): 1-Faith Omilana (Naija Ratels FC), 16-Chikamso Jiwuaku (Confluence Queens FC), 21-Jessica Inyiama (Rivers Angels FC)
DEFENDERS (7): 2-Omanuzo Edafe (Rivers Angels FC), 3-Miracle Usani (Bayelsa Queens FC), 5-Tumininu Adeshina (Naija Ratels FC), 6-Shakirat Oyinlola (Naija Ratels FC), 13-Comfort Folorunsho (Delta Queens FC), 15-Edet Offiong (Abia Angels FC), 19-Blessing Sunday (Edo Queens FC)
MIDFIELDERS (6): 4-Mary Aderemi (Bayelsa Queens FC), 8-Blessing Emmanuel (Naija Ratels FC), 10-Taiwo Afolabi (Delta Queens), 11-Chidera Okenwa (Abia Angels), 12-Alima Attervall Alase (IFK Göteborg, SWE), 18-Bisola Mosaku (Prince Kazeem Football Academy)
FORWARDS (5): 7-Amina Bello (Naija Ratels FC), 9-Alvine Dah-Zossy (Osun Babes FC), 14-Yetunde Ayantosho (Osun Babes FC), 17-Opeyemi Ajakaye (FC Robo Queens), 20-Edidong Etim (Bayelsa Queens FC)