US Youth Soccer Regional Champions qualify for 2017-18 National League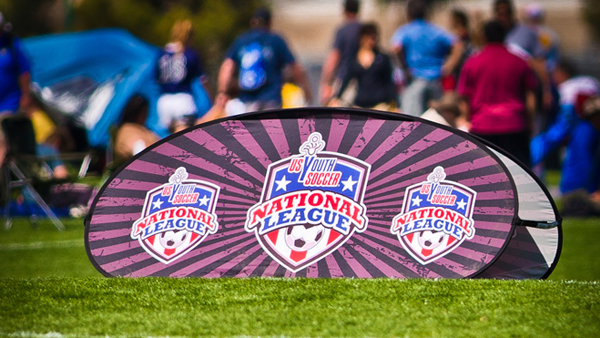 FRISCO, Texas (Via US Youth Soccer)— The US Youth Soccer Regional Championships wrapped up on July 4, as 48 Regional winners or finalists in the 13U through 17U Boys and Girls Divisions earned automatic qualification into the US Youth Soccer National League for the 2017-18 season.
The National League is an extension of the US Youth Soccer Regional Leagues (Eastern Regional League, Midwest Regional League, Southern Regional Premier League and Far West Regional League).
There are three means to earning automatic qualification into the National League:
48 Regional Championship winners/finalists (listed below)
64 returning National League division top-four finishers
124 Regional League qualifiers
For a list of qualification spots and current automatic qualifiers, click here. Should any team claim two or more automatic spots, or if a team does not accept its automatic spot, those unfilled spots are filled through an open application process, which came to a close July 6.
2017-18 National League Qualifiers | Region I Champions/Finalists
| | | |
| --- | --- | --- |
| Boys | | |
| 14U | Champion | Real JFC (NJ) |
| 15U | Champion | Beadling SC Elite (PA-W) |
| 16U | Champion | BRYC Elite 02 (VA) |
| 16U | Finalist | Delaware Rush 02 (DE) |
| 17U | Champion | Philadelphia Ukrainian Nationals 01 Black Premier (PA-E) |
| 18U | Champion | Baltimore Celtic SC 2000 (MD) |
| | | |
| Girls | | |
| 14U | Champion | SDFC 04 Yellow (NJ) |
| 15U | Champion | SDFC 03 Yellow (NJ) |
| 16U | Champion | Loudoun 02 Red (VA) |
| 16U | Finalist | Beach 02 FC (VA) |
| 17U | Champion | Greater Binghamton FC (NY-W) |
| 18U | Champions | HBC Impact 00 (NY-E) |
2017-18 National League Qualifiers | Region II Champions/Finalists
| | | |
| --- | --- | --- |
| Boys | | |
| 14U | Champion | St. Louis Scott Gallagher Pre Academy 04 (MO) |
| 15U | Champion | FC Wisconsin WDA (WI) |
| 16U | Champion | NFC 02 Blue (NE) |
| 16U | Finalist | Midwest United FC 02 Royal (MI)* |
| 17U | Champion | Javanon 2001 Black (KY) |
| 18U | Champion | Michigan Jaguars 00 Green (MI) |
| | | |
| Girls | | |
| 14U | Champion | Sporting BV (KS) |
| 15U | Champion | Nationals Union 03 Black (MI) |
| 16U | Champion | Nationals Union 02 Black (MI)* |
| 16U | Representative | Sporting OFC 2002 Elite (NE) |
| 17U | Champion | Nationals Union 01 Black (MI) |
| 18U | Champion | Midwest United FC 00 Royal (MI)* |
| 18U | Finalist | Sporting Omaha FC 2000 Elite (NE) |
2017-18 National League Qualifiers | Region III Champions/Finalists
| | | |
| --- | --- | --- |
| Boys | | |
| 14U | Champion | TSC Hurricane (OK) |
| 15U | Champion | USA/MP 2003 Premier (SC) |
| 16U | Champion | Solar Chelsea Red 02 Stricker (TX-N)* |
| 16U | Finalist | ID Club Division 02 (TX-S) |
| 17U | Champion | Tampa Bay United (FL) |
| 18U | Champion | FC Dallas 00 Premier (TX-N) |
| | | |
| Girls | | |
| 14U | Champion | Lonestar 04 Red (TX-S) |
| 15U | Champion | Tennessee SC Showcase (TN) |
| 16U | Champion | Solar Chelsea 02 Grado (TX-N) |
| 16U | Finalist | Solar Chelsea 02 Naizer (TX-N) |
| 17U | Champion | Florida Elite 2001 (FL)* |
| 17U | Finalist | SLSC Cosmos 01 Lawless (OK) |
| 18U | Champion | 00 TFCA Alliance (NC) |
2017-18 National League Qualifiers | Region IV Champions/Finalists
| | | |
| --- | --- | --- |
| Boys | | |
| 14U | Champion | Heat FC 04 ET (NV) |
| 15U | Champion | CDA Slammers FC HB 03 Black (CA-S) |
| 16U | Champion | Tuzos Academy 02 (AZ) |
| 16U | Finalist | Excel Soccer Academy 02 (AZ) |
| 17U | Champion | West Coast FC Armour 2001 (CA-S) |
| 18U | Champion | Santa Clara Sporting 00 Green (CA-S) |
| | | |
| Girls | | |
| 14U | Champion | San Diego Surf (CA-S) |
| 15U | Champion | LVPSA 03 Red (NV) |
| 16U | Champion | La Roca PO 02 (UT)* |
| 16U | Finalist | Real Colorado 02 Olympico (CO) |
| 17U | Champion | Celtic FC Premier SA (UT) |
| 18U | Champion | Utah Celtic FC 00 Premier (UT) |
*Slot becomes open as Regional Championship winner/finalist has already qualified for next season's National League via its finish in the 2016-17 National League Season