U.S. U-20 Women's National Team kicks off Florida training camp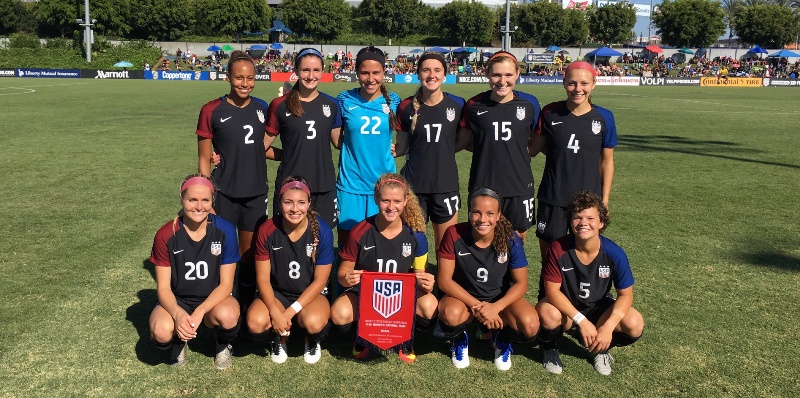 CHICAGO (Via U.S. Soccer) – U.S. Under-20 Women's National Team head coach Michelle French has named 20 players to the roster for a training camp in Lakewood Ranch, Florida; which will be the final event before the USA heads to Papua New Guinea for the 2016 FIFA Under-20 Women's World Cup being held from Nov. 13-Dec. 3.
French will officially name her 21-player roster for the tournament following the conclusion of this camp.
During the camp, the USA will face fellow WWC qualifier Venezuela in two matches, on Friday, Oct. 7 at the Premier Sports Complex in Lakewood Ranch, Fla. (7 p.m. ET) and on Monday, Oct. 10 at the Omni Resort at Champions Gate in Orlando (4 p.m.).
The USA is in Group C for the U-20 World Cup with France, New Zealand and Ghana and could face Venezuela in a cross-over match should both qualify for the quarterfinals as the South Americans are in Group D with Germany, Mexico and the Korea Republic.
+Read: USA falls to Ghana 2-1 in U-17 Women's World Cup group play
U.S. Under-20 Women's National Team Roster by Position
GOALKEEPERS (3): Rose Chandler (Penn State; Atlanta, Ga.), Brooke Heinsohn (New England FC; Norfolk, Mass.), Casey Murphy (Rutgers; Bridgewater, N.J.)
DEFENDERS (7): Madeline Elliston (Penn State; Omaha, Neb.), Emily Fox (FC Virginia; Ashburn, Va.), Sabrina Flores (Notre Dame; Livingston, N.J.), Ellie Jean (Penn State; Coventry, Conn.), Natalie Jacobs (Notre Dame; Coto de Caza, Calif.), Taylor Otto (UNC; Apex, N.C.), Kaleigh Riehl (Penn State; Fairfax Station, Va.)
MIDFIELDERS (7): Marley Canales (UCLA; San Diego, Calif.), Katie Cousins (Tennessee; Forest, Va.), Savannah DeMelo (Beach FC; Bellflower, Calif.), Kelcie Hedge (Washington; Post Falls, Idaho), Emily Ogle (Penn State; Strongsville, Ohio), Courtney Petersen (Virginia; Canton, Mich.), Parker Roberts (Florida; Leawood, Kansas)
FORWARDS (3): Mallory Pugh (Real Colorado; Highlands Ranch, Colo.), Jessie Scarpa (North Carolina; Lakeland, Fla.), Ally Watt (Texas A&M; Colorado Springs, Colo.)
Mallory Pugh, a member of the USA's 2016 Olympic Team who became the youngest U.S. player to score in an Olympic Games, is in her second camp with the U.S. U-20 WNT this year. Pugh captained the team last fall as it won the CONCACAF title in Honduras and earned a berth to the World Cup in New Guinea.
The U.S. begins its World Cup on Monday, Nov. 14 against France in one of the marquee opening matches. The USA and France met in group play at the 2006 U-20 Women's World Cup in Russia, with the USA winning 1-0, and in the opening game of the 2008 U-20 Women's World Cup, with the USA winning 3-0. The Americans face New Zealand for the first time in a U-20 WWC on Thursday, Nov. 17, and finish the group against Ghana on Monday, Nov. 21. The USA played Ghana in group play in two consecutive U-20 Women's World Cup tournaments, drawing 1-1 in Germany in 2010 and winning 4-0 in Japan in 2012. The USA will play its first two group games at Sir Hubert Murray Stadium and its third group game at National Football Stadium. Both stadiums are located in Port Moresby, the capital city of Papua New Guinea.