U.S. U-19 Women's National Team falls 1-0 to Japan in friendly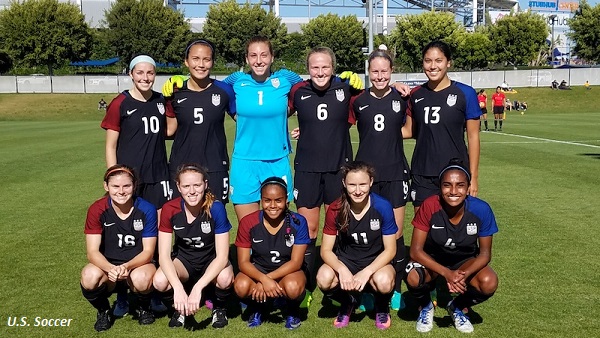 CARSON, Calif. (Via U.S. Soccer) – The U.S. Under-19 Women's National Team fell 1-0 to the Japan Under-20 Women's National Team in a match played at the U.S. Soccer National Training Center.
Japan will play two more matches at the U.S. Soccer NTC this coming week, both against the U.S. Under-20 WNT. The games will take place on Monday, May 22 (5 p.m. PT) and Wednesday, May 24 (5 p.m. PT) on Field #1, the Glenn "Mooch" Myernick Field.
Japan controlled the majority of possession in the match, but did not create a lot of shots as the U.S. team stayed in the game and gave up the only goal off a deflection in the 14th minute to Honoka Yonei.
The U.S. U-19 WNT roster features 24 players, four of whom were part of the USA's 2016 FIFA U-17 Women's World Cup Team: goalkeeper Hillary Beall, defenders Kiara Pickett and Naomi Girma, and midfielder Sydney Zandi. All but Beall started the match.
The U.S. roster is features nine college players with the rest playing youth club.
– U.S. Under-19 Women's National Team Match Report –
Match: U.S. U-19 WNT vs. Japan U-20 WNT
Date: May 19, 2017
Competition: International Friendly
Venue: Glenn "Mooch" Myernick Field; StubHub Center; Carson, Calif.
Weather: 60 degrees; windy
Scoring Summary:   1          2          F
USA                             0          0          0
JPN                             1          0          1
JPN – Honoka Yonei              14th minute
Lineups:
USA: 1-Brooke Bollinger; 18-Julie Mackin (3-Kerry Abello, 46), 5-Samantha Hiatt (25-Karina Rodriguez, 18), 4-Naomi Girma, 2-Kiara Pickett (9­-Kristina Fisher, 79), 6­-Zoe Morse (capt.) (19­-Wrenne French, 79), 8-Natalie Winters (7-Tziarra King, 85), 10-Sydney Zandi (16-Samantha Coffey, 46), 11-Emina Ekic (14-Malia Berkely, 79), 23-Theresa Boade (15-Cameron Murtha, 46), 13­-Cecilia Gee (20-Jordan Brewster, 46)
Subs not used: 12­-Hillary Beall, 17­-Tavia Leachman, 21­-Taryn Torres, 22­-Zoe Clevely, 24­-Kaiya McCullough
Head Coach: Keri Sarver
JPN: 1­-Aguri Suzuki, 6­-Mami Muraoka (11­-Fuka Kona, 50), 12­-Reina Nagashima (5­-Asato Miyagawa, N/A), 14­-Honoka Yonei, 15­-Nana Ono (4­-Moeka Minami, 60), 16­-Yurina Imai (13­-Hana Takahashi, 60), 17-Sari Suzuki, 18­-Hanna Stambaugh, 19­-Nagisa Sato (3­-Miyu Takahira, 50), 20­-Niina Yamada, 22­-May Karahashi (10­-Fuka Nagano, 50)
Subs not used: 23-Miyu Tomita, 2­-Riko Ushijma, 7­-Mizuka Sato, 9­-Hinata Miyazawa, 8­-Rina Mehara
Head Coach: Futoshi Ikeda
Statistical Summary: USA / JPN
Shots: 2 / 5
Shots on Goal: 1 / 4
Saves: 3 / 1
Corner Kicks: 2 / 3
Fouls: 5 / 3
Offside: 2 /0
Misconduct Summary:
None
Officials:
Referee: Salma Perez
Asst. Referee 1: Karen De Leon
Asst. Referee 2: Jacyln Reilman