U.S. U-17 WNT downs England 2-0 in Women's NTC Invitational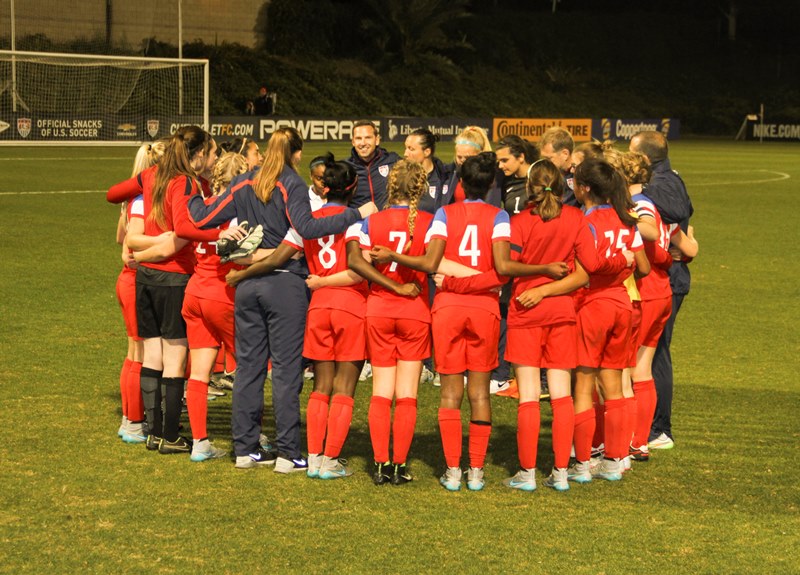 CARSON, Calif. (Via U.S. Soccer) – The U.S. Under-17 Women's National Team defeated England 2-0 in its first match of the U-17 Women's NTC Invitational as forward Civana Kuhlmann scored two spectacular goals inside the final eight minutes.
In a physical and fast-paced match, England had its share of attacking opportunities, but U.S. goalkeeper Laurel Ivory was excellent on the night and after the Americans absorbed some dangerous England attacks, Kuhlmann stepped up to snatch the victory.
Her first goal came in the 82nd minute when she received a pass from Jaelin Howell near the top of the penalty box on the left side. She wheeled toward goal and smacked a thunderous inside-out swerving shot that clipped off the hands of the England goalkeeper — who was on a full dive — and settled into the net just inside the right post.
If the first goal was power, the second was finesse and five minutes after giving the USA the lead, Kuhlmann sealed the game. In the 87th minute, Kennedy Wesley hit a cross from the right wing into the penalty box that bounced before Kuhlmann caught the ball on her chest. As it fell, she wrapped her right leg around a closing defender and lifted the ball past the goalkeeper and into the left side of the net.
The U.S. had a chance to take an early lead after earning a penalty kick in just the third minute of the match but forward Ashley Sanchez hit the outside of the left post with her shot.
In the first game on Match Day 1 of the NTC Invitational, Japan dominated the Korea Republic 5-0 and currently leads the four-team tournament on goal difference.
The USA will next take on Korea Republic on Feb. 13, at 6 p.m. PT at Glenn "Mooch" Myernick Field at the U.S. Soccer National Training Center. Japan will take on England at 3 p.m. Both matches can be watched on ussoccer.com.
The U.S. U-17s are well into a cycle that will hopefully see them qualify for the 2016 FIFA U-17 Women's World Cup in Jordan. The CONCACAF qualifying tournament will held be from March 3-13 in St. George's, Grenada, and the USA will face Mexico, Jamaica and Costa Rica in group play.
U-17 Women's NTC Invitational Match Report
Match: United States U-17 WNT vs England U-17 WNT
Date: Feb. 11, 2016
Competition: U-17 Women's NTC Invitational
Venue: U.S. Soccer National Training Center, Field 1
Kickoff: 6 p.m. PT
Weather: 68 degrees, clear
Scoring Summary:            1              2              F
USA                                        0              2              2
ENG                                       0              0              0
USA – Civana Kuhlmann  (Jaelin Howell)                      82nd minute
USA – Civana Kuhlmann (Kennedy Wesley)                 87
Lineups:
USA: 1-Laurel Ivory, 16-Karina Rodriguez (6-Emily Smith, 45), 4-Naomi Girma, 11-Izzy Rodriguez (19-Kate Weisner 65), 7-Alexa Spaanstra, 2-Taryn Torres (20-Frankie Tagliaferri, 70), 5-Sydney Zandi (18-Jaelin Howell, 65), 8-Brianna Pinto, 10-Ashley Sanchez (Rachel Jones, 65), 3-Sophie Smith (15-Kennedy Wesley, 45), 14- Civana Kuhlmann
Subs not used: 12-Hillary Beall, 17-Jordan Canniff, 21-Emina Ekic
Head Coach: BJ Snow
ENG: 1-Ellie Roebuck, 2-Flo Allen, 12-Anna Pattern, 6-Lotte Wubben Mov, 3-Taylor Hinds, 4-Hollie Olding, 8-Laura Hooper, 17-Hannah Cain (7-Ella Toone, 69), 11-Niamh Charles (19-Ellie Brazil, 85), 10-Georgia Stanway, 9-Anna Filbev
Subs not used: 5-Riva Casley, 13-Katie Startup, 14-Grace Smith, 15-Anna Filby, 16-Lois Joel, 18-Alessia Russo, 20-Kelsey Person
Head Coach: John Griffiths
Stats Summary: USA / ENG
Shots: 9 / 9
Shots on Goal: 5 / 8
Saves: 8 / 3
Corner Kicks: 1 / 4
Fouls: 16 / 12
Offside: 2 / 3
Misconduct Summary:
ENG – Georgia Stanway (caution)                    14th minute
ENG – Laura Hooper (caution)                         32
Officials:
Referee: Reyna Fonseca (USA)
Assistant Referee 1: Adrianne McDonald (USA)
Assistant Referee 2: Brooke Mayo (USA)
Fourth Official: Ceciah Valero (USA)