U.S. U-15 Boys National Team roster named for CONCACAF Championship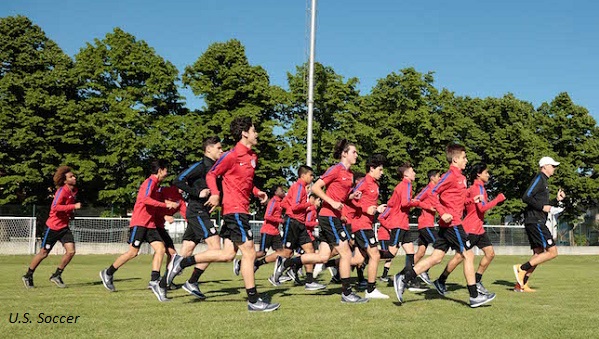 CHICAGO (Via U.S. Soccer) – U.S. Under-15 Boys' National Team head coach Dave Van Den Bergh has named the 18-player roster that will compete in the 2017 CONCACAF U-15 Championship, running from August 13-19 at IMG Academy in Bradenton, Florida. The competition marks the second U-15 confederation championship and the first time that the USA are participating.
The USA has been drawn into Group B along with Canada, Costa Rica and Trinidad and Tobago. The U-15 MNT opens against Canada on Sunday, August 13 at 9:00 a.m. ET, followed by Trinidad and Tobago on Monday, August 14 at 11:00 a.m. ET and Costa Rica on Wednesday, August 16 at 9:00 a.m. ET.
If the USA finishes first or second in group play, they will face the runner-up or winner of Group A, respectively, consisting of Mexico, Honduras, Jamaica and Panama in the semifinals on Thursday, August 17. Should the USA advance past the semifinal match, the red white and blue would play in the final on Saturday, August 19.
+READ: Nike Headquarters set to host U.S. U-17 Men's National Team training camp
"This is an important tournament for us, especially after the success we've had with the U-20's and U-17's this year," Van Den Bergh said. "It's going to be the first time ever that our U-15 National Team is going to take part in the CONCACAF U-15 Championship. We always want to win, but the inaugural one is a big one for us. It's going to be big on our list of achievements that we want to accomplish for the duration of the tournament.
"This is a very good opportunity for these boys to showcase themselves against competition they'll be facing for the rest of their lives, in qualifying. Hopefully, this is going to be a warm up for things to come and the future for these boys."
The USA have been placed into the top class of the tournament, Division 1. 32 additional CONCACAF teams are competing across two separate Divisions, 2 and 3, but will not participate in a semifinal or final. Fans can download the entire tournament schedule.
Development Academy Ties:
All 18 of the players on the roster have registered at least one season in the U.S. Soccer Development Academy; all 18 players have spent time with an Academy team during the 2016-2017 season.
Forward Alfonso Ocampo Chavez paces the roster with four seasons with a Development Academy club, playing for Merced Atlas Soccer Academy and Seattle Sounders FC.
Six players were named to the Development Academy's Conference Best XI teams in 2016-17: Axel Alejandre, George Bello, Gianluca Busio, Mason Judge, Damian Las and Giovanni Reyna.
Defender George Bello was presented with the Development Academy's U-15/16 East Conference Player of the Year award for the 2016-17 season.
Roster by Position                                                    
GOALKEEPERS (2): JT Harms (Shattuck-Saint Mary's; Faribault, Minn.), Damian Las (Chicago Fire; Norridge, Ill.)
DEFENDERS (6): Axel Alejandre (FC United Soccer Club; Chicago, Ill.), George Bello (Atlanta United; Douglasville, Ga.), Mitch Eise (Sporting Kansas City; Springfield, Mo.), Mason Judge (Chargers Soccer Club; Tampa, Fla.), Kenny Nielsen (Pateadores; Irvine, Calif.), Joseph Scally (New York City FC; Lake Grove, N.Y.)
MIDFIELDERS (5): Josh Atencio (Seattle Sounders; Seattle, Wash.), Gilbert Fuentes (San Jose Earthquakes; Tracy, Calif.), Cesar Garcia (FC Dallas; Dallas, Texas), Adam Saldana (Real So Cal; Panorama City, Calif.), Peter Stroud (New York Red Bulls; Chester, N.J.)
FORWARDS (5): Gianluca Busio (Sporting Kansas City; Greensboro, N.C.), Julian Gaines (Lonestar Soccer Club; Austin, Texas), Daniel Mangarov (Atlanta United; Duluth, Ga.), Alfonso Ocampo Chavez (Seattle Sounders; Fresno, Calif.), Giovanni Reyna (New York City FC; Bedford, N.Y.)