Texas youth soccer clubs Solar SC, Mutiny FC announce merger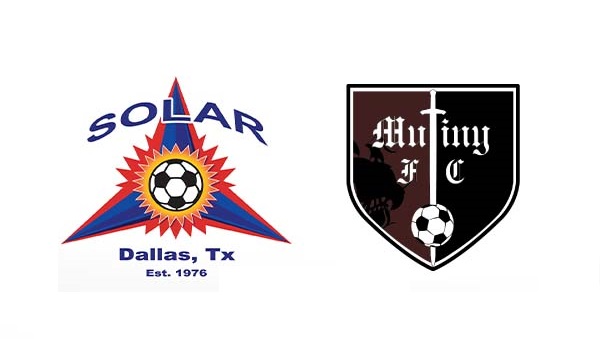 DALLAS, Texas (Via Solar SC) – Solar Soccer Club and Mutiny FC announced they have merged to create an even larger organization that offers every level of competition for players throughout their youth soccer career.
Dallas-based Solar Soccer Club was founded in 1976 and is led by Executive Director of Coaching Adrian Solca. Mutiny FC was founded in 2009 and is based in Wylie, Texas. After the merger, Solar Soccer Club will have more than 225 teams and over 2,000 players located in broad range of geographic regions across the DFW Metroplex.
"Solar Soccer Club has established itself as one of the most respected and premier youth development soccer clubs in the country. We have a proven track record of successfully developing young players to their full potential which has led our boys and girls to compete, and win, on the regional, national, collegiate, professional and international stages for soccer." stated Solar Soccer Club President and Executive Board of Director – Bob Reeves. "We are proud to welcome Mutiny FC to the Solar family along with their wonderful coaches, their outstanding players and administrative staff."
+READ: Dallas Cup announces final two additions for 2018 Super Group
Mutiny FC Founder and Coach Todd Brunskill echoed Mr. Reeves' comments saying, "Merging Solar and Mutiny is all about carrying the Mutiny mission forward for the communities we serve, and continuing to ensure that we give coaches and players every opportunity at all levels. We wanted to have the kind of size and scale that meant our players would never need to leave this family to find the opportunity they want. I'm completely confident that this merger aligns 100 percent with our mission."
Mutiny FC grew from its roots in the Wylie Youth Soccer Association (WYSA) and partnered with WYSA throughout their existence to create a strong presence in Wylie and surrounding communities. Through this merger, Solar and WYSA have agreed to continue this strong bond. "It is all about the kids," said WYSA President Shannon Howard "and continuing forward in partnership with Solar to best ensure all kids at all levels have an equal opportunity is important to WYSA."
Solar Soccer Club offers competitive soccer options for players ages U6-U18/19, in Juniors, Competitive, U.S. Soccer Development Academy (DA) and Elite Clubs National League (ECNL) programs.