SoccerWire Q&A: U.S. U-18 National Team coach Omid Namazi (Part 1 of 2)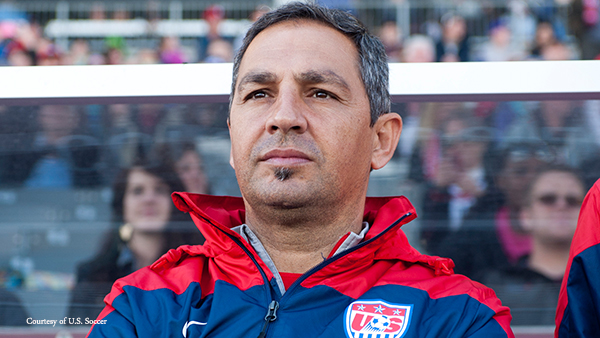 On January 4, Omid Namazi was named the head coach of the U.S. U-18 Men's National Team. Namazi replaced former U-18 coach Javier Perez, who joined the coaching staff of Major League Soccer team New York City FC.
Namazi was born in the United States but grew up in Iran. He returned to the U.S. in 1984, and earned his degree in exercise philosophy from the University of West Virginia. What followed was a long playing career which took Namazi across the country, from Florida to California.
+READ: Friedel, Namazi added to U.S. Men's Youth National Team coaching staff
Namazi's coaching career began while he was still a player, taking over the Philadelphia KiXX during its 1999 season. Namazi bounced around the indoor leagues as a coach before coaching the Chicago Red Stars of the WPS in 2010. After one season in Chicago, though, Namazi traveled back to Iran, where he worked first as an assistant coach at professional club Steel Azin and later as an assistant to Carlos Queiroz, head coach of the Iranian national team.
In 2014, Namazi accepted an offer to work as an assistant to then-Women's National Team manager Tom Sermanni. Later he coached as an assistant to U-20 Men's National Team head coach Tab Ramos.
In part one of a wide-ranging discussion, Namazi talks about the current state of the U-18s, the unique challenges of player development in the U.S., and about the challenges of coaching this age group.
SoccerWire.com: What are you hoping to bring to this U-18 team?
Omid Namazi: Knowing what it takes to qualify for the World Cup and, having done it already, I hope to be able to first identify the type of players we need in order to qualify consistently and then develop them so that we can have a strong pool of players going into the U-20s, not only to qualify but also to have a good showing at the World Cup.
And obviously with the national teams, your main goal is to build players. We're all there to develop players hopefully for the senior team at some point. But step by step. My first responsibility is to get the best players together, train them when I have them, get them some international games and get them ready for the next step, which is the U-20s.
SW: What do you think is the biggest challenge in finding these players and scouting them?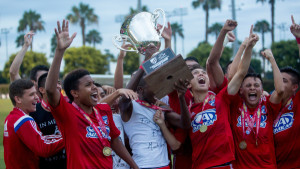 ON: The biggest challenge is the competition level at the international [level]. We have the Development Academy, which is a growing league. It's done well over the last ten years or so. But we still need to improve and make sure that the environment at the academy clubs is competitive — competitive to the point where now the players that come out of the academy clubs can compete against the French players, the German players, the Spanish players, because those guys, at this age, already sign professional contracts and they're playing and training against older players, tougher competition.
In Germany, for example, the U-20 players, they play in the U-19 Bundesliga, which is a very competitive league. They play every Wednesday. They play every Saturday. So our players, what do they do? They're playing in college three months and really it's not a very competitive environment compared to the European or our South American counterparts. So that's the challenge: to make sure that we develop players that compete, one, and also that have the mental strength to go up against some of the top countries and get results.
SW: What do you think it will take to raise the competition level for that age group?
ON: For the national teams, our role in developing players is very small. We get the players. We gather the best of the best for a week and we play a friendly match and they go off to their clubs. So at each club, that responsibility falls heavier on each one of those clubs because they are the ones that spend the most time with those kids, so making sure that these academies have the right coaches in place, the right type of coaching is happening, and the players are being put in an environment that's hard, that's difficult, that's challenging, and making sure that when they come out of that environment and into the national team, they're prepared to play against some of the best players in the world.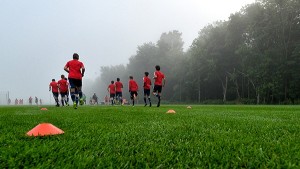 SW: You've coached both genders at multiple levels. What is the biggest challenge of coaching this particular age group?
ON: I think this particular age group is just about trying to decide whether now, with the landscape of soccer in America, they're about to decide whether they want to go to college, whether they want to sign a pro contract, are they good enough to sign a pro contract and get meaningful playing time?
[With] the rise of the USL and the MLS teams creating these MLS II teams, there's probably a better pathway for these players should they decide that the professional game is the route they're going to go. [It's important] for them to develop and for their development not to stall at 18 years old, because that's what was happening.
When they got to 17, 18, there really wasn't – unless they were extremely good and could be signed by a first team, which we rarely saw that in the MLS – [anything] there for them. They weren't getting a lot of playing time. Now, hopefully, with the expansion of the USL and also the creation of these MLS second teams hopefully that gap will be bridged and the players will develop even better.
Editor's note: Check back next week for Part 2 of Tim Froh's in-depth chat with Omid Namazi.