Potomac Memorial Tournament honors fallen service members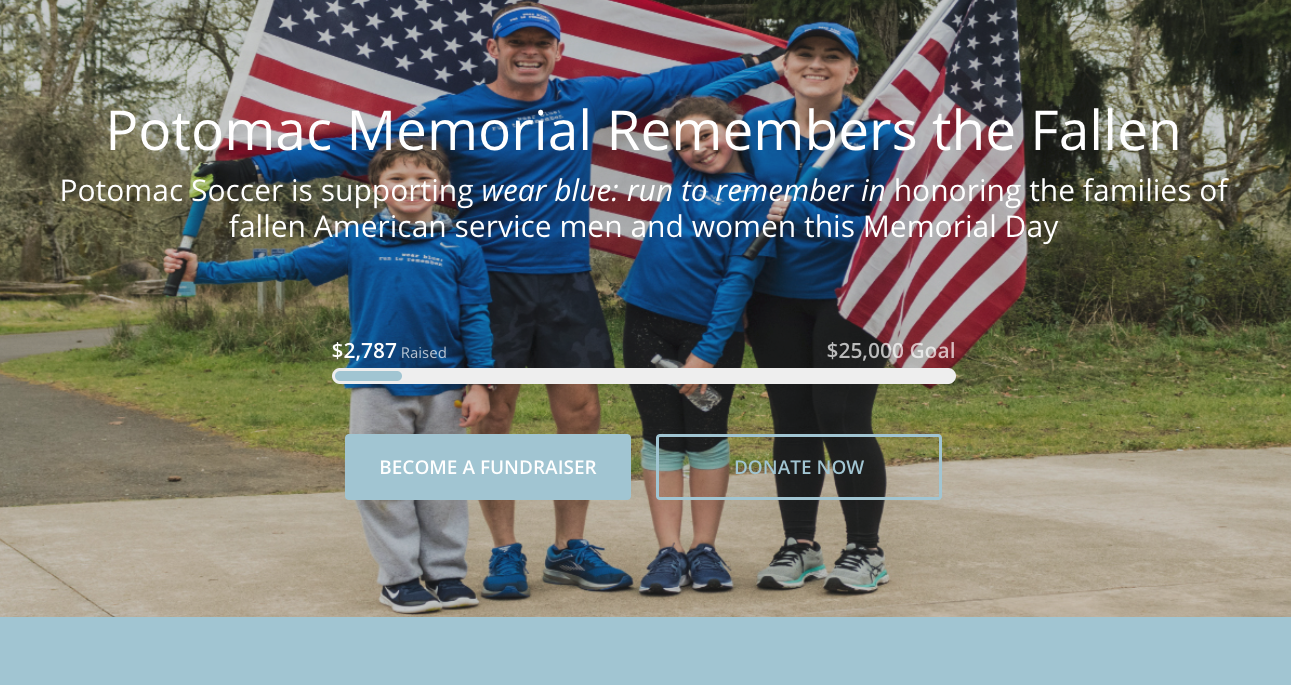 This year's Potomac Memorial Tournament, the 39th annual, hosted by Potomac Soccer Association, is taking its name to heart more than ever in 2018 after partnering with the Wear Blue: Run to Remember organization, a national nonprofit that honors the service and sacrifice of the American military.
Each of the 464 teams attending this annual boys soccer college showcase just outside Washington, DC has been assigned a fallen service member in order to play in their honor. The team at Wear Blue took their time to match each fallen member with a team based closely to their hometowns, and links have been set up to donate.
+ Full List of Teams and their Fallen Service Member pages
Local organizer Courtney Draper, who's husband currently serves, came up with the idea to connect the Potomac Memorial soccer teams with Wear Blue after hearing about the charity through her network of local military spouses. She then connected with Wear Blue co-founder Lisa Hallett, and the idea was born to connect a soccer event, which has plenty of running, with Hallett's charity funded mostly by running events.
"The hope is to be able to walk up to any player here this weekend and ask them who their team is playing for, and for them to know their Fallen Service Member's name," Explained Draper from the sidelines of the tournament on Saturday. "We want their steps to be purposeful to encourage a sense of remembrance and promote a sense of awareness in our soccer community."
The tournament has set a goal of $25,000 to raise across all 464 teams, and from anyone who wants to support the Fallen.
DONATE HERE: https://donate.wearblueruntoremember.org/campaign/potomac-memorial-tournament/c183739
According to www.wearblueruntoremember.org, Hallett co-founded Wear Blue after her husband, CPT John Hallett, was one of four soldiers killed while his unit was returning from a goodwill mission in southern Afghanistan on August 25, 2009.
Weekly, wear blue athletes meet to honor the fallen and train for endurance events. At the start of their runs, the name of each military member killed on that weekend over the last thirteen years of war is called out in a Circle of Remembrance. Then, wear blue runners call out the names of those for whom they personally run – their husbands, wives, parents, siblings, battle buddies, neighbors and/or friends. At official wear blue events, American flags are lined along the race course to honor the fallen, a tribute called the wear blue Mile; each flag is hand-held making it a true living memorial. Placed in front of these flags are large posters with photographs of the Fallen. The wear blue Mile humanizes the ultimate sacrifice made by these American heroes.
The Potomac Memorial Tournament is certainly living up to its name more than ever by joining this mission to humanize those who have fallen in the global war on terror, while enjoying the competition just miles from Washington, DC.