Girls Development Academy Spring Showcase kicks off in N.C.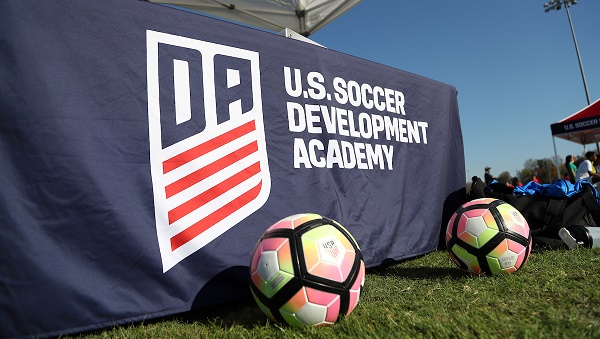 (Via U.S. Soccer) – This year marks the inaugural season for the U.S. Soccer Girls' Development Academy program, and this week's Academy Spring Showcase represents the first Academy event exclusively for girls. Just outside of Greensboro, N.C., the Bryan Soccer Complex will play host to the U-14, U-15 and U-16/17 age groups from every Girls' Academy clubs.
A cornerstone of the Development Academy program, Showcase events bring together clubs from across the country for highly-competitive hand-picked games. They're held seasonally in the fall, winter, spring and summer. While December's Winter Showcase and the upcoming Summer Showcase include both boys and girls, the Spring Showcase is solely focused on providing a stage for many of the 6000 female athletes competing in the first season of the Girls' Academy.
TEAMS/SCHEDULE

Over 3200 players from 204 teams will descend upon the Bryan Soccer Complex from April 6 to 10 for the Spring Showcase. Across the five-day event, clubs each play three games, hand-selected by Academy technical staff to ensure the most competitive and meaningful games. A full schedule can be found here.
The nationwide Showcase includes 67 Girls' Academy's member clubs, including 11 affiliated with National Women's Soccer League teams.
INAUGURAL SEASON FOR GIRLS' DEVELOPMENT ACADEMY
The Girls' Academy kicked off its inaugural season this past fall. The program represents the country's highest level of girls' youth soccer that feeds into the U.S. Soccer Youth National Teams. Over 6000 players are currently competing across four age groups (U-14, U-15, U-16/17 and U-18/19) in seven divisions across the United States.
The Girls' Academy's first season comes after 10 successful years for the Boys' Academy. Its introduction brings the Development Academy's player development philosophy and standards to girls' youth soccer.
The Academy aims to develop world-class players by impacting everyday club environments. Clubs focus on individual development as they prioritize training and play fewer total games in favor of more meaningful games with international standards.
NWSL IMPACT
Eleven member clubs of the Girls' Development Academy are affiliates of NWSL clubs. The league just kicked off its sixth season as the longest-tenured women's professional league in the United States. NWSL's involvement in the Girls' Academy represents its investment in the future of women's soccer as the league begins to develop players under a professional umbrella.
Several members of NWSL professional coaching staffs also are involved with their clubs' Academy teams and elite Academy players sometimes have the opportunity to train with their clubs' first teams. It's a promising synergy as the league establishes roots for a clear pathway for Academy players to professional opportunities.
FEATURE GAMES
The 2018 Spring Showcase is headlined by an octet of feature games, which will be streamed live on ussoccerda.com. The full schedule can be found below.
| | | |
| --- | --- | --- |
| Date | Time (ET) | Matchup |
| April 7 | 9:00 a.m. | NC Courage U-15 vs. Oakwood Soccer Club U-15 |
| April 7 | 11:00 a.m. | Cincinnati Development Academy U-15 vs. LA Galaxy San Diego U-15 |
| April 8 | 1:30 p.m. | LAFC Slammers U-16/17 vs. Sky Blue PDA U-16/17 |
| April 8 | 3:45 p.m. | Michigan Hawks U-15 vs. Reign Academy U-15 |
| April 9 | 11:00 a.m. | Nationals U-14 vs. San Diego Surf U-14 |
| April 10 | 11:15 a.m. | Legends FC U-16/17 vs. New York City FC U-16/17 |
| April 10 | 1:30 p.m. | Penn Fusion Soccer Academy U-15 vs. FC Dallas U-15 |
HOW TO FOLLOW
For updates throughout the Showcase, follow the Academy on Facebook and @ussoccer_acad on Twitter, Instagram and Snapchat. Schedules and event related news can be found on ussoccerda.com. Share your photos and videos with #SpringShowcase and #WorldClassDA.