Girls Development Academy launches new cup competition structure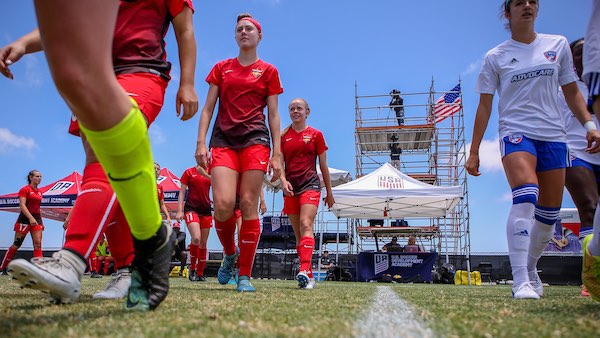 CHICAGO (Via U.S. Soccer) – The U.S. Soccer Development Academy will introduce a new cup-style competition structure for female players starting with the 2019-2020 season. After the successful launch of the Girls' Academy in fall 2017, the new cup competition structure represents the next step forward in the program's ongoing mission to provide the most meaningful competition for all Girls' Academy clubs.
Every club in the Girls' U-15, U-16, U-17 and U-18/19 age groups will compete in the new cup competition, which will run concurrently throughout the year alongside the Academy's established regular season format and crown a cup champion at the Spring Showcase. Results in both the regular season and cup competition will offer teams a qualification path to reach the Academy Playoffs.
"This new competition creates an environment where games throughout the year become more meaningful and keep players engaged far into the spring season," said Miriam Hickey, U.S. Soccer Director of Club Development. "The stakes are raised for games at Showcase events and players will have the chance to compete against a number of teams they do not normally face during the regular season without a significant increase in travel costs. I'm looking forward to watching the teams compete in the inaugural cup next year."
With the introduction of cup competition, Girls' Academy clubs at the U-15, U-16, U-17 and U-18/19 age groups will play in three competitions over the course of the year:
1. Regular season – Teams play a regular season schedule against teams in their region. The top finishers in each division automatically qualify for the playoffs.
2. Cup competition – Teams compete in a regional group stage during the fall to determine seeding in the second group stage. The second group stage takes place at Winter Showcase and determines seeding for the knockout stage, which takes place at Spring Showcase. The winner of the knockout stage is crowned cup champion. Runners-up compete towards wild card playoff berths and seeding in next season's cup competition.
3. Playoffs and Championships – Group stage and knockout round competition for qualified teams at the U-15, U-16, U-17 and U-18/19 age groups. An Academy champion will be crowned at each age group.
For more information about the structure of the new cup competition, please click here.