Five Houston Dynamo Academy players to join first team for MLS preseason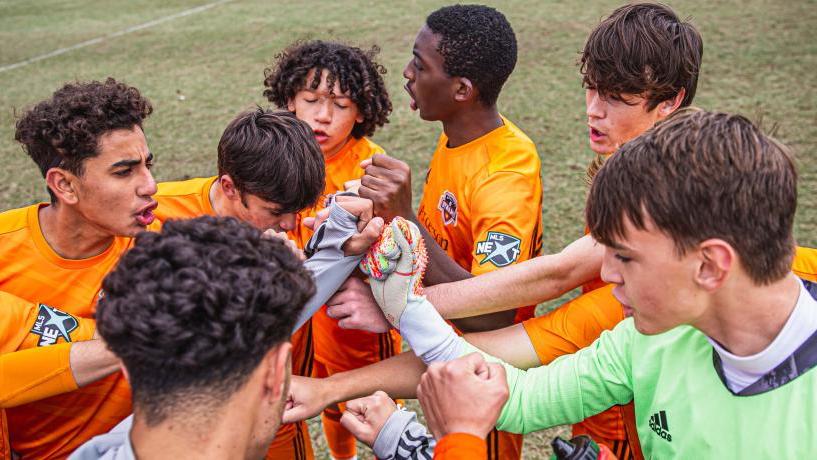 The Houston Dynamo return to Houston Sports Park in March to kick off the preseason with new faces, a new badge and new optimism after a challenging and unprecedented experience in 2020.
Among those new faces are four players from the nationally third-ranked Dynamo Academy who will join the first team for preseason, their first experience with a professional team. Add goalkeeper Logan Erb to the mix, who also spent the 2020 preseason with the first team.
"Each of these young men have shown their qualities at the Academy level over the last year. Now each has a wonderful opportunity to experience the professional level on a daily basis with Tab and the first team staff," Dynamo Academy director Paul Holocher said. "We've encouraged them to work hard, play intelligently and confidently, and most of all to learn from and enjoy the experience. This is another really good step for each of them in their development."
Joyner Castillo is a constant threat in front of goal and first caught the eye of the Dynamo Academy coaching staff in 2019 at a U-23 tryout.
Jathan Juarez is an 18-year-old right-footed fullback that also joined the program in 2018.
Kieran Sargent is the youngest of the field players and the 17-year-old outside back sets the tone through his unrelenting approach from whistle to whistle.
Finally, the newest member among the group, Emmanuel Smalios, who joined the Dynamo Academy last July after COVID-19 crippled the northeast and forced him and many of his NYCFC Academy teammates to find new clubs.
The group will be joined by U19 Dynamo Academy head coach Kenny Bundy, who also joined the first team for preseason in 2020. Bundy has played a key role in the development of each player and the U19 squad head coach will be a familiar presence after coaching the group throughout 2020 and earlier this winter when the Academy returned to MLS Next action.
"I'm extremely excited for these guys to have earned this experience. We talk all the time in the Pre-Professional Phase about being ready for your opportunity," Bundy said. "The key for the guys is to express themselves as a player and be confident. Each one of these players has shown that they can not only play at the highest level within the Academy, but can be a key part in preseason preparation."
Castillo was born in Puerto Cortes, Honduras and immigrated to the United States as a nine-year-old. The forward found limited opportunities to play the sport in New York and at the time the top priority was assimilating to his new environment, a new home thousands of miles away from his native land.
That changed three years later when he moved to Texas and played soccer for his middle school. Castillo would move on to high school and start for the varsity team at his high school and that opened the door to an invitation for a tryout with the Dynamo Academy.
"It has been hard to get to where I am today. It took a lot, I'm very proud of what I have accomplished, but I know I have a lot of hard work ahead of me," Castillo said. "I'm keeping this to myself at the moment, nobody in my family knows, but I will share this exciting news with them soon."
This will be the second preseason with the Dynamo first team for Erb, and the 17-year-old is relishing the opportunity to return to the first team setup after navigating COVID-19 and a lengthy injury in 2020. The shot stopper fully expected to return to the first team for preseason after recovering from a broken collarbone. He is sharing his experience with his teammates who all prepare for their first training camp at the professional level.
"My advice would be to not be scared to introduce yourself, ask questions, and learn from the first team players. I was really shy about that last year. Paul Rogers (Dynamo goalkeeper coach) and the other keepers still make jokes about it, but I was really quiet," Erb said. "I'm excited to get started, I set the bar high for myself and I'm excited for the challenge."
Fifteen years ago, Juarez kicked a ball for the first time and now the San Antonio native is preparing to compete at the professional level. The 18-year-old is familiar with adjusting to a new environment, as he and his mother had to rapidly adjust to a new city in 2018 after they moved to Houston within 48 hours after impressing Academy scouts at a tryout and later at a week-long camp in Alabama.
To date, that was the most challenging experience for Juarez on or off the field, where he began as a midfielder and moved to outside back in 2020. He scored in consecutive games against FC Dallas and RGV FC during the fall season and points to that stretch as a marquee moment in his time with the Academy.
"I have always looked at the bigger picture and this was the best opportunity for me if I wanted to pursue my dreams," Juarez said. "Now that I look back at it, I feel like I made the right decision and things are hopefully going to pay off in the end."
Sargeant was born in Houston, but his father's career took him to Australia and Southeast Asia as a child. The left back was introduced to the sport at British international school in Malaysia and he went on to play at the club level until he returned to the United States in 2014. Sargeant traveled throughout Asia to compete with his club in tournaments in Vietnam, Hong Kong and Japan.
The 17-year-old adjusted quickly when he returned to Texas but found a new challenge with the Dynamo Academy. Now, he looks to build on his lengthy and diverse exposure to the sport as he reports to preseason with the professional team.
"I'm expecting everything to be a lot quicker; it's going to be a lot more physically challenging. I know that I have the right mindset," Sargeant said. "So, if I stay true to myself, I have a lot to prove and I am expecting a lot of good competition. I know it's not anything I am not capable of. So, hopefully I make an impact when I am there."
COVID-19 impacted virtually everyone in 2020; and on the field the pandemic forced Smalios to find a new club following various challenges in New York due to the pandemic. The Dynamo Academy opened their doors to Smalios last July and the shot stopper is taking the opportunity in stride. The 18-year-old has enjoyed the new environment, one with a lot of new experiences like joining the first team in March for preseason.
"First thing I did, I told my dad, my mom back home and they were happy for me. It is a great opportunity to see where I am against pros. To just go toe-to-toe with them to see where I am from a developmental standpoint," Smalios said. "It's good to see the differences between someone in the Academy and someone on the first team, just how they carry themselves and what it takes to be a pro. Going through all of this preseason it's really hard work, this pre-preseason, this quarantine phase is really hard work, very physically demanding. It pays off in the end."
The five Dynamo Academy players will see a familiar face on the training pitch as Bundy joins the first team technical staff to prepare for the 2021 regular season. Each player credits Bundy with preparing them for this opportunity and look forward to following in the footsteps of Academy alum who capitalized on the invitation to preseason in previous years like forward Daniel Rios and midfielder Juan Castilla.