Final NCAA Men's Soccer RPI Rankings revealed for 2020-21 season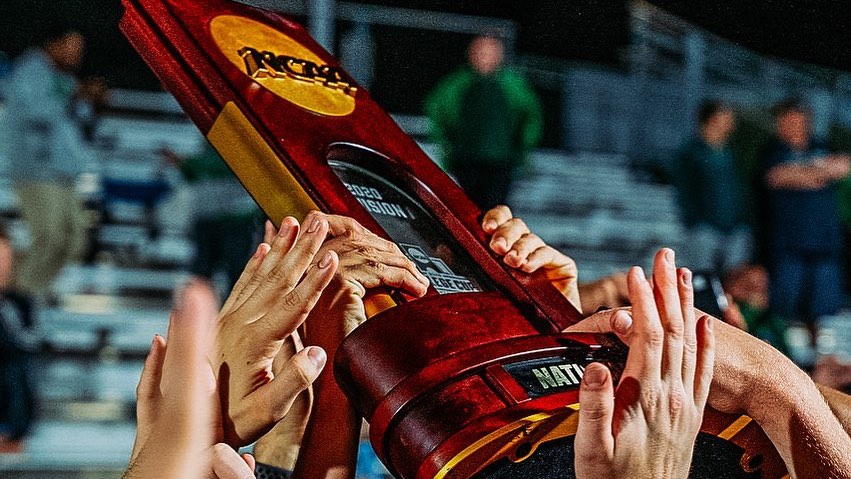 The final NCAA men's soccer Ratings Percentage Index (RPI) rankings have been unveiled for the 2020-21 season, as all 187 Division I programs have solidified their positions.
Reigning national champion Marshall captured the No. 1 spot, after they took down Indiana with a golden goal in overtime to win the title match 1-0 on May 17. National runner-up Indiana comes in at No. 8 in the season's final RPI rankings.
The No. 2 through No. 5 spots are occupied by Georgetown, Pittsburgh, New Hampshire and Lafayette, respectively. Clemson comes in at No. 6, followed by American at No. 7, then the aforementioned Indiana, along with Monmouth and Washington rounding out the top ten.
See below for the full end-of-season RPI for men's soccer.
Through Games May. 17 2021
| | | | |
| --- | --- | --- | --- |
| RANK | SCHOOL | CONFERENCE | RECORD |
| 1 | Marshall | C-USA | 12-2-2 |
| 2 | Georgetown | Big East | 10-2-2 |
| 3 | Pittsburgh | ACC | 16-4-0 |
| 4 | New Hampshire | America East | 8-1-1 |
| 5 | Lafayette | Patriot | 7-1-0 |
| 6 | Clemson | ACC | 14-3-3 |
| 7 | American | Patriot | 4-2-3 |
| 8 | Indiana | Big Ten | 12-2-2 |
| 9 | Monmouth | MAAC | 6-3-1 |
| 10 | Washington | Pac-12 | 11-4-0 |
| 11 | Seton Hall | Big East | 10-2-4 |
| 12 | West Virginia | MAC | 6-3-1 |
| 13 | Missouri St. | MVC | 12-2-0 |
| 14 | Quinnipiac | MAAC | 7-2-0 |
| 15 | Fordham | Atlantic 10 | 7-1-2 |
| 16 | Wake Forest | ACC | 13-3-2 |
| 17 | Penn St. | Big Ten | 9-2-2 |
| 18 | Vermont | America East | 5-2-1 |
| 19 | High Point | Big South | 11-2-0 |
| 20 | North Carolina | ACC | 9-5-4 |
| 21 | Grand Canyon | WAC | 8-2-0 |
| 22 | Stanford | Pac-12 | 10-3-1 |
| 23 | Marquette | Big East | 8-3-2 |
| 24 | St. Francis Brooklyn | NEC | 6-1-3 |
| 25 | UCF | AAC | 9-4-1 |
| 26 | Holy Cross | Patriot | 2-2-0 |
| 27 | Bowling Green | MAC | 7-5-1 |
| 28 | Oakland | Horizon | 6-1-2 |
| 29 | Liberty | ASUN | 6-3-2 |
| 30 | Charlotte | C-USA | 6-3-2 |
| 31 | Massachusetts | Atlantic 10 | 7-2-3 |
| 32 | Northern Ky. | Horizon | 7-2-0 |
| 33 | Western Mich. | MAC | 6-3-1 |
| 34 | Rider | MAAC | 3-1-1 |
| 35 | Virginia Tech | ACC | 7-6-4 |
| 36 | Kentucky | C-USA | 12-5-2 |
| 37 | Milwaukee | Horizon | 8-5-0 |
| 38 | LMU (CA) | WCC | 6-0-3 |
| 39 | Akron | MAC | 4-4-2 |
| 40 | James Madison | CAA | 5-1-3 |
| 41 | UNCW | CAA | 5-3-2 |
| 42 | Loyola Chicago | MVC | 7-4-2 |
| 43 | Loyola Maryland | Patriot | 3-2-1 |
| 44 | Furman | SoCon | 7-2-1 |
| 45 | UIC | Horizon | 6-3-1 |
| 46 | Air Force | WAC | 6-5-2 |
| 47 | Campbell | Big South | 7-2-2 |
| 48 | Fairfield | MAAC | 4-3-1 |
| 49 | USC Upstate | Big South | 6-4-2 |
| 50 | San Jose St. | WAC | 5-1-3 |
| 51 | Drexel | CAA | 6-3-2 |
| 52 | Fla. Atlantic | C-USA | 6-4-1 |
| 53 | Bellarmine | ASUN | 4-4-0 |
| 54 | Omaha | Summit League | 7-3-1 |
| 55 | UTRGV | WAC | 6-2-2 |
| 56 | Notre Dame | ACC | 7-9-0 |
| 57 | Drake | MVC | 5-3-1 |
| 58 | Tulsa | AAC | 6-4-2 |
| 59 | UNC Greensboro | SoCon | 8-3-2 |
| 60 | Belmont | SoCon | 6-3-2 |
| 61 | La Salle | Atlantic 10 | 5-5-1 |
| 62 | Oregon St. | Pac-12 | 8-5-0 |
| 63 | Lipscomb | ASUN | 5-5-2 |
| 64 | FIU | C-USA | 4-4-1 |
| 65 | Saint Louis | Atlantic 10 | 8-4-0 |
| 66 | Creighton | Big East | 6-6-0 |
| 67 | Providence | Big East | 4-3-1 |
| 68 | Saint Mary's (CA) | WCC | 6-2-1 |
| 69 | Rutgers | Big Ten | 4-4-1 |
| 70 | Oral Roberts | Summit League | 7-4-1 |
| 71 | Merrimack | NEC | 2-1-2 |
| 72 | LIU | NEC | 3-1-4 |
| 73 | Boston College | ACC | 1-3-1 |
| 74 | Coastal Carolina | Sun Belt | 9-5-2 |
| 75 | Virginia | ACC | 7-8-1 |
| 76 | California Baptist | WAC | 6-4-1 |
| 77 | Jacksonville | ASUN | 7-4-2 |
| 78 | Georgia St. | Sun Belt | 9-2-2 |
| 79 | Temple | AAC | 5-4-2 |
| 80 | Michigan | Big Ten | 6-4-1 |
| 81 | Denver | Summit League | 6-2-0 |
| 82 | California | Pac-12 | 4-5-1 |
| 83 | Green Bay | Horizon | 3-4-1 |
| 84 | Maryland | Big Ten | 4-5-2 |
| 85 | SMU | AAC | 5-5-1 |
| 86 | Duke | ACC | 4-10-3 |
| 87 | Seattle U | WAC | 6-4-1 |
| 88 | Delaware | CAA | 2-1-2 |
| 89 | St. John's (NY) | Big East | 5-5-0 |
| 90 | Hofstra | CAA | 5-2-3 |
| 91 | Cleveland St. | Horizon | 4-5-0 |
| 92 | Dayton | Atlantic 10 | 4-4-1 |
| 93 | Northern Ill. | MAC | 5-8-1 |
| 94 | Wright St. | Horizon | 5-3-1 |
| 95 | Louisville | ACC | 5-8-1 |
| 96 | South Carolina | C-USA | 7-7-1 |
| 97 | SIUE | MAC | 5-5-0 |
| 98 | Niagara | MAAC | 5-3-0 |
| 99 | Central Ark. | Sun Belt | 5-9-2 |
| 100 | Rhode Island | Atlantic 10 | 2-3-1 |
| 101 | Fairleigh Dickinson | NEC | 2-5-1 |
| 102 | UCLA | Pac-12 | 3-7-2 |
| 103 | Santa Clara | WCC | 4-4-0 |
| 104 | UNLV | WAC | 4-5-2 |
| 105 | Saint Joseph's | Atlantic 10 | 3-7-0 |
| 106 | Butler | Big East | 4-6-2 |
| 107 | Central Conn. St. | NEC | 3-3-1 |
| 108 | Navy | Patriot | 4-2-1 |
| 109 | FGCU | ASUN | 3-4-4 |
| 110 | Hartford | America East | 3-3-1 |
| 111 | Lehigh | Patriot | 2-4-0 |
| 112 | North Florida | ASUN | 4-3-3 |
| 113 | Saint Peter's | MAAC | 3-3-1 |
| 114 | George Washington | Atlantic 10 | 5-3-2 |
| 115 | Iona | MAAC | 2-4-1 |
| 116 | South Fla. | AAC | 4-6-0 |
| 117 | NJIT | America East | 4-5-1 |
| 118 | San Francisco | WCC | 4-4-2 |
| 119 | San Diego | WCC | 3-3-2 |
| 120 | Kansas City | Summit League | 5-7-1 |
| 121 | Dixie St. | WAC | 3-6-0 |
| 122 | Northeastern | CAA | 0-5-1 |
| 123 | Elon | CAA | 2-5-0 |
| 124 | Gardner-Webb | Big South | 5-6-0 |
| 125 | UNC Asheville | Big South | 3-5-1 |
| 126 | Villanova | Big East | 2-8-0 |
| 127 | Ohio St. | Big Ten | 3-6-1 |
| 128 | Siena | MAAC | 2-5-1 |
| 129 | UMass Lowell | America East | 1-6-1 |
| 130 | NC State | ACC | 3-8-4 |
| 131 | Old Dominion | C-USA | 1-4-3 |
| 132 | Pacific | WCC | 2-7-0 |
| 133 | Utah Valley | WAC | 2-4-0 |
| 134 | Manhattan | MAAC | 2-4-0 |
| 135 | Davidson | Atlantic 10 | 3-4-2 |
| 136 | ETSU | SoCon | 3-5-3 |
| 137 | Bryant | NEC | 2-2-2 |
| 138 | UAB | C-USA | 3-12-1 |
| 139 | Robert Morris | Horizon | 1-6-1 |
| 140 | Michigan St. | Big Ten | 4-7-0 |
| 141 | Northwestern | Big Ten | 2-8-1 |
| 142 | DePaul | Big East | 2-5-2 |
| 143 | VCU | Atlantic 10 | 4-3-2 |
| 144 | Duquesne | Atlantic 10 | 2-5-0 |
| 145 | Bucknell | Patriot | 1-4-1 |
| 146 | San Diego St. | Pac-12 | 1-7-2 |
| 147 | Detroit Mercy | Horizon | 2-5-0 |
| 148 | UIW | WAC | 2-7-0 |
| 149 | Boston U. | Patriot | 1-2-1 |
| 150 | Radford | Big South | 3-5-1 |
| 151 | Mercer | SoCon | 4-9-1 |
| 152 | Col. of Charleston | CAA | 1-4-2 |
| 153 | Presbyterian | Big South | 2-4-2 |
| 154 | Syracuse | ACC | 2-7-4 |
| 155 | Army West Point | Patriot | 1-3-1 |
| 156 | Stetson | ASUN | 1-5-2 |
| 157 | Wisconsin | Big Ten | 2-7-1 |
| 158 | Memphis | AAC | 2-8-0 |
| 159 | Purdue Fort Wayne | Horizon | 3-6-0 |
| 160 | Mount St. Mary's | NEC | 1-5-2 |
| 161 | Xavier | Big East | 3-7-1 |
| 162 | Portland | WCC | 1-4-3 |
| 163 | UConn | Big East | 1-6-1 |
| 164 | Bradley | MVC | 2-7-2 |
| 165 | Longwood | Big South | 2-6-1 |
| 166 | Albany (NY) | America East | 2-5-1 |
| 167 | Wofford | SoCon | 1-7-1 |
| 168 | Western Ill. | Summit League | 2-8-2 |
| 169 | William & Mary | CAA | 2-4-0 |
| 170 | Gonzaga | WCC | 0-9-0 |
| 171 | Evansville | MVC | 0-9-1 |
| 172 | Eastern Ill. | Summit League | 1-8-2 |
| 173 | St. Bonaventure | Atlantic 10 | 2-4-1 |
| 174 | Stony Brook | America East | 1-6-1 |
| 175 | Colgate | Patriot | 1-4-1 |
| 176 | Ga. Southern | Sun Belt | 1-9-0 |
| 177 | UMBC | America East | 3-4-1 |
| 178 | Houston Baptist | WAC | 0-9-1 |
| 179 | George Mason | Atlantic 10 | 0-6-3 |
| 180 | IUPUI | Horizon | 0-6-0 |
| 181 | Binghamton | America East | 2-4-0 |
| 182 | Winthrop | Big South | 0-8-1 |
| 183 | Sacred Heart | NEC | 1-6-0 |
| 184 | Saint Francis (PA) | NEC | 0-3-0 |
| 185 | Canisius | MAAC | 0-6-0 |
| 186 | VMI | SoCon | 0-9-0 |
| 187 | Chicago St. | DI Independent | 0-2-0 |