Class of 2018 inducted into National Soccer Hall of Fame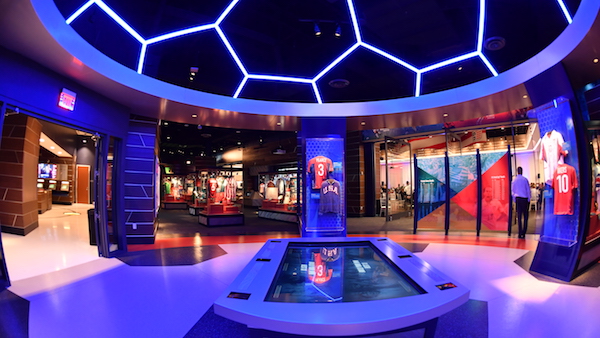 FRISCO, TEXAS (Via U.S. Soccer) – American soccer stars Brad Friedel, Tiffeny Milbrett and Cindy Parlow Cone as well as former U.S. Soccer President Dr. Bob Contiguglia were enshrined Saturday as the 2018 Class in the new National Soccer Hall of Fame.
MLS Commissioner Don Garber, a member of the 2016 HoF Class was also inducted, while legendary commentator JP Dellacamera was also honored with the Colin Jose Media Award.
The new National Soccer Hall of Fame, part of a $55 million renovation to Toyota Stadium, home to Major League Soccer's FC Dallas, is a 19,350-square foot experience that honors the history of soccer in the United States while fully incorporating modern technology to celebrate the players, past and present, as well as builders of the game that have elevated the sport to where it is today. It features interactive exhibits, iconic soccer memorabilia and will serve as the home for annual Hall of Fame induction ceremonies. The National Soccer Hall of Fame is scheduled to open to the public on Nov. 2, 2018.
+READ: United Soccer Coaches announces 30 Under 30 Class
Friedel is currently the head coach of the New England Revolution. He began his coaching career with U.S. Soccer as the U-19 Men's National Team head coach. Friedel had a decorated club career that spanned 23 professional seasons, including 17 in the English Premier League and 13 years with the United States Men's National Team. Between 1997 and 2015, Friedel made 450 league appearances in England's top flight with four clubs: Liverpool (1997-2000), Blackburn Rovers (2001-08), Aston Villa (2008-11), and Tottenham Hotspur (2011-15). As a U.S. international, Friedel collected 82 international caps and was a member of three United States World Cup squads in 1994, 1998 and 2002. The Lakewood, Ohio native represented the United States at two Olympic Games, in 1992 and 2000. Friedel played collegiately at UCLA where he won the Hermann Trophy in 1992 which is awarded to college soccer's best player. Friedel was elected into the Hall of Fame in his first year of eligibility.
Milbrett is currently Director of Coaching for the Colorado Storm U-16 & U-17 Girls'. While playing for the U.S. Women's National Team, Milbrett earned a gold medal at the 1996 Olympic Games, a silver medal in the 2000 Olympic Games and was a member of the squad that won the 1999 Women's World Cup. She earned 206 caps, scored 100 goals and played in three World Cups. Milbrett played professionally for clubs in Japan, the USA, Sweden and Canada from 1995-2010. The Portland, Oregon native and current Denver resident is the University of Portland's secondleading goal scorer (103) and is fourth all-time in assists (40).
+READ: adidas MLS Player Combine returns to Orlando for 2019
Currently the Girls Director for North Carolina FC's, Cone has a decorated history with the U.S. Women's National Team. She retired as the squad's 5th all-time leading scorer during an era in which she helped the U.S. women win the World Cup in 1999 and take third place in 2003. Her career spanned 158 caps and she scored 75 goals while also earning her two Olympic gold medals and a silver medal. She still remains the youngest soccer player (male or female) to win an Olympic gold medal and a World Cup. Prior to her international career, Cone was a two-time NCAA Player of the Year and two-time NCAA National Champion at the University of North Carolina. Cone continued her Tar Heel career as an assistant coach where she helped guide the team to four NCAA Championships. As a coach at the professional level, she led the Portland Thorns to inaugural NWSL Championship (2013). She has also served on the coaching staff for the U.S. U-14 & U-15 Girls' National Teams (2010-2013).
Dr. S. Robert Contiguglia, affectionately known as "Dr. Bob," served as President of U.S. Soccer from August of 1998 until March of 2006. U.S. Soccer achieved several important milestones during his tenure, including the U.S. Women's National Team's victory in the 1999 FIFA Women's World Cup and an Olympic gold medal won by the U.S. Women at the 2004 Athens Olympics. The Great Neck, N.Y. native and Denver, Colorado resident also served as the President of U.S. Youth Soccer from 1990-96. He is currently enjoying retirement and coaches a U-13 boys' soccer team in Colorado.
Don Garber was named Commissioner of Major League Soccer in 1999 after 16 years at the National Football League where he served in a variety of senior leadership positions. During his tenure, MLS has expanded from 10 to 26 clubs, added 22 new owners and secured long-term broadcast agreements with ESPN, FOX and Univision along with major broadcasters in Canada, Europe, Asia and South America. Garber has also led efforts to develop 19 soccer stadiums in the United States and Canada, and five more soccer venues will open in the next few years. In addition, Garber serves as CEO of Soccer United Marketing, the commercial arm of MLS and multiple soccer properties, including U.S. Soccer. In 2011, the Los Angeles Times named Garber one of the nation's top sports commissioners. He has been named among the top-50 most influential people in sports business by the Sports Business Journal every year since 2005. The Queens, N.Y. native was originally elected into the Hall of Fame in 2016 but wished to be enshrined this year to honor the Hunt family as part of the celebrations surrounding the opening of the new NSHOF in Frisco.
Earlier in the night, beloved commentator JP Dellacamera was celebrated for a lifetime of work announcing and covering the beautiful game in the United States. Dellacamera has called nine consecutive FIFA World Cups on television or radio, and five FIFA Women's World Cups, including the 1999 and 2015 FIFA Women's World Cups won by the U.S. Women's National Team. Dellacamera was also on the broadcast teams for the 2004, 2008 and 2012 Olympic Games for NBC Sports, and has called Major League Soccer games since the inaugural season in 1996 for ESPN, Fox and NBC. He has also worked as the play-by-player announcer for three MLS clubs: the Columbus Crew, the New York Red Bulls and, currently, the Philadelphia Union. He also called many indoor soccer matches during the 1980s.
The Colin Jose Media Award was created to honor the contributions of members of the print and electronic media, including reporters, columnists, authors, broadcasters, editors, public/media relations professionals and others who specialize in communications with respect to soccer in the United States. The award is named for Colin Jose, Historian Emeritus of the National Soccer Hall of Fame and the preeminent soccer historian of North America.