Capital Fall Classic Boys champions crowned, Jeff Cup berths decided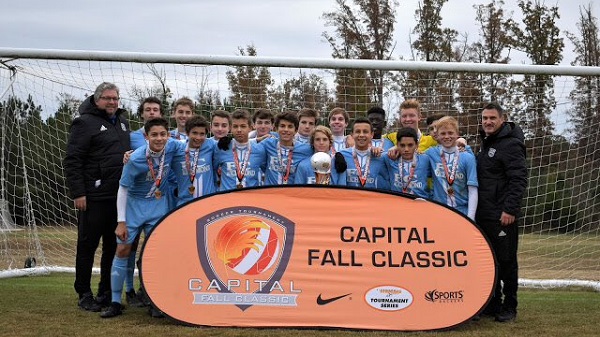 Boys Weekend Results | Tournament Website
@RSKTournaments: Twitter | Instagram
Richmond, VA (Via Richmond Strikers Tournaments) – Division champions were crowned and 2018 Jefferson Cup automatic berths were decided on Sunday as the Capital Fall Classic Boys Weekend came to a close.
The event featured more than 260 teams from seven states and Washington, D.C., competing across 36 total divisions in the U-9 through U-19 age groups.
Premier Division champions earned automatic qualification in the 2018 edition of the Jefferson Cup, one of the nation's most competitive youth soccer tournaments.
Capital Falls Classic games are played on some of the top natural grass and artificial turf fields in the greater Richmond area, including at Striker Park, West Creek Complex, River City Sportsplex, Bon Secours Washington Redskins Training Center, Capital Park, Dorey Park, Mary B. Stratton Park and Poor Farm Park.
The fall end-of-season event annually hosts a wide variety of teams from throughout the East Coast and beyond, providing teams with unfamiliar opponents, tactics and playing styles.
The 2017 Capital Fall Classic will conclude November 18-19 with the Girls Weekend. [+Full Schedule]
U-9
Orange Division
Champions: Gunston Soccer Club – 09 Red
Finalists: Richmond Strikers Chesterfield – 09 White
U-10
Premier Division
Champions: Soccer Vision Academy – SVPorto*
Finalists: Gunston Soccer Club – 08 Red
Superior Division
Champions: St. Mary's Soccer – 08 Strikers
Finalists: FCI Soccer Academy – Lions
Classic Division
Champions: Culpeper SC Comets Academy 08
Finalists:  Yorktown FC – 08 Patriots
U-11
Premier Orange Division
Champions: SYA Cardinals – '07 Red*
Finalists:  Virginia Rush Soccer Club – 07B Black
Premier Black Division
Champions: VSA 07 Pre Academy NCSL*
Finalists: Richmond Kickers – Elite Black '07
Superior Division
Champions: Onslow Classic Soccer Association – Coastal Crew
Finalists: Richmond Kickers – Central Fire '07
Classic Division
Champions: Virginia Rush Soccer Club – 07B BLUE SAMBA
Finalists: Monticello United Soccer Club – 07B Fire
U-12
Premier Division
Champions: Shenandoah Valley United Inc. – 06 Boys Blue*
Finalists: Virginia Rush Soccer Club – 06B Black
Superior Orange Division
Champions: FCI Soccer Academy – Eagles
Finalists: Fredericksburg FC – 06 Boys Black
Superior Black Division
Champions: Stafford Soccer – Revolution 06B Blue
Finalists: VSA 06B Pre Academy NCSL
Classic Orange Division
Champions: Culpeper SC Comets 06B Red
Finalists: Capital FC – 2006B Red Stars
Classic Black Division
Champions: Culpeper SC Comets 06B Silver
Finalists: Old Dominion FC – Cesena 06
U-13
Premier Division
Champions: CFC Black 05 Boys*
Finalists: SYA Cardinals – 05B Red
Superior Orange Division
Champions: SOCA – CVILLE 05 U13B Premier
Finalists:  Shenandoah Valley United Inc. – 05 Boys Premier
Superior Black Division
Champions: Virginia Rush Soccer Club – 05B Nero
Finalists: AUFC 05 United
Classic Division
Champions: Richmond Kickers – South Red Bull '05B
Finalists:  Powhatan Soccer Association – 05 Boys
U-14
Premier Division
Champions: Stafford Soccer – Revolution 04B Blue*
Finalists: Richmond Strikers – 04B Elite Black
Superior Orange Division
Champions: Richmond Strikers Chesterfield – 04B Elite Blue
Finalists: Bowie FC – Elite Black
Superior Black Division
Champions: Richmond Kickers – South '04B
Finalists: FCR Metro 04
Classic Division
Champions: CSC Comets 04B
Finalists: A3 – Wimbledon
U-15
Premier Division
Champions: FCR Magic 03*
Finalists: Virginia Legacy Soccer Club – 03 CCL Elite
Superior Division
Champions: SOCA – CVILLE 03 U15B Premier
Finalists: WVFC – 2003 Boys
Classic Orange Division
Champions: VIP United – Red Devils
Finalists: Virginia Rush Soccer Club – Nero 03B
Classic Black Division
Champions: Shenandoah Valley United Inc. – 03 Boys Premier
Finalists: Central Virginia United – 03 Boys Premier
U-16
Premier Division
Champions: FCR Magic 02*
Finalists: Stafford Soccer – Revolution 02B Blue
Superior Division
Champions: Portsmouth Soccer Club – Boys 02
Finalists: Richmond Kickers – Elite '02B
Classic Orange Division
Champions: SOCA – CVILLE 02 U16B Premier
Finalists: FSCI – Phoenix U16
Classic Black Division
Champions: Yorktown FC – 02 Patriots
Finalists: VIP United – Pumas
U-17
Premier Division
Champions: FCR Magic 01*
Finalists: Loudoun Soccer – 01B Black
Superior Division
Champions: Fluvanna Youth Soccer – Force Black
Finalists:  Beach FC (VA) – 01B Black
Classic Division
Champions: ODFC – Cesena 01B
Finalists: Richmond Strikers Chesterfield – 01B Premier
U-19
Premier Orange Division
Champions: FCR Magic 99*
Finalists: Laurel Lions – 2000
Premier Black Division
Champions: McLean Youth Soccer – 2000 White*
Finalists: Virginia Rush Soccer Club – 99/00 VSL
Superior Division
1st Place: Danville Blast – U19 Boys
2nd Place: Shenandoah Valley United Inc. – 99 Boys Premier
Classic Division
Champions: Central Virginia United – HS 1 Boys Premier
Finalists: CSC Comets 99B