Champions crowned at Capital Fall Classic Girls Weekend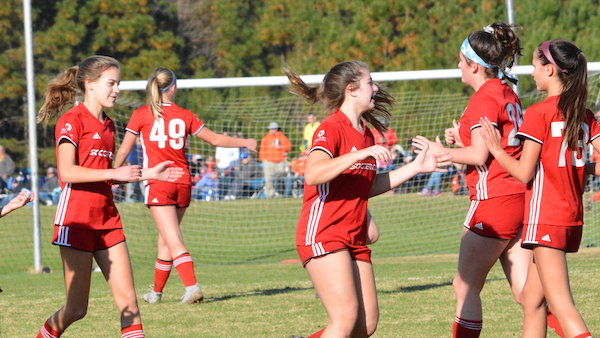 Richmond, Va. – Division titles and numerous 2019 Jefferson Cup berths were decided on Sunday at the Capital Fall Classic Girls Weekend.
The weekend of competition in the Richmond, Va. area concluded the three-week event, which serves as the marquee fall platform of the Richmond Strikers Tournament Series. A total of 31 teams emerged as division champions, and Premier Division sides earned automatic berths in the 2019 Jefferson Cup.
Clubs from throughout the East Coast representing Maryland, New York, North Carolina, Pennsylvania and the host state of Virginia finished as champions and finalists across the divisions at the Girls Weekend.
More Capital Fall Classic 2018 Coverage:
Capital Fall Classic 2018 Girls Weekend Champions / Finalists:
U-9
Orange
Champions: SYA Cardinals 10 Red (VA)
Finalists: Richmond Strikers 10 Elite (VA)
Black
Champions: Richmond Strikers 10 Premier USA (MD)
Finalists: Richmond Strikers 10 Premier France (VA)
U-10
Premier
Champions: Greater Severna Park Pride (MD)
Finalists: FC Richmond 09 Navy (VA)
Superior
Champions: Virginia Rush Blue Copa (VA)
Finalists: Tidewater Sharks 09 (VA)
U-11
Premier
Champions: Baltimore Celtic SC Shamrocks (MD)
Finalists: Piedmont Triad FC 08 Lady Black (NC)
Superior
Champions: La Plata Kraken (MD)
Finalists: Alexandria 08 Red (VA)
Classic
Champions: Gunston Spirit Red 08 (VA)
Finalists: Richmond Strikers 08 Premier (VA)
U-12
Premier Orange
Champions: SYA Cardinals 07 Red (VA)
Finalists: Richmond Strikers 07 Elite (VA)
Premier Black
Champions: Arsenal FC 07 Gold (PA)
Finalists: Arlington 07 White (VA)
Superior
Champions: Richmond Strikers 07 Premier Black (VA)
Finalists: Richmond Kickers River City Reign 07 (VA)
Classic
Champions: Gunston Spirit Red 07 (VA)
Finalists: Powhatan Fury FC 07 (VA)
U-13
Premier
Champions: Richmond Strikers 06 Elite (VA)
Finalists: Alexandria 06 Red (VA)
Superior
Champions: La Plata Patriots (MD)
Finalists: NLS Athena 06 White (MD)
Classic
Champions: FC Richmond 06 Metro (VA)
Finalists: Old Dominion FC Cesena 06 (VA)
U-14
Premier
Champions: Alexandria 05 Red (VA)
Finalists: Virginia Rush 05 (VA)
Superior
Champions: Valley AFC Green 05 (VA)
Finalists: Richmond Strikers 05 Elite Black (VA)
Classic
Champions: La Plata Lynx 05 (MD)
Finalists: Virginia Rush Nero (VA)
U-15
Premier
Champions: Richmond Strikers 04 Elite (VA)
Finalists: LMVSC Patriots 04 Red (VA)
Superior
Champions: Southern Chester County SA Dragons 04 (PA)
Finalists: Richmond Strikers 04 Elite Black (VA)
Classic
Champions: Shenandoah Valley United 04/05 Blue (VA)
Finalists: PWSI Courage 04 Classic (VA)
U-16
Premier
Champions: Herndon Hurricanes White 03 (VA)
Finalists: Loudoun Soccer 03 Red (VA)
Superior
Champions: Arlington 03 White (VA)
Finalists: Richmond Strikers 03 Elite Black (VA)
Classic
Champions: FC Richmond Metro 03 (VA)
Finalists: Richmond Strikers Premier (VA)
U-17
Premier
Champions: Chester Springs United FC 02 Integrity (PA)
Finalists: VB City FC 02 Academy (VA)
Superior
Champions: Arlington 02 White (VA)
Finalists: Valley AFC Green 02 (VA)
Classic
Champions: Reston Great Falls Renegades (VA)
Finalists: SCSL Storm (VA)
U-19
Premier Orange
Champions: Northeast Attack 01 (PA)
Finalists: Empire United Rochester 01 (NY)
Premier Black
Champions: Burke AC Blitz (VA)
Finalists: Old Dominion SC Wave (VA)
Superior
Champions: Old Dominion SC Riptide (VA)
Finalists: Valley AFC Green 00/01 (VA)
Classic Orange
Champions: Richmond Strikers 01/02 Elite Black (VA)
Finalists: AC Sandhills 00 (VA)
Classic Black
Champions: PWSI Courage 00/01 Pride (VA)
Finalists: Broadway Lynx 00 (VA)