Burnett brothers helping lead PDA U-18s to USSDA dominance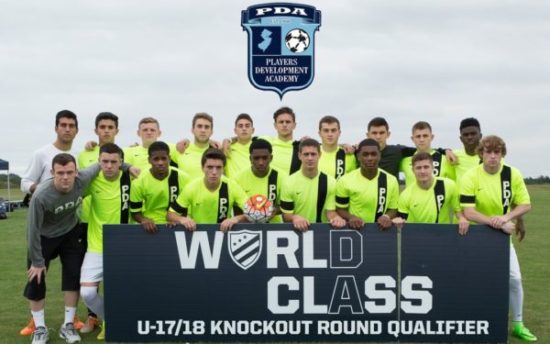 Back when Players Development Academy U-18 players Chaz and Josh Burnett were on Montclair United Soccer Club's U-11 team, they faced a much younger version of the PDA side that they now represent.
Chaz remembers his team losing, 9-1, in the New Jersey State Cup. Their father, Ted, doesn't even recall the final result. What he does know is "they got crushed pretty badly."
Sam Nellins, PDA's director of operations and current U-18 coach, also managed PDA's younger group at the time and noticed Josh's somber demeanor. He made the younger Burnett a proposition.
"Mate, you were the best player on the field," Nellins recalls telling Josh. "Would love to work with you one day."
Both Burnett brothers, separated by 14 months, showed up to PDA tryouts a month later and made the squad. Five years later, they're the focal point of Nellins' group that sits two wins away from a U.S. Soccer Development Academy title.
+Read: Perseverance fueling Chicago Fire U-15/16s' USSDA Playoff run
"They're just super talented," Nellins said. "One has got the world at his feet in Joshua. The other one, he's a bully. He's a big, strong boy."
By combining to score seven of its team's eight postseason goals, Chaz and Josh Burnett helped ensure PDA would become the last Eastern Conference team remaining.
Twenty-six Eastern Conference squads made the playoffs across the two age groups, but only PDA will take the pitch Thursday night in Carson, California. With wins over No. 7 Vancouver Whitecaps FC and either No. 1 FC Dallas or Nomads SC two days later, Nellins' group will be champions.
The Burnetts will play a large part if that happens, so let's get to know the brothers from Glen Ridge, New Jersey.
Chaz, born in March of 1998, and Josh, born in May of the next year, have been around soccer from a very young age.
Their father, Ted, played Division III soccer at Haverford College in Pennsylvania. He played four years at forward, earning All-Conference, All-Region and All-America as a junior.
Soccer was his passion, so Ted wanted to share the sport to his sons.
"Yeah, funny thing," Ted said. "For some reason, the TV channel only showed soccer games. For some reason, it didn't change to baseball games and to other sports."
Ted would play pick up games in the backyard with Chaz and Josh "at a very young age. He said the boys would end up playing with his friends, too.
It didn't take long for Ted to realize their potential.
"It was evident to me that they were both very talented very early on," Ted said. "I would say that by 8-, 9-years-old, you could tell that they had something very special."
When Chaz was around 10 years old playing in an in-town league, Ted remembers his older son scoring five or six goals at a clip. At a tournament down in Delaware, when Chaz played for Sports Domain Academy Montclair in New Jersey, organizers seeded one of its opponents in the wrong division. Chaz ended up scoring seven times.
Ted thinks Josh, who always played a year up, gained his dribbling skills playing with his older brother in the backyard. Chaz was bigger and stronger, Ted said, so Josh had to find ways to keep the ball.
+Read: U.S. Soccer Development Academy U-17/18 Quarterfinals Recap
"He always sort of developed this ability to protect the ball and get out of tight spots because Chaz would clobber him in the backyard," Ted said.
After Chaz and Josh's team lost to PDA several years ago, Ted said Nellins approached him with the notion his sons should be playing on his team.
Chaz and Josh agreed. While the duo used to "win all the time" before making the switch, Chaz said playing at PDA brought him to another level in terms of work ethic and commitment to the sport.
Nellins rarely calls off a training session, Ted said, and the practices have a type of intensity the Burnett brothers weren't familiar with. For several years, the Burnetts have dedicated about 10 months out of year trying to improve their skills.
"Sam taught me to stay mature, stay humble and just stay focused on soccer throughout the years," Chaz said. 'Soccer is a game of sacrifice, and you have to sacrifice to get the top."
Nellins didn't always coach the Burnetts as they made their way up the Development Academy, but he stayed involved with their training. Both players are part of Nellins' "elite player pool," so as the director of operations, he made sure Chaz and Josh were constantly practicing and playing a year up. Nellins also makes sure college and national team coaches to keep these types of players on their radars.
His promotion of the Burnetts didn't land them on the U.S. national team — at least not right away — so Chaz and Josh earned international experience elsewhere.
Ted, who was born in Trinidad & Tobago, moved to the United States when he was 15. Years later, his sons represented his home country at 2015 CONCACAF U-17 Championship in Honduras.
"That had a big impact on them," Nellins said. "They saw how other players prepare."
The Burnetts brothers returned from their international trip to join the PDA U-18 squad as full-time players. Chaz played with the group last year while Josh served as a designated player, rotating between the younger and older age groups.
+Read: Sky Blue – PDA named as founding member of Girls DA
But in Chaz's last Development Academy season, one year removed from PDA's quarterfinal exit, the brothers have taken advantage, especially in the 2016 playoffs.
Chaz scored once to open play in Group D, helping PDA earn a 1-0 in over Montreal Impact FC, and put home both goals in his team's draw with Arsenal FC two days later. In the final group-play match, Chaz and Josh each scored once as PDA tied Chicago Magic PSG and clinched a berth in the knockout stages.
Against Philadelphia Union, a fellow Atlantic Division foe, forward Isaiah Young joined Chaz and Josh as the goal scorers to help PDA earn a 3-1 victory.
"Everyone is doing their jobs specifically," Josh said. "And me, Isaiah and Chaz have been able to find each other a lot in the attacking third."
To complete their impressive run the title, Josh said his team has focused on remaining disciplined and staying together. Nellins has taught both brothers to play with heart and desire on the field, something Josh will continue to focus on going forward.
Josh plans to return to the PDA U-18 squad before potentially committing to a college for the 2017 season. The U-18 men's national team player has interest in Wake Forest, Virginia, Louisville and North Carolina.
Chaz said he is considering Rutgers and Monmouth, though he isn't concerned with that at the moment. Trinidad & Tobago also invited him back to compete on its U-20 squad in qualifying matches for the 2017 U-20 World Cup in Korea. He'll play with the team in the Caribbean qualifiers in Curacao in October. The top four finishers will then head to Costa Rica for the CONCACAF qualifiers.