Bethesda SC, Maryland United FC ECNL sides earn statement wins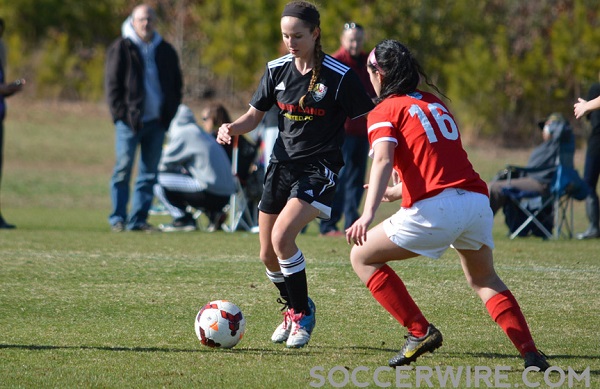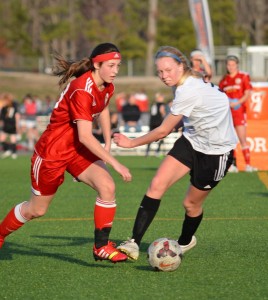 Bethesda SC's U-14 and U-16 ECNL sides, and the Maryland United FC U-17s each won two games over the weekend, strengthening their hold on playoff berths. The Bethesda U-15 squad continued its push toward a playoff spot, earning four points on the weekend with a draw and a win against Internationals SC.
On Saturday, the Bethesda U-14s overpowered Ohio side Internationals SC, and followed up Sunday with a 2-1 win to remain unbeaten and improve to 9-0-1. Bethesda holds the No. 3 overall seed for the U-14 Champions League entering the final month of the regular season.
In the U-15 age group, the Bethesda U-15s played Internationals to a scoreless draw on Saturday with Brooke Harrington earning the clean sheet in goal behind another strong effort from her back line. After gutting out a 2-1 win over Internationals on Sunday, third place Bethesda picked up some valuable ground on second place Ohio Elite SA, which holds the Ohio Valley Division's second playoff spot.
+Read: Hummer: 'Club-centric' is more than a buzzword – and the proof is on the field
[player_box id=53281 leftright=right]This weekend's match-ups with last place Internationals was a chance for Bethesda's U-16 side to separate themselves further from the pack, and the team did just that, [player_box id=48436 leftright=right]earning two more wins and improving to 8-1-2. Olivia Kane had 2 goals and 1 assist on the weekend, and Cameron Murtha continued her torching offensive pace with a hat trick on Sunday. She now has 10 goals and 6 assists in just 13 games played on the season. Although India Fire Juniors lead the division with a 7-1-1 record and 2.44 points per game, Bethesda's 2.36 PPG is almost a full point ahead of third place Ohio Elite SA, which is 1.40 at 4-4-2. Bethesda is firmly in playoff position heading into the final month of the season.
[player_box id=52388 leftright=right]Maryland United's U-17 squad continued their impressive season, improving to 8-2-0 with 4-0 and 3-0 shutouts of Indiana Fire Juniors. With two more clean sheets, [player_box id=53285 leftright=right]MUFC has still allowed only 5 goals through 10 matches. Five players scored at least one of the team's 7 goals on the weekend, while Abbigale Ellis and Kia Rankin each netted two and added an assist. Rankin (7 goals) and Ellis (6 goals) are MUFC's leading scorers. MUFC is in firm playoff position, currently second place in the Ohio Valley Division.
See below for full results, updated standings and playoff pictures across the ECNL's Mid-Atlantic Conference…
U-14
| | | | |
| --- | --- | --- | --- |
| Apr 25 12:00pm | | | |
| Apr 25 1:00pm | | | |
| Apr 25 3:28pm | | | |
| Apr 26 8:30am | | | |
| Apr 26 9:00am | | | |
| Apr 26 3:28pm | | | |
U-15
| | | | |
| --- | --- | --- | --- |
| Apr 25 2:00pm | | | |
| Apr 25 2:59pm | | | |
| Apr 26 8:00am | | | |
| Apr 26 11:00am | | | |
U-16
| | | | |
| --- | --- | --- | --- |
| Apr 25 10:00am | | | |
| Apr 25 10:00am | | | |
| Apr 26 9:00am | | | |
| Apr 26 10:00am | | | |
U-17
| | | | |
| --- | --- | --- | --- |
| Apr 25 2:00pm | | | |
| Apr 25 2:00pm | | | |
| Apr 26 11:00am | | | |
| Apr 26 12:00pm | | | |
U-18
| | | | |
| --- | --- | --- | --- |
| Apr 25 12:00pm | | | |
| Apr 25 2:00pm | | | |
| Apr 26 12:00pm | | | |
| Apr 26 1:00pm | | | |
Standings
Playoff Picture