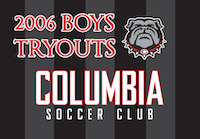 2019/2020 CSC Bulldogs U14 2006 Boys Travel Tryouts
Location:
Columbia, MD, United States
Hello there!
Columbia Soccer Club (CSC) is looking for elite level 2006 boys, especially a dedicated GK, to join the already very talented team. The Head Coach is an ex-professional player with a C License, and most games come with post-game video analysis.
Although CSC was established in 1994, many people have not heard of it. At the older age groups they're some of the best teams in MD. This is the first 2006 CSC team, and many players have accepted the challenge and have come from other big clubs in the area. This project comes without the restrictions and politics that often exist in much larger travel clubs. Essentially, at CSC we're free to manage our own team budget, choose the league and tournaments we want to play in, get great rental fees across Howard County HS and parks turf fields, as well as pay considerably less team fees without jeopardizing the quality of the training or facilities.
Expected to play in 7 outdoor tournaments, 2 indoor leagues, State Cup, EDP League, etc. Nike Pro uniform kit.
We're holding tryouts throughout the summer, starting this Wednesday, July 10th at Hammond HS in Columbia 6pm-7pm. Come join us and have some fun scrimmaging among some of the best players in the state.
For more info please contact: 443-364-8542