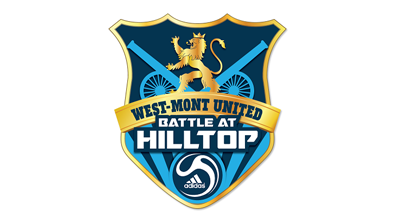 Battle at the Hilltop
Location:
Limerick, PA, United States
Gender Offered:
Boys & Girls
App Closing Date:
May 31, 2020
Lowest per team price:
$625
Highest per team price:
$800
Competitive Level:
Competitive Travel
West-Mont United is closely following the guidelines set forth by US Youth Soccer regarding the COVID-19 Pandemic. Though we'd rather be out playing on the field, the health and safety of our participants, and spectators is our top priority.
At this time we plan to move forward with Battle at HillTop set to take place August 14 & 15, 21 & 22 . We will continue to monitor the guidelines  and will re-evaluate this decision as we get closer to the tournament dates.
If you were planning to attend Battle at HillTop, we encourage you to apply as soon as possible!  We will not charge any registration fees until we are confident the event will move forward as planned. Those who have already paid the registration fee will be issued a full refund in the event of cancellation due to COVID-19.
---
Battle At HillTop (BAH) 2019 had the highest level of competition the tournament has seen in previous years, with teams coming from NJ, MD, VA and PA(W).  It was a pleasure to host these teams from out of state along with all the PAE teams.  BAH 2020 will continue to grow in size and competition!