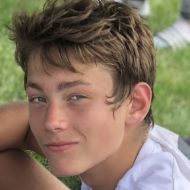 Wallace Adams
I have been playing soccer since 2007, first as a developmental player, and then as a competitive player.
I traveled to Sweden in 2019 as part Of the Rush program and have played in many tournaments both within my own club and as a guest player.
I am part of the Alaska ADP program and I participated in the Seattle Sounders academy camps from 2008-2019.
As a freshman on the varsity squad for Thunder Mountain High School during the 2019 season, I was the lead goal scorer with 13 goals in the forward position. Our team made it to state for the first time in program history and we also beat our cross-town rivals for the first time in program history. When one of my teammates got injured I was able to fill the center back position and play that position confidently, with strong physicality and mental awareness.
Location:
Juneau, AK, United States
Player Specifications:
Position:
Defender, Forward
USNT Eligibility:
Eligible