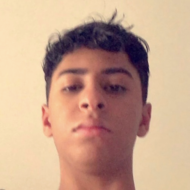 Ramy Khodeir
Born '02 Ramy Khodeir is a soccer player who plays as an attacking midfield and a forward. Growing up in Louisville, he started to play ever since he was a kid.
Starting 2013, he trained privately at Mockingbird Valley Sports Complex for three years. In 2017, he played #93 for Derby City Rovers in the division U16 representing Rovers' team colors: blue, black, and white. Later that year, Ramy was certified and recognized by the Kentucky Soccer Referee Association. He was a referee for the youth soccer games held by the Kentucky Youth Soccer Association. Ramy earned monetary value for making responsible calls and decisions at the youth soccer games.
Ramy's inspiration for playing soccer comes from Cristiano Ronaldo and Pelé. Throughout his teen years, he quit soccer and joined boxing because he admired the independence of boxing.
Location:
Louisville, KY, United States
Player Specifications:
Position:
Midfielder, Forward
USNT Eligibility:
Eligible