With new Pathway 2 Pro, DC United aim to raise the level in DMV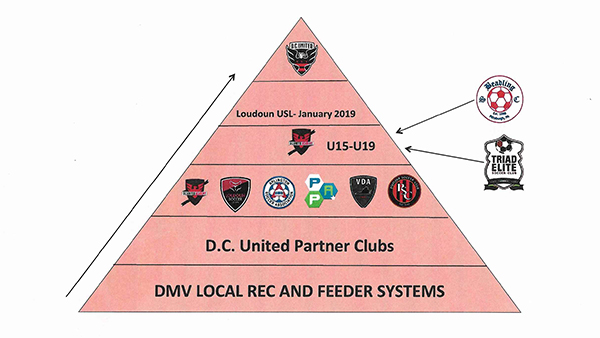 WASHINGTON – With their new stadium (Audi Field) and new superstar player (Wayne Rooney) in place and a new training facility on the horizon, D.C. United are marking another step in their rebirth with a reconfiguration of their youth system.
Later today the Black-and-Red will officially unveil "DMV Pathway 2 Pro," a partnership with five Washington metro area youth clubs designed to strengthen and streamline the developmental pyramid by which United aim to nurture the region's top young talent.
Created "to give the top players ages U12-U14 in the local DMV a clear pathway to the pros, WITH [emphasis United's] the support on and off the field of top local clubs," the new system builds on D.C.'s existing relationships in the area's youth scene, allying with Arlington Soccer, Loudoun Soccer, Baltimore-based Pipeline, Player Progression Academy (PPA) and the Virginia Development Academy (VDA) to spot promising players ages 10-14 in those clubs and invite them into an ODP-style call-up system.
Rather than recruiting those kids away from their current clubs on a permanent basis, a process that has at times sparked conflict between MLS franchises and their local youth counterparts in the past, D.C.'s new setup seeks to expose them to higher-level training sessions and events on a part-time basis.
That starts with monthly training sessions in the fall, ramping up to twice-monthly by springtime, and invitations to take part in events like Generation Adidas Cup and the International Champions Cup. These occasions are intended to add on to, rather than interrupt or detract from, the players' existing activities with their current youth teams.
"As much as our partner clubs have supported us in sending players, we still would like to keep those groups together for two or three years so they can have some continuity in developing their talent, and they obviously want to compete and have some pride and develop a culture in their club," D.C. GM and VP of soccer operations Dave Kasper told SoccerWire.com.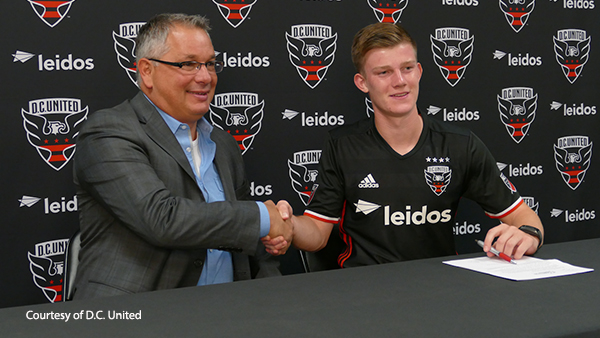 "We have five partner clubs that are part of this project that we have very good relationships with, that we fully trust, and will be very good partners in helping us raise the level of soccer in the DMV – of creating a better environment than currently exists today, to help us identify those players who have aspirations to play professional soccer. And now we have a true pathway to show those aspiring young talents of how they can get there."
The hope is to cultivate a larger pool of talent – and give more of the players in it a basic introduction to United's ways of playing – across the region leading up to the U-15 level, where the best of the program are then offered slots in D.C.'s older squads. Similar, existing arrangements with out-of-market clubs Triad Elite (Winston-Salem, North Carolina) and Beadling (Pittsburgh) cast United's reach further still.
Coaches from the partner clubs will be invited to take part in P2P events and other professional development opportunities. And late-blooming players from those five clubs who show the requisite quality after the U-14 stage will also be given chances to spend time in United's system.
United will continue to operate their own pre-academy and Development Academy teams, which "will remain the same in terms of the training, the expectations and the standards for the kids," just with broader, tougher competition for places, said D.C academy director Ryan Martin.
"We just think it will be a better pool of players, quite frankly. And the kids will have more of an idea of what we're trying to, because we'll be working with them starting at U-12 with a bigger base of players," Martin added. "So by the time, four years from now, when that 12-year-old group is 16, they'll have an idea of what the D.C. United style of play is, the identity and what we're trying to create."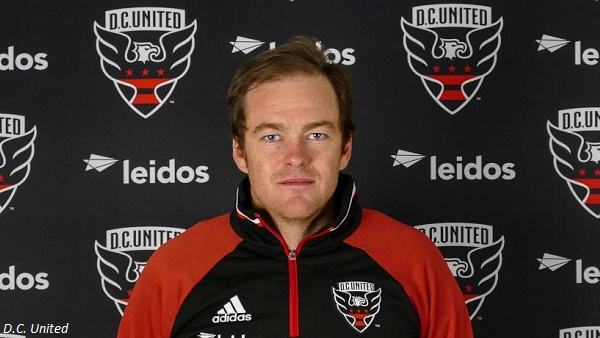 D.C. were one of the first MLS franchises to delve headlong into the youth development space and can point to success stories like Bill Hamid, Andy Najar and Ian Harkes. Yet over the years they've encountered friction from youth clubs and coaches miffed to see their top players scooped up by the local pro team. Now United wish to cultivate a more collaborative approach.
"It took a while for us to push through because we had to go through a lot of different hurdles. We wanted to do it the right way with the right people and people that believe in the same thing we do. That was the biggest goal," said Martin, who praised the input and leadership of first-team coach Ben Olsen and his assistant Nolan Sheldon, who previously ran the academy. "Wherever the academy kids that we bring in are coming from, we give full credit to the clubs … for us, it's about giving the kid the opportunity to grow.
"Kids are coming in from other clubs and they're getting opportunities to train with the first team and they're getting opportunities to play. That's what really separates us," he added. "Yesterday we had our U-19s working on their press against the first team… there's not many U-19 academy clubs that are working on the press against a professional team."