Washington Spirit, USWNT star Ali Krieger latest NWSLer to secure European loan: "I need something fresh right now"
By Charles Boehm
FREDERICKSBURG, Va. – Ali Krieger will join her Washington Spirit and U.S. Women's National Team colleague Ashlyn Harris on loan this fall at Swedish powerhouse Tyresö, the latest NWSL standouts to arrange offseason stints overseas in search of continued high-level playing time.
Tyresö announced the acquisition last week and Krieger spoke to SoccerWire.com in detail about the move at a youth clinic in Northern Virginia on Sunday, explaining her goals and motivations in leaving her home region once again in search of professional growth opportunities in Europe.
It's been a rough first year for Krieger and the Spirit, who have languished in last place in the NWSL for most of the league's inaugural season.
The veteran fullback, who turned 29 last month, recently battled back from her first career concussion and is looking forward to a new challenge that will begin with a trans-Atlantic flight to Stockholm one day after the Spirit's final game – "They want me quick," she joked – of the year on Sunday.
"I just want to keep playing, especially with the season that we had. I need something fresh right now, I need to keep training, I need to keep getting better," she said. "I got a good offer overseas to come play and I figured, 'why not?'
"This is an opportunity to continue to play and have fun, live in a new city and experience that. It's nothing but good things. I just want to play…stay sharp, stay technically sound, get my mobility back and to 110 percent and go from there."
Krieger is doing so with the full blessing of U.S. Soccer and USWNT head coach Tom Sermanni. Tyresö is already home to talented Americans Christen Press and Meghan Klingenberg and is coached by former U.S. assistant Tony Gustavsson. But what made the loan to the reigning Damallsvenskan champions irresistible was the lure of their participation in the UEFA Women's Champions League.
"They have a great club, a lot of Americans as well, so that should be fun, and they're playing in Champions League and that was the most important," said Krieger. "I had a couple of offers in Germany but unfortunately they weren't in the Champions League. If I go back, if I choose to go back to Europe I want to play in the Champions League and play at a high level. That would be the only opportunity worth it to me.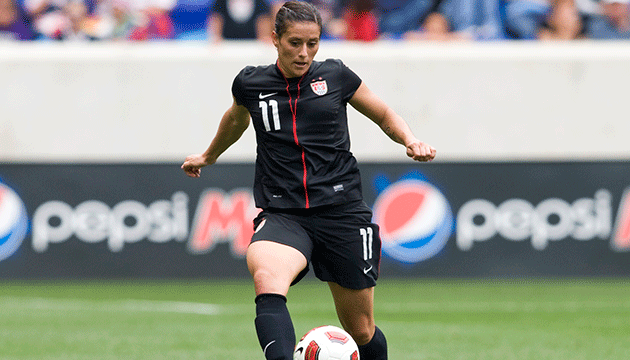 "If we all continue to play and stay on top of it, and stay sharp, in the end, we're helping the national team succeed," she added. "Until our league goes nine months out of the year, I think you'll see a lot of girls going over and taking those opportunities that maybe they wouldn't have [otherwise]."
Krieger will play her usual right back position in Sweden and expects to return in time for the 2014 NWSL preseason. But like her USWNT teammates Megan Rapinoe and Tobin Heath did this year, she may also have the option of finishing the season with Tyresö next spring and rejoining NWSL play during the summer transfer window.