Virginia Legacy brands NPSL team Legacy 76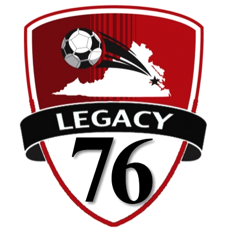 WILLIAMSBURG, Va. – This May, the Virginia Legacy Soccer Club will kick off a summer of soccer action as they make their debut in the National Premier Soccer League (NPSL). While the world's soccer superstars are competing for the FIFA World Cup in Brazil, the top local talent will soccer to the Williamsburg and Newport News communities.
For the past 38 years, the Virginia Legacy Soccer Club's mission has been to provide fun, dynamic, and inspiring soccer experiences for youth players of all ages and ability levels. Incorporated in 1976, the club formalized its earlier antecedents as the Williamsburg Soccer Club now known as the Virginia Legacy Soccer Club. With the club's history in mind, the Virginia Legacy has announced the formation of Legacy 76.
"This team will serve as the highest level of elite soccer within the Virginia Legacy Soccer Club," said Bobby O'Brien, Technical Director for the Virginia Legacy Soccer Club. "We received over 50 suggestions in our Name-the-Team Contest and believe this submission by Legacy youth coach Phil Brown encapsulates all of our unique branding initiatives."
In addition to competing in the largest amateur league in the United States, the team will also provide the community with an opportunity to experience minor league soccer up close. A majority of the team's roster will include players with connections to local college programs and many of of them participated in youth and high school programs throughout the Tidewater region. This will allow the thousands of youth soccer players currently playing the game with a viable opportunity to develop a positive and inspirational soccer role model.
Legacy 76 will play its first-ever game in the National Premier Soccer League on Saturday, May 17th.