US Club Soccer id² Training Camp concludes in Massachusetts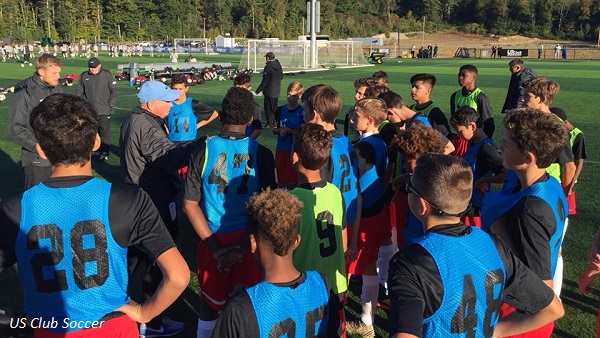 Rosters – Boys / Girls | Photos | Daily log 
LANCASTER, Mass. (Via US Club Soccer) – The US Club Soccer id² Training Camp in Massachusetts was held Sept. 28-Oct. 1 at the FC Stars Soccer Complex in Lancaster, featuring some of the top 2004 boys and 2003-04 girls throughout the country. A total of 113 players from 61 clubs and 15 states participated in the camp, which included on and off-field training sessions.
This camp was the first of two post-summer camps, with the final camp of 2017 being held in early December in Casa Grande, Ariz. Those will conclude the training camp portion of the id² age group cycle targeting 2004 boys and 2003 girls. As is customary for the fall and winter id2 camps, scouting extends to 2004 girls, as well, to accommodate upcoming U.S. Soccer Federation's youth national team programming on the girls side.
Players participated in field sessions, which emphasized technical and tactical principles. A collection of these exercises will soon be released publicly on usclubsoccer.org, as part of a Players First partnership with SportSessionPlanner. Additionally, players attended classroom sessions, which focused on sports psychology and assisted in the visual demonstration of field strategies.
id² directors Gerry McKeown (boys) and Tricia Taliaferro (girls) were on-site to implement id² curriculum, along with 10 staff coaches. Coaching the boys were: Louis Mateus (Chicago Magic SC & U.S. Soccer), Ben Moane (Boston College), Ian Mork (NorCal Premier), John Newman (Princeton SA) and Tom Shields (STA). Coaching girls were: Matt Davison (FC Stars), Jason Dewhurst (FC Stars), Stuart Hilton (Sting SC), Ruairi McGuinness (East Meadow SC) and David Robertson (NorCal Premier). Leo Garcia, NPL General Manager and US Club Soccer Vice President of Competitions, was also on-site to oversee the program.
Four U.S. Soccer Federation scouts were on-site throughout the camp for future, potential youth national team programming: Ciara Crinion (girls), Scott Donnelly (boys), Bryan Harkin (boys) and Katie Schoefer (girls).
Beyond the final id² Training Camp in December, US Club Soccer will invite top performers from this entire age group cycle to participate in id² National Selection programming: the id² National Selection International Tour (Spring 2018 for boys) and the ECNL/id² National Training Camp (Summer 2018 for girls).
Established in 2004, US Club Soccer's id2 Program provides an opportunity for the country's elite youth soccer players to be identified and developed, and scouted for inclusion in U.S. Soccer's National Team programs. id2Program directors Gerry McKeown (boys) and Tricia Taliaferro (girls) implement curriculum and direct activities.
The id2 Program is an Olympic Development Program (ODP) approved by the United States Olympic Committee and the U.S. Soccer Federation. There is no cost for players to participate or be scouted, and all meals, lodging and gear are provided by US Club Soccer and Nike.
This was the first time FC Stars Soccer Complex has hosted an id² Training Camp. The complex has previously hosted the Northeast Girls NPL playoffs, most recently in 2016.