Twenty-six college players selected in Rounds 3 and 4 of MLS SuperDraft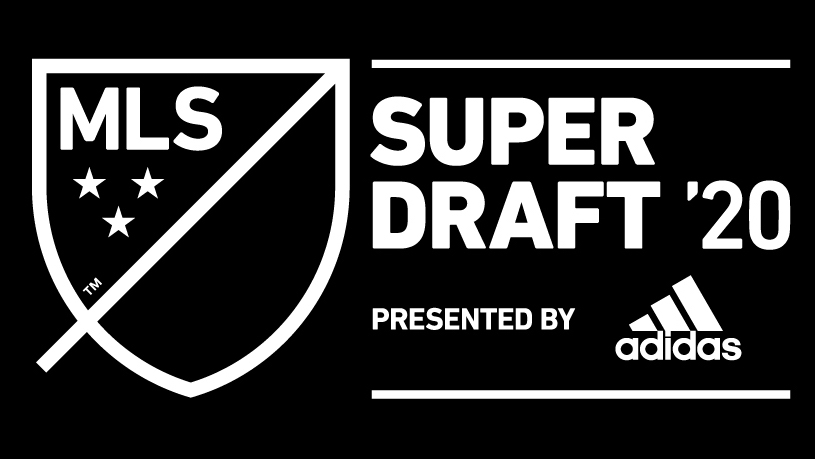 NEW YORK– The 2020 MLS SuperDraft concluded on Monday, with 26 players selected over the third and fourth rounds, as clubs around the league continue building their rosters in the lead-up to the 2020 season.
FC Cincinnati acquired the No. 1 pick in the third round (53rd overall) via trade with Inter Miami CF, and selected Indiana University senior midfielder Joris Ahlinvi. Prior to the Ahlinvi's senior season as a transfer to Indiana, he was a 2018 MAC Hermann Trophy Watch List contender and a First-Team All-Conference USA selection at Florida International University. Ahlinvi scored two goals in 10 appearances during his senior season at Indiana.
With the second pick in the third round (54th overall), expansion club Nashville SC selected senior forward Shak Adams of Florida Gulf Coast University. A native of Antioch, Tenn., Adams notched 23 career goals, including eight game-winners to compliment his 16 assists over his 71 appearances that featured 50 starts.
Results from Round 1 and Round 2 of the 2020 MLS SuperDraft presented by adidas are available here.
The complete 2020 MLS SuperDraft selection tracker, which includes all four rounds, is available on MLSsoccer.com.
Following the final two rounds of the SuperDraft, clubs now shift their focus to the 2020 MLS preseason, which opened on Monday for the five clubs competing in the 2020 Scotiabank Concacaf Champions League. Reigning MLS Cup champions Seattle Sounders FC will join Atlanta United, the 2019 Lamar Hunt U.S. Open Cup champions and Campeones Cup champions, alongside 2019 Supporters' Shield winner Los Angeles Football Club, Canadian Championship winners Montreal Impact, and MLS regular season Eastern Conference champions New York City FC in the tournament.
MLS teams not competing in Concacaf Champions League play will open preseason training camps on Saturday, Jan. 18.
RESULTS: 2020 MLS SuperDraft presented by adidas (Rounds 3-4)
ROUND 3
| | | | | | | | | |
| --- | --- | --- | --- | --- | --- | --- | --- | --- |
| # | TEAM | PLAYER | POS. | HT | WT | DOB | HOMETOWN | CLUB/COLLEGE |
| 53. | CIN | Joris Ahlinvi | MF | 5-11 | 175 | 7/13/1995 | Gujan-Mestras, France | Indiana University |
| 54. | NSH | Shak Adams | FW | 5-7 | 138 | 9/7/1998 | Antioch, Tenn. | Florida Gulf Coast Univ. |
| 55. | VAN | PASS | | | | | | |
| 56. | MTL | PASS | | | | | | |
| 57. | ORL | Nick O'Callaghan | DF | 6-0 | 167 | 3/11/1997 | Winter Springs, Fla. | Florida International Univ. |
| 58. | KC | Jaret Townsend | MF | 5-10 | 160 | 1/29/1998 | Highlands Ranch, Colo. | Univ. of Washington |
| 59. | CLB | Ryo Shimazaki | DF | 5-9 | 150 | 4/19/1997 | Kawasaki, Japan | Virginia Commonwealth Univ. |
| 60. | MTL | PASS | | | | | | |
| 61. | MTL | PASS | | | | | | |
| 62. | NYR | Stavros Zarokostas | FW | 5-7 | 160 | 11/5/1997 | Coventry, R.I. | Univ. of Rhode Island |
| 63. | COL | PASS | | | | | | |
| 64. | SJ | PASS | | | | | | |
| 65. | DC | Andrew Verdi | GK | 6-4 | 210 | 3/30/1998 | Ivyland, Pa. | Univ. of Michigan |
| 66. | DAL | Derek Waldeck | MF | 5-8 | 150 | 2/1/1998 | Santa Clarita, Calif. | Stanford Univ. |
| 67. | NYR | Barry Sharifi | MF | 5-10 | 173 | 11/10/1997 | Jericho, N.Y. | Loyola Univ. Maryland |
| 68. | POR | Zac McGraw | DF | 6-4 | 205 | xx/xx/1996 | Torrance, Calif. | U.S. Military Academy West Point |
| 69. | DC | PASS | | | | | | |
| 70. | HOU | Duncan Turnbull | GK | 6-7 | 226 | xx/xx/1998 | Geneva, Ill. | Univ. of Notre Dame |
| 71. | LA | PASS | | | | | | |
| 72. | RSL | PASS | | | | | | |
| 73. | PHI | PASS | | | | | | |
| 74. | NYC | Parker Siegfried | GK | 6-1 | 170 | 2/17/1997 | Granville, Ohio | Ohio State Univ. |
| 75. | ATL | Phillip Goodrum | MF | 6-0 | 170 | 6/20/1997 | Charlotte, N.C. | Univ. of North Carolina Wilmington |
| 76. | LFC | Jorge Gonzalez | MF | 5-10 | 165 | 10/29/1998 | Valencia, Spain | Southern Illinois Univ. Edwardsville |
| 77. | TOR | PASS | | | | | | |
| 78. | SEA | Julian Avila-Good | MF | 5-10 | 160 | 4/30/1998 | Winnipeg, Man., Canada | Seattle Univ. |
ROUND 4
| | | | | | | | | |
| --- | --- | --- | --- | --- | --- | --- | --- | --- |
| # | TEAM | PLAYER | POS. | HT | WT | DOB | HOMETOWN | CLUB/COLLEGE |
| 79. | DAL | Anders Engebretsen | FW | 5-8 | | 1/8/1996 | Oslo, Norway | Saint Mary's College |
| 80. | NSH | Luke Haakenson | MF | 5-10 | 175 | 9/10/1997 | Maple Grove, Minn. | Creighton Univ. |
| 81. | LA | PASS | | | | | | |
| 82. | VAN | PASS | | | | | | |
| 83. | ORL | PASS | | | | | | |
| 84. | KC | James Kasak | DF | 5-9 | 160 | 2/12/1998 | Stuarts Draft, Va. | Virginia Tech State Univ. |
| 85. | CLB | PASS | | | | | | |
| 86. | HOU | Kyle Edwards | MF | 6-1 | 184 | 1/15/1997 | Barrouallie, St.Vincent&Grenadines | Univ. of Texas Rio Grande Valley |
| 87. | COL | PASS | | | | | | |
| 88. | MIN | Matthew Bentley | FW | 6-1 | 178 | 5/23/1998 | London, England | Missouri State Univ. |
| 89. | COL | PASS | | | | | | |
| 90. | SJ | PASS | | | | | | |
| 91. | DC | PASS | | | | | | |
| 92. | DAL | Aidan Megally | MF | 6-0 | | xx/xx/1998 | Park Ridge, Ill. | Loyola Univ. Chicago |
| 93. | NYR | Niko Petridis | MF | 5-7 | 155 | 9/29/1998 | Norwalk, Conn. | St. John's University |
| 94. | POR | Joergen Oland | DF | 6-2 | 178 | 3/25/1997 | Drammen, Norway | Fordham Univ. |
| 95. | DC | PASS | | | | | | |
| 96. | MIN | Andrew Booth | MF | 5-11 | 170 | 7/16/1997 | Tamarac, Fla. | Florida International Univ. |
| 97. | LA | PASS | | | | | | |
| 98. | RSL | PASS | | | | | | |
| 99. | PHI | PASS | | | | | | |
| 100. | NYC | PASS | | | | | | |
| 101. | PHI | PASS | | | | | | |
| 102. | LFC | Younes Boudadi | DF | 6-0 | 170 | 1/23/1996 | Ypres, Belgium | Creighton Univ. |
| 103. | TOR | PASS | | | | | | |
| 104. | CHI | PASS | | | | | | |
TEAM-BY-TEAM SELECTIONS:
Atlanta United (2): Patrick Nielsen (23); Phillip Goodrum (75)
Chicago Fire FC (1): Jonathan Jimenez (26)
FC Cincinnati (2): Rey Ortiz (29); Joris Ahlinvi (53)
Colorado Rapids (1): Robin Afamefuna (37)
Columbus Crew SC (4): Miguel Berry (7); Remi Prieur (47); Danny Griffin (49); Ryo Shimazaki (59)
D.C. United (3): Simon Lefebvre (21); Josh Fawole (42); Andrew Verdi (65)
FC Dallas (6): Nkosi Burgess (14); Cal Jennings (17); Manuel Ferriol (40); Derek Waldeck (66);Anders Engebretsen (79); Aidan Megally (92)
Houston Dynamo (4): Garrett McLaughlin (8); Luka Prpa (34); Duncan Turnbull (70); Kyle Edwards (86)
Sporting Kansas City (2): Jaret Townsend (58); James Kasak (84)
LA Galaxy (1): Tom Smart (45)
Los Angeles Football Club (4): Paulo Pita (24); Jack Hallahan (50); Jorge Gonzalez (76); Younes Boudadi (102)
Inter Miami CF (2): Robbie Robinson (1); Dylan Nealis (3)
Minnesota United FC (3): Noah Billingsley (18); Matthew Bentley (88); Andrew Booth (96)
Montréal Impact (1): Jeremy Kelly (9)
Nashville SC (6): Jack Maher (2); Alistair Johnston (11); Elliot Panicco (13); Tanner Dieterich (28); Shak Adams (54); Luke Haakenson (80)
New England Revolution (3): Henry Kessler (6); Simon Lekressner (30); Keegan Meyer (43)
New York Red Bulls (7): Patrick Seagrist (10); Cherif Diaye (15); Wallis Lapsley (36); Deri Corfe (41); Stavros Zarokostas (62); Barry Sharifi (67); Niko Petridis (93)
New York City FC (3): Jesús Perez (22); Felicien Dumas (48); Parker Siegfried (74)
Orlando City SC (5): Daryl Dike (5); Joey DeZart (31); Jonathan Dean (39); Austin Aviza (44); Nick O'Callaghan (57)
Philadelphia Union (0)
Portland Timbers (3): Aaron Molloy (16); Zac McGraw (68); Joergen Oland (94)
Real Salt Lake (2): Dayonn Harris (20); Michael Wetungu (46)
San Jose Earthquakes (3): Tanner Beason (12); Jack Skahan (27); Jon Bell (38)
Seattle Sounders FC (3): Danny Reynolds (35); Timo Mehlich (52); Julian Avila-Good (78)
Toronto FC (4): Nyal Higgins (19); Ifunanyachi Achara (25); Malick Mbaye (33); Simon Waever (51)
Vancouver Whitecaps FC (2): Ryan Raposo (4), Daniel Gagliardi (32)
COLLEGE-BY-COLLEGE SELECTIONS:
Univ. of Akron (1): Tom Smart
Univ. of California (1): Simon Lekressner
Univ. of California, Davis (1): Wallis Lapsley
Univ. of California, Santa Barbara (1): Noah Billingsley
Univ. of Central Florida (2): Jonathan Dean; Cal Jennings
Clemson Univ. (3): Tanner Dieterich; Malick Mbaye; Robbie Robinson
Univ. of Connecticut (1): Dayonn Harris
Creighton Univ. (2): Younes Boudadi; Luke Haakenson
Florida Gulf Coast Univ. (1): Shak Adams
Florida International Univ. (3): Andrew Booth; Daniel Gagliardi; Nick O'Callaghan
Fordham Univ. (1): Joergen Oland
Georgetown Univ. (2): Ifunanyachi Achara; Dylan Nealis
High Point Univ. (1): Keegan Meyer
Univ. of Illinois at Chicago (1): Jesús Perez
Indiana Univ. (3): Joris Ahlinvi; Jack Maher; Simon Waever
James Madison Univ. (1): Manuel Ferriol
Univ. of Louisville (1): Cherif Diaye
Loyola Univ. Chicago (1): Aidan Megally
Loyola Univ. Maryland (2): Josh Fawole; Barry Sharifi
Univ. of Maryland, Baltimore County (1): Jon Bell
Marquette Univ. (2): Luka Prpa; Patrick Seagrist
Marshall Univ. (1): Paulo Pita
Univ. of Michigan (2): Jack Hallahan; Andrew Verdi
Michigan State Univ. (2): Patrick Nielsen; Michael Wetungu
Missouri State Univ. (1): Matthew Bentley
University of Nevada Las Vegas (1): Timo Mehlich
Univ. of North Carolina (2): Jeremy Kelly; Jack Skahan
Univ. of North Carolina at Charlotte (1): Elliot Panicco
Univ. of North Carolina Wilmington (2): Phillip Goodrum; Danny Reynolds
Univ. of Notre Dame (2): Felicien Dumas; Duncan Turnbull
Ohio State Univ. (1): Parker Siegfried
Univ. of the Pacific (1): Jonathan Jimenez
Penn State Univ. (1): Aaron Molloy
Univ. of Portland (1); Rey Ortiz
Providence College (2): Austin Aviza; Danny Griffin
Univ. of Rhode Island (1): Stavros Zarokostas
St. John's Univ. (1): Niko Petridis
Saint Mary's College (2): Anders Engebretsen; Remi Prieur
Univ. of San Diego (1): Miguel Berry
Seattle Univ. (2): Julian Avila-Good; Nkosi Burgess
Southern Illinois Univ. Edwardsville (1): Jorge Gonzalez
Southern Methodist Univ. (1): Garrett McLaughlin
Stanford Univ. (2): Tanner Beason; Derek Waldeck
Syracuse Univ. (2): Nyal Higgins; Ryan Raposo
Temple Univ. (1): Simon Lefebvre
Univ. of Texas Rio Grande Valley (1): Kyle Edwards
U.S. Military Academy West Point (1): Zac McGraw
Univ. of Virginia (3): Robin Afamefuna, Daryl Dike, Henry Kessler
Virginia Commonwealth Univ. (1): Ryo Shimazaki
Virginia Polytechnic State Univ. (1): James Kasak
Wake Forest Univ. (2): Joey DeZart, Alistair Johnston
Univ. of Washington (1): Jaret Townsend
Wright State Univ. (1): Deri Corfe