Top Things to Know About MLS This Week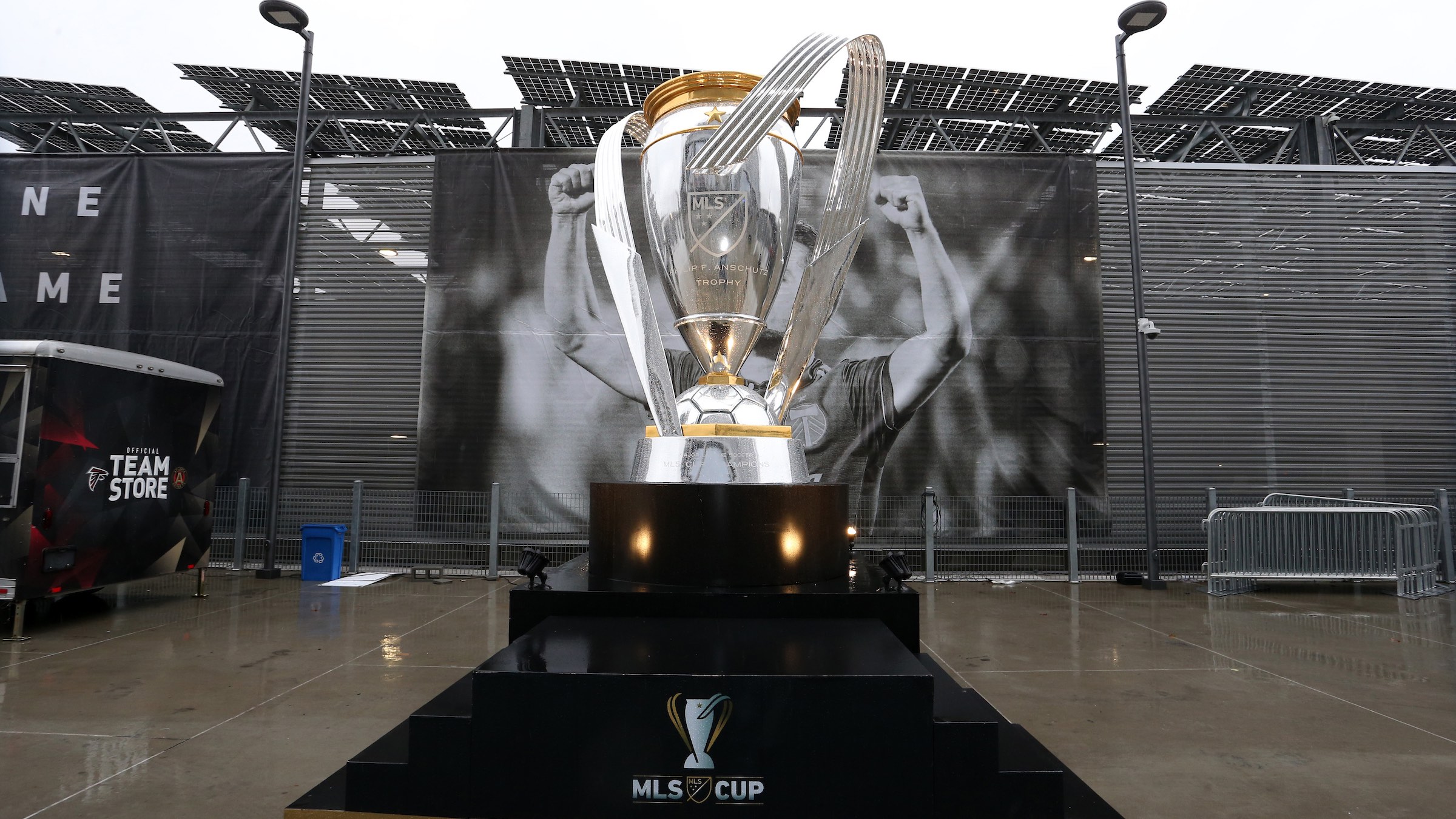 With the MLS Cup Playoffs set to conclude this week, here are the top things to know leading into the Eastern and Western Conference Finals:
MLS Nets Highest-Scoring Postseason Yet: On average, 4.2 goals-per-game have been scored through Audi 2019 MLS Cup Playoffs Conference Semifinals. Even if all three remaining games end scoreless, this postseason will reach at least a 3.23 goals against average, which eclipses the 3.14 GAA record set in 1998.
Best XI in Their Best Form: On Monday, the MLS Best XI revealed the top players at each position during the regular season, with all 11 appearing in the Audi 2019 MLS Cup Playoffs and six still alive in the conference finals.
The Bradley Bonus: A Father-versus-Son MLS Cup could be in the cards if LAFC head coach Bob Bradley and Toronto FC captain Michael Bradley both advance out of the conference finals this week.
Toronto is Tough on the Road: Toronto FC took up their role as postseason road warriors for every stage after Round 1, and in their history, have never lost a postseason match outside of Canada.
Guzan Keeps it Clean: Atlanta United have allowed zero goals this postseason and no goals in their last 405 postseason minutes in Audi MLS Cup Playoffs action at Mercedes-Benz Stadium, dating back to last year and including their 2018 MLS Cup victory.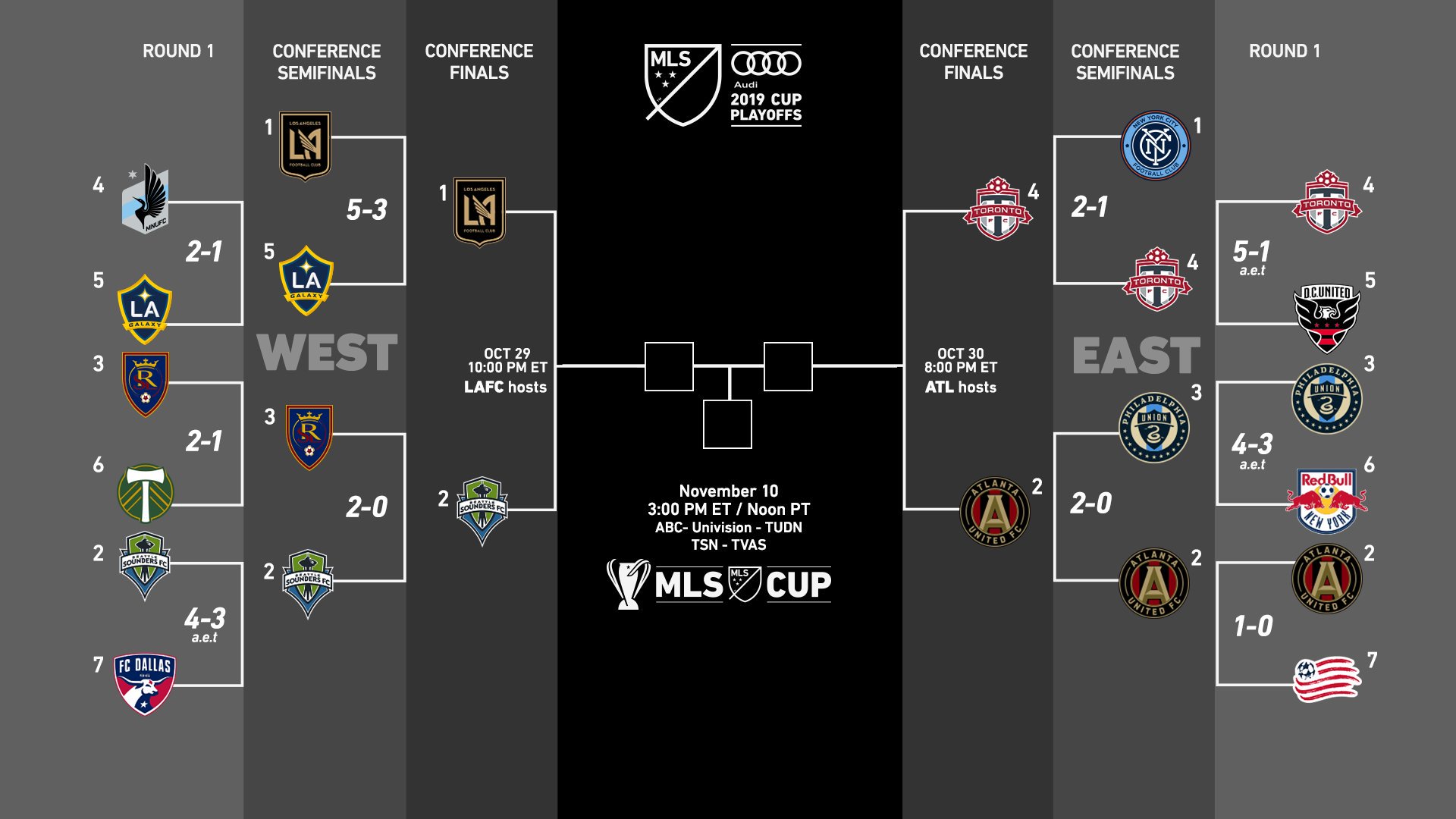 LAFC's destiny defined by stare downs of recent champions
It's down to the final four teams vying for MLS Cup, and with one game left in each conference, the Los Angeles Football Club's dream season is fully hinging on a takedown of MLS Cup champions from the past three years.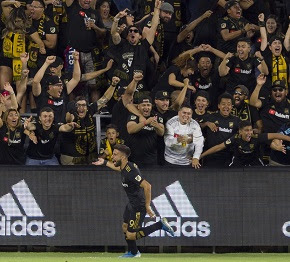 The pressure is on tonight during the Audi 2019 MLS Cup Playoffs Western Conference Final, which has LAFC looking to leverage its 13-1-3 home-field advantage against a proven Seattle Sounders FC at Banc of California Stadium (ESPN / ESPN Deportes / TSN 1/5 / TVA Sports). Meanwhile, Seattle is in formidable postseason form, having not only won 2016 MLS Cup and appeared in two of the last three championship matches, but this Pacific Northwest power is also tearing through an MLS-record 11th straight postseason run.
The heat turns up tomorrow for the Audi 2019 MLS Cup Playoffs Eastern Conference Final with contentious rivals racing for their return to glory. The reigning MLS Cup champions Atlanta United host the 2017 title winners Toronto FC at Mercedes-Benz Stadium (8 p.m. ET, FS1 / FOX Deportes / TSN 1/4 / TVA Sports), where Atlanta has won its last five home postseason games, including the 2018 MLS Cup, and has only conceded one goal in its six postseason matches all-time. On the other hand, Toronto has won every postseason match outside of Canada in the club's history, so its road could be far from weary for TFC.
In any combination of results this week, the stage is set for at least one of the past three MLS Cup winners to again appear in the championship game. While LAFC could be on track for its first MLS Cup appearance in its short two-year history, LAFC is up against experienced clubs that have already been there, done that, and donned MLS Cup champion t-shirts.
Mentor vs. Protégé: Seattle's Frei battles LAFC's Miller for spot in MLS Cup
Los Angeles Football Club goalkeeper Tyler Miller has called former Seattle Sounders FC teammate Stefan Frei a "great mentor" during his tenure the Pacific Northwest, and even to this day.
Now the protégé Miller squares off against Frei in Tuesday's Western Conference Final of the Audi 2019 MLS Cup Playoffs (10 p.m. ET, ESPN / ESPN Deportes / TSN1/5 / TVA Sports).
After two seasons as Frei's backup in Seattle, the 26-year-old Miller has blossomed as LAFC's first-choice goalkeeper and this year has garnered his first U.S. Men's National Team call-ups, including the 2019 Concacaf Gold Cup roster. Miller helped lead LAFC to an MLS-record 72 points this season, as well as a 13-1-3 home record at Banc of California Stadium.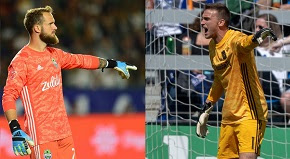 Frei was the 2016 MLS Cup MVP – with Miller on the bench – when he shut out Toronto FC and prevailed 5-4 in a penalty kick shootout to earn the organization's first MLS crown. Frei and Miller are now tasked with solidifying their defenses against two of the most potent attacks in MLS this year. LAFC is coming off a five-goal scoring barrage against the LA Galaxy in the Western Conference Semifinal round, while Seattle has posted six goals in two postseason matches.
Will Frei maintain Seattle's reign as one of the league's top clubs, or will Miller and LAFC continue their magical run as they seek their first MLS Cup?
Pozuelo guiding Toronto to potential third MLS Cup appearance in four years
The arrival of Alejandro Pozuelo has been a steadying force for Toronto FC, pushing the club to the brink of a third MLS Cup appearance in four years. Following its historic treble in 2017 and dramatic downfall last season, Toronto's addition of Pozuelo in one of the biggest transfers in club history this offseason has TFC among the MLS elite once again. Toronto is undefeated in its past 12 matches dating back to Aug. 10 and will look to the Spaniard playmaker to once again lift the club to a road victory on Wednesday when facing Atlanta United at Mercedes-Benz Stadium in the Audi 2019 MLS Cup Playoffs Eastern Conference Final (8 p.m. ET, FS1 / FOX Deportes / TVA Sports / TSN 1/4).
Pozuelo was one of four players in MLS this year to record both double-digit goals and assists, finishing the year with 12 apiece to guide Toronto to a 10-2-4 record in matches where he tallied either a goal or assist. The 28-year-old notched an assist in Toronto's 5-1 home victory over D.C. United in Round 1 before scoring two goals to upend New York City FC on the road in the Eastern Conference Semifinals. Toronto will hope Pozuelo continues his postseason heroics and repeats his two-goal performance in a 3-2 victory over Atlanta on June 26. History is on the Reds' side as Toronto has never lost an Audi MLS Cup Playoff game outside of Canada.
The Spaniard has a history of guiding teams to titles, helping his previous club KRC Genk capture the Belgian First Division title last year and qualify for a spot in this year's UEFA Champions League for the first time in eight years. While Toronto's absence from the top of its respective league would not be as lengthy, Pozuelo is determined to once again lead his club's return to glory.