Sources: Carli Lloyd set for head-turning move to Man City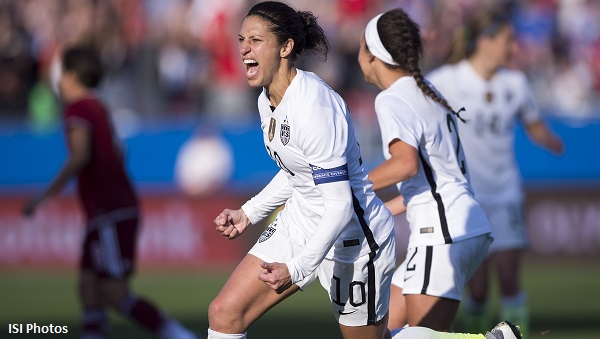 It seems yet another U.S. Women's National Team star has flown the coop.
Reigning FIFA world player of the year Carli Lloyd has signed with Manchester City's women's squad and will be unveiled next week, multiple sources tell SoccerWire.com.
Our information matches the reporting of United Kingdom-based journalists Andrew Gibney and Kieran Theivam, though it should be noted that Jonathan Tannenwald of Philly.com, one of the most prominent media outlets in Lloyd's home region of South New Jersey, reported on Friday that "a source with direct knowledge" informed him that no deal has officially been sealed.
Done some digging. As I understand it, @CarliLloyd to @ManCityWomen is happening. Deal already done. Huge statement from #MCWFC

— Andrew Gibney (@Gibney_A) February 10, 2017
On Carli Lloyd transfer news. Have done some digging. Nothing confirmed, but understand there is a deal in place. Big coup for City.

— Kieran Theivam (@KiersTheivam) February 10, 2017

The star goalscorer becomes the latest USWNTer to depart the National Women's Soccer League for Europe, following in the footsteps of Alex Morgan (Olympique Lyon), Crystal Dunn (Chelsea Ladies) and Heather O'Reilly, who joined Arsenal Ladies this winter after retiring from the national team last year.
+READ: Crystal Dunn signs with Chelsea Ladies FC
Lloyd spent the past two seasons with the Houston Dash, but played in just 14 games for the club due to injury and international duty (scoring five goals in 1183 minutes of play), and had an at-times awkward relationship with Dash leadership. Manchester City will be her sixth professional club, and first outside the United States.
Lloyd's signing is a coup for City, who have built their women's program into one of the world's best but have arguably not yet had a recognized women's soccer superstar don their sky-blue kit. The cash-flush club offers unparalleled facilities and infrastructure and won the FA Women's Super League, England's top flight, last season.
Another New Jersey product, playmaker Daphne Corboz, played for Man City from July 2015 through last year before returning home to sign with NWSL's Sky Blue FC in January.
Strong possibility that Carli Lloyd, world champion & Fifa Women's Player of Year, will join @ManCityWomen. Great coup for City if she signs

— Henry Winter (@henrywinter) February 10, 2017

With a current squad that includes standouts like England internationals Lucy Bronze, Jill Scott and Steph Houghton and Swedish international Kosovare Asllani, Lloyd should experience a highly competitive daily training environment. She may also have the opportunity to take part in Europe's highest-level competition right away, with Man City set to face Danish side Fortuna Hjørring in the quarterfinals of the UEFA Women's Champions League next month.
One source told SoccerWire that Lloyd's signing is considered part of Man City's wider, ongoing push into the U.S. market and will be promoted as such. The club's owners in Abu Dhabi also own and operate MLS franchise New York City FC and clubs in Australia and Japan under the "City Football Group" umbrella. NYCFC engaged in negotiations to buy Sky Blue several years ago, but the talks never came to fruition.
+READ: Why Sky Blue failed to affiliate with Red Bull – and how NYCFC might step in
The USWNT's trans-Atlantic moves are taking place amid lingering uncertainty around their collective-bargaining talks with the U.S. Soccer Federation, which have dragged on intermittently for more than a year and now threaten to disrupt the opening of the 2017 NWSL season in April. The players' previous deal with the fed expired at the end of 2016, but remains in place until one side gives notice of its intention to break off the arrangement.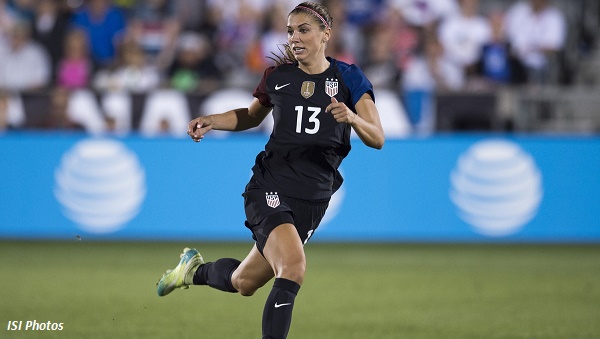 US national teamers work under full-time contracts with the federation and have been allocated to NWSL sides since the league's inception in 2013. Their NWSL club duty is a directive from U.S. Soccer, compensation for which constitutes a line item within their overall pay package from U.S. Soccer. Thus far it appears that players like Dunn and Morgan who sign with foreign clubs lose that aspect of their contract, while negotiating clearance from their new clubs to depart for USWNT activities in concert with the wishes of head coach Jill Ellis.
With the next World Cup in 2019 and the Summer Olympics in 2020, the USWNT have no major international events until World Cup qualifying begins sometime next year, making 2017 an inviting opportunity for players seeking a change of scenery.
"Jill told me, if I was going to do it any year, it's this year," Dunn told the Washington Post upon signing with Chelsea, one of Man City's WSL rivals. "It was a good feeling having her support. That was something very important to me, being able to feel as though I am part of the national team and not feel as though I am missing out on opportunities … It's a great deal, being able to do the national team and also have the experience of playing overseas."