SoccerWire.com Best 11 Players for November 2016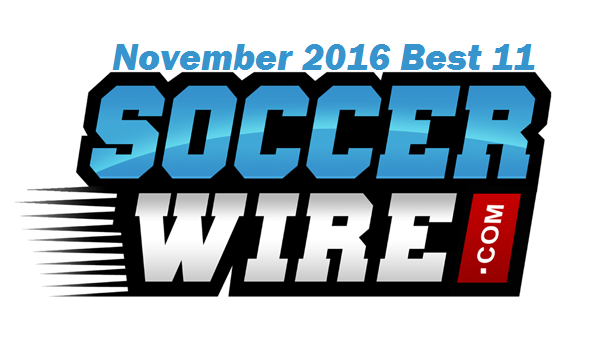 SoccerWire.com readers cast more than 15,000 votes to select the Best 11 youth players during November 2016, recognizing top performances from the New England NPL, Pre-ECNL, Bethesda Premier Cup, ECNL, US Youth Soccer Girls ODP Interregional, NCSL and U.S. Soccer Development Academy.
A total of 33 players were on the ballot with East Meadow SC players Emma Romano, Hailey Stork and Shae McGinty leading the voting for their performances in Pre-ECNL action.
Baltimore Celtic SC U-18 Girls midfielder Brenna Firlie received the fourth-most votes for her play at the Bethesda Premier Cup. Firlie's teammate, goalkeeper Emma Meininger, also makes the list for giving up just one goal over the course of three games at the Bethesda Premier Cup.
Rounding out the top five is Lonestar SC ECNL U-15 midfielder Audra Clark, who scored two goals and assisted one more in a big win over Texas Rush.
Representing Region I at the US Youth Soccer Girls ODP Interregional, goalkeeper Jordan Silkowitz made several difficult saves and recorded a clean sheet in a 4-0 win over the U.S. U-14 Girls National Team. Silkowitz finished sixth in the Best 11 voting.
Silkowitz's Region I ODP '00 teammate, Marykate Mcguire also made the Best 11 for her hat trick against the U.S. U-14 Girls National Team.
Stafford Revolution 04 Blue U-13 Girls midfielder McKenna Gahagan had an outstanding week in NCSL league play, controlling the midfield and distributing to her teammates while also scoring two goals of her own.
Arlington Soccer U-14 forward Joseph Core makes the Best 11 after scoring two goals in the opening 13 minutes of a 3-0 win over Richmond United in U.S. Soccer Development Academy action.
Oni Premier SA Magic U-18 Girls defender Mackenzie Christensen was voted in for her strong play at the Bethesda Premier Cup, keeping the OPSA Magic back line organized and stopping opposing runs.
The full list of players in this month's voting was composed of all players submitted by coaches, technical directors and SoccerWire.com staff on the site's 'Players That Impressed' feature, where any player submitted by a team or club coach has their outstanding performance recognized.
+Submit future Players That Impressed performances here
Each player selected for the Best 11 list receives a free featured college recruiting profile on SoccerWire.com.
Soccer Wire 2016 Best-11 Lists: Jan-Feb | March | April | May | June-July | September | October
SoccerWire.com November 2016 Best-11 Players
Emma Romano – Forward for East Meadow SC NPL U-13 Girls
Hailey Stork – Goalkeeper for East Meadow SC U-13 Girls
Shae McGinty – Goalkeeper for East Meadow SC U-13 Girls
Brenna Firlie – Midfielder for Baltimore Celtic SC U-18 Girls
Audra Clark – Midfielder for Lonestar SC ECNL U-15 Girls
Jordan Silkowitz – Goalkeeper for Region I ODP '00 Girls
McKenna Gahagan – Midfielder for Stafford Revolution Blue U-13 Girls
Marykate Mcguire – Forward for Region I ODP '00 Girls
Joseph Core – Forward for Arlington Soccer USSDA U-14 Boys
Mackenzie Christensen – Defender for OPSA Magic U-18 Girls
Emma Meininger – Goalkeeper for Baltimore Celtic SC U-18 Girls