Seattle Sounders FC signs pair of teenage midfielders as Homegrown Players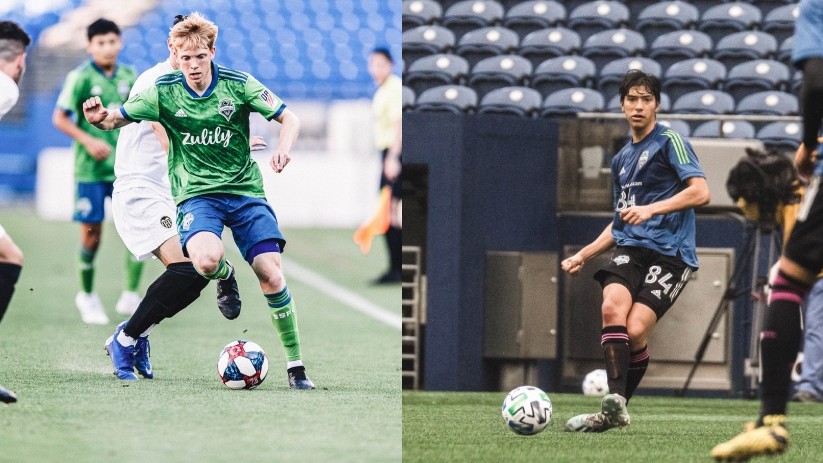 SEATTLE, WASH – Seattle Sounders FC today announced that it has signed midfielders Josh Atencio and Ethan Dobbelaere as Homegrown Players.
Atencio joins the First Team after signing with Tacoma Defiance last season, while Dobbelaere signs his first professional contract after six seasons with the Sounders FC Academy. They become the 14th and 15th Homegrown Player signings in club history.
"We are pleased to announce the signing of two strong prospects from our developmental pipeline," said General Manager and President of Soccer Garth Lagerwey. "Josh and Ethan both have a lot of potential and we're excited to see what they can do at the next level."
Atencio, 18, joined the Academy in 2016 and has participated in preseason with the First Team every year since 2017. He started 26 of 29 appearances over three seasons with Tacoma Defiance, recording two goals and one assist across 2,340 minutes. After signing a USL contract prior to last season, Atencio started 23 of his 25 appearances with recording one goal and one assist. In 2020, he played the full 90 minutes in both of his appearances and totaled two shots. Atencio made his professional debut on August 19, 2018, against Portland Timbers 2 and scored a goal shortly after entering the match as a substitute. The Bellevue native has been capped by the U.S. U-15 and U-17 Youth National Teams.
"Josh and Ethan are good young players who have performed well in training with the First Team when given the chance," said Head Coach Brian Schmetzer. "I look forward to bringing them more into the fold and continuing to see them develop as professionals."
This marks the sixth season with the club for Dobbelaere, 17, after joining Sounders Discovery Program from Seattle United before moving up to the full-time academy teams. He was one of three Sounders FC players (Danny Leyva, Alfonso Ocampo-Chavez) to make the roster for 2019 FIFA U-17 World Cup, making a substitute appearance against Senegal and earning a start against the Netherlands. Dobbelaere started two of seven appearances for Tacoma Defiance in 2019, logging 260 minutes and scoring one goal.
"It's exciting to add a pair of local, Homegrown Players who grew up in the Seattle soccer community," said Vice President of Soccer & Sporting Director Chris Henderson. "Both players started from the ground level of our Academy system and are great examples of how to take the pathway to the First Team."
Atencio and Dobbelaere were both part of Sounders FC's U-17 squad that won the USSDA National Championship in 2018, as well as a pair of Generation adidas Cup titles in both the Premier and Champions Division.
The pair marks the 14th and 15th Sounders FC Homegrown Player signings in club history. U.S. National Team defender DeAndre Yedlin was the club's first Homegrown Player in 2012, making two MLS All-Star appearances before being sold to Tottenham Hotspur in England's Premier League.
Major League Soccer announced the league's plan to restart the 2020 season with all 26 MLS clubs competing in the MLS is Back Tournament at ESPN's Wide World of Sports Complex at Walt Disney World Resort in Florida beginning July 8. The tournament, which is being played without fans in attendance, provides a compelling way for MLS to resume its 25th season. Group stage matches count in the MLS regular season standings and the tournament winner will earn a spot in the 2021 Scotiabank Concacaf Champions League.
During the MLS is Back Tournament Group Draw last week, Sounders FC was selected into Group B alongside Western Conference clubs FC Dallas, Vancouver Whitecaps FC and the San Jose Earthquakes.
TRANSACTION: Sounders FC signs midfielders Josh Atencio and Ethan Dobbelaere to Homegrown Player contracts on June 15, 2020.
Josh Atencio
Position: Midfielder
Number: 84
Height: 6-1
Weight: 174
Born: January 31, 2002 in Bellevue, Washington
Hometown: Bellevue, Washington
Citizenship: United States
Previous Clubs: Tacoma Defiance (2019-2020)
Ethan Dobbelaere
Position: Midfielder
Number: 45
Height: 5-9
Weight: 140
Born: November 14, 2002 in Seattle, Washington
Hometown: Seattle, Washington
Citizenship: United States