Q&A: Washington Spirit book author Beau Dure on covering NWSL from the inside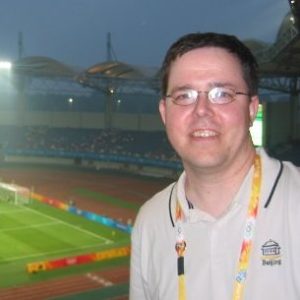 Earlier this year, journalist Beau Dure had an idea: Rather than cover Washington D.C.'s newest professional soccer team as a reporter, why not dig a bit deeper and do something a bit more personal, like a book?
Dure is no stranger to the ins and outs of professional soccer, having been with USA Today for 10 years, where he wrote a soccer column called The Netminder and covered the U.S. women's national soccer team during the 2008 Olympics. His first book released in 2010 was Long-Range Goals: The Success Story of Major League Soccer.
Early this year as the National Women's Soccer League was just taking its first steps, Dure convinced the Washington Spirit organization to grant him special access to the new team – they let Dure hang out at practices, ride along on bus trips and interact directly with players.
What he couldn't have known then was that a tumultuous season waited for the Spirit (the team earned two big firsts in the NWSL: first team to fire a coach midseason and first team to be mathematically eliminated from the post-season).  He has compiled his experience into a book about the inaugural season called Enduring Spirit. It will be released tomorrow for Amazon's Kindle.

Dure spoke to SoccerWire.com about the challenges in writing a book over typical news coverage, the Spirit's dramatic midseason firing and the future of both the Spirit and the NWSL.
The Spirit had a very rough season. To some from the outside, it may have looked hopeless at times. What was your sense of the team's mood throughout the season?
They kept an even keel for the most part. I sensed some frustration after games, when players would sometimes try to remove themselves from the situation. They would chat with friends on opposing teams – U.S. players typically gravitated toward each other – or take some time to stew over the game before going to sign autographs. But practices were usually upbeat.
Arguably, one of the biggest off-field moments of the season was when goalkeeper Ashlyn Harris expressed frustration with Spirit's leadership at after a game in Rochester (which I covered live) – then abruptly days later, coach Mike Jorden was fired. Can you shed any light on that? Some people still think Harris' comments caused the coaching change.
It's safe to say there was more to it than the Harris comments. I don't even think the Harris comments were the last straw. If Harris had said absolutely nothing after that game, I still think Jorden still would have lost his job over the weekend.
[ +Exclusive: USWNT coach Sermanni on defender shuffling and competition among goalkeepers ]
Being semi-embedded with the team, it seems you would get to know the players, coaches and management more closely than you would simply as a reporter. Was it a challenge to stay emotionally neutral and how did you navigate that?
I knew going into the season that I'd get attached to this team – unless the players and coaches all turned out to be insufferable monsters, and as it turned out, they weren't. Suffering through a lot of losses may be more of a bonding experience than winning a bunch of games, and it was hard for me to shake the feeling that the team deserved better.
But I didn't worry about it too much through the course of the season. This book wasn't an investigation of a shady government agency or a crooked business. The idea was to see what a team faces through a season, and I haven't seen a book of this type that wasn't at least a little bit sympathetic to the people involved.
Every once in a while, when I was tweeting and blogging about the team, I knew some people might perceive me as a homer. That's OK. I hope people will judge the book on its own merits. Besides, the team's critics have certainly had their say – if I can lend a different perspective on a few aspects of the season, I've done my job.
I was a little worried about playing favorites among the players. Some were more interested in the book than others. Some players don't talk much, and there's no avoiding that. But I made an effort to include everyone as much as possible.
It's a unique opportunity, being given as much access as you had to the team. What was your approach in getting the information you needed, knowing stories and information could pass you by or be kept off your radar?
I tried to be as unobtrusive as possible and let the players be themselves. I even made myself helpful, retrieving balls that had gone off the field at practice and helping to carry things at times. As much as possible, I wanted to be part of the scenery. I knew I had plenty of opportunities to interview players and coaches when the time was right.
My one regret is that I didn't chat with players that much on the bus rides. They all seemed locked into their routines, and I respected that. Maybe I should've figured out ways to get conversations started.
What was the writing process like? Were you writing as you went along, or did you wait to the end of the season before you started to piece everything together as a book? How was writing the book different than being a reporter covering the team every week? How was it different than writing your MLS book, Long-Range Goals?
I wrote as the season went along. I fell behind a couple of times, and each time, it was difficult to get my mind back to what I saw. The fresher, the better. Besides, I wanted it to be authentic. The early chapters shouldn't be foreshadowing anything that was to come.
There are a couple of times in which I asked a player or coach about something that happened earlier in the season, and so I put those comments where they made sense. You'll see a lot of footnotes to point out where I took a quote from an interview that took place on a different day.
The process of writing Long-Range Goals was completely different. Long-Range Goals also is sequential, like Enduring Spirit, but I wasn't writing as the league went along. I basically had the whole story of the league in front of me, and I interviewed people to get their perspectives on particular points.
What as your most memorable experience of covering the Spirit this past season?
The most memorable experience that I captured in the book would have to be the Chicago game that the Spirit won after several hours of storm delays. It was the Spirit's first win in months, so it would have been special no matter what. But when you add the surreal aspects, it's simply unforgettable.
There were a few things I'll always remember that I couldn't fully convey with words. On the one road trip I took with the team from start to finish, Mark Parsons was almost shaking with excitement and enthusiasm. Words can't do justice to Conny Pohlers' sense of humor — she is one of the funniest athletes I've ever met.
On a purely personal level, I can't forget the sensation of being in a small sleeping bin in a bus traveling past midnight, listening to mellow music on my Kindle and thinking about what the players around me had endured. And then I had the fun of asking Mark Parsons a question from that overhead spot. He kept looking around — he seriously had no idea where I was, but he kept hearing my voice.
[ +Exclusive: Spirit's new GM and coach Mark Parsons talks about changes on the horizon ]
Based on what you've seen, what are your expectations for next season and what do you think the Spirit need to do to have a better 2014 season?
I think this is essentially a league of parity. But the rosters are thin; any team that didn't have its full lineup struggled. See Seattle's early problems and Sky Blue's injury-fueled fade at the end. If the Spirit has another rash of injuries, they'll miss the playoffs again.
That said, the Spirit need a more potent attack. I think they'll make upgrades at midfield and forward.
Also, I think a couple of the young players will have solid seasons. Stephanie Ochs will only get better, and I'm curious to see how Caroline Miller comes back from her injury.
As a veteran of reporting women's professional soccer, what are your thoughts on NWSL and its chances of surviving (and thriving) compared to its predecessors, the WUSA and WPS?
The league's survival depends mostly on the federations. As long as the national teams are contributing players and support, the league should be fine.
Thriving depends on sponsorship. We know women's soccer is going to go through peaks and valleys. Some shrewd companies should buy in now so that their brands are associated with women's soccer through the big events of 2015 and 2016. European leagues typically draw tiny crowds but land tons of sponsors. Why not here?
[ +Follow Caitlin Murray on Twitter / Read more articles by Caitlin Murray ]
(Disclaimer: Chris Hummer, who served as general manager for the Washington Spirit during the 2013 season before stepping down, is the owner and publisher of SoccerWire.com.)