NWSL: Why Sky Blue failed to affiliate with Red Bull – and how NYCFC might step in
When they joined the NWSL as an expansion club earlier this year, the Houston Dash followed in the Portland Thorns' footsteps in securing an affiliation with a Major League Soccer club.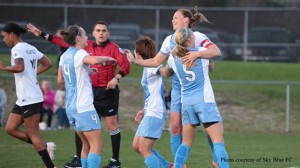 More than a thousand miles to the northeast, Sky Blue FC nearly brokered a partnership of their own with the New York Red Bulls before the deal broke down in November.
Sky Blue CEO Thomas Hofstetter believes that the fledgling league, now in its second year, needs any such affiliations it can secure as it pursues stability and growth.
However, Hofstetter contends that the fact that there are currently only two NWSL clubs so affiliated gives those clubs a competitive advantage.
"I think there is because they have the infrastructure. All the basic things you need as a club, they have already established," Hofstetter told SoccerWire.com.
Sky Blue's head coach Jim Gabarra also felt there is some advantage, but not one that can't be overcome.
"A slight advantage, but I don't think it's something that you can't compete with them, that's not the case," said Gabarra.
He added that off the field is mainly where the affiliated clubs have a leg up on the rest of the league, as "they already have people in positions and [just] have to add the women's team to their menu."
[ +READ: The WNBA angle: Would stronger links to MLS help NWSL thrive?]
The talks between Sky Blue and Red Bulls were based around a similar idea to what is seen with the Thorns and Dash. The NWSL club would have merged into the Red Bull corporation, gaining their infrastructure as well as using the MLS side's facilities.
Although every team owned by the energy drink shares the name and sports the logo on their jerseys, Sky Blue wouldn't necessarily have been forced to do the same.
"It was not the main talking point. We talked about it to a certain degree. It was not a dealbreaker topic of our conversations," said Hofstetter.
While the New York version of the Red Bulls were keen on the deal, corporate in Austria didn't share the same view. Former Red Bulls General Manager Jerome de Bontin championed any affiliation, but it didn't come to pass. The corporate side hampered de Bontin in negotiating any deal.
"Austria, being corporate, weren't very eager on it and as much as they would have let Jerome go forward with it, they set a very tight framework and we ultimately broke the deal," recalled Hofstetter.
[ +READ: Tightrope: NWSL hopes skimpy roster sizes balance budgets, competitiveness ]
Although Hofstetter and Sky Blue remain hopeful, any movement on affiliation will have to come from Austria, which at the moment has yet to happen.
However, another option may soon present itself for Sky Blue.
NYCFC are set to debut in MLS next year and could strike a deal with Sky Blue. The newest club on the New York metro area soccer scene is expected to wear sky blue kits, which could make the inclusion of the NWSL club a little easier.
Sky Blue currently play at Yurcak Field on the Rutgers University campus. NYCFC Chief Business Officer Tim Pernetti was the university's athletic director from 2009-2013. That could very well play a role in any partnership forming.
"We know each other, we have talked very loosely, nothing concrete. We know each other from past lives," said Hofstetter. "There's no process in place that would move a deal forth, [but] could be potentially in the future."
One contingency in any future affiliation would be NYCFC getting their own permanent home. Attempting to host three different teams (two soccer, one baseball) on the Yankee Stadium field would present too many issues.
SoccerWire.com reached out to NYCFC to confirm if any early talks on affiliation had taken place. A source close to the club said nothing had been discussed with Sky Blue regarding affiliation at this time.
[ +READ: SoccerWire Q&A: NYCFC's Claudio Reyna on youth national teams, technical development, Tab Ramos ]
Even if Sky Blue can't strike a partnership just yet, there are positive signs one could be forthcoming in the future. Gabarra believes that NWSL wants any new member club to have an affiliation with MLS from now on.
The Thorns' 2013 championship run, and marketing success off the field, could certainly lead to more MLS clubs taking the plunge into NWSL affiliation.
Hofstetter didn't expect every NWSL club entering or already existing to affiliate with MLS, but did expect more to come to fruition in the future.
"I'm sure we would see more in the future because a lot of the MLS teams will see the opportunity. Portland has shown how it can be successful But it's not a requirement, let's put it this way," he said.