Exclusive: NWSL's Nikki Marshall undecided on playing for Washington Spirit next year
The Washington Spirit drafted Portland Thorns FC defender Nikki Marshall via waivers this week – but whether she will ever wear a Spirit uniform is up in the air.
Although Marshall was released from Portland and selected in a draft of waived players Monday, contract terms are now in negotiations and Marshall is deciding whether she will return to the National Women's Soccer League at all, she told Soccer Wire by phone Tuesday. She is having ongoing discussions with the Spirit, but will spend the offseason deciding if she wants to continue her pro soccer career, she said.
"I know that I'm going to miss soccer when I'm done, no matter when I decide to retire. Right now, I just have an open mind," she said. "I'm enjoying home and I'm going to see how the next few months go. I'm not going to say either way – I don't think I'm ready to be done, but I could be. I'll have to feel it out."
Home for Marshall is Colorado. She was born there, went to college there, her family lives there and she recently bought a house there. With NWSL expansion tabled until at least 2015, playing soccer next year means being away from home and away from her family – "they're everything to me," she said.
Washington is a long way from Colorado, but not unfamiliar territory. Marshall, 25, played for the Washington Freedom in 2010 as the No. 7 overall draft pick in Women's Professional Soccer that year. She moved with the club after it turned into Boca Raton, Fla.-based magicJack and was later traded to the Boston Breakers. She signed with Sky Blue FC shortly before WPS folded in early 2012.
Spirit coach Mark Parsons, who was also named as general manager of the club on Tuesday, was optimistic about the prospect of Marshall returning to the D.C.-area. She would be a strong fit for the club, both due to her talent on the field and her attitude off it, he said.
"We have to let her know what we're about, what the club is about, where we're going, what direction, what her role will be. And that sums her up as a person – that's what she wants to talk about," and not contract terms, Parsons said Tuesday by phone. "We've had really good conversations, short ones, and she's been very positive and she just wants to know more. It's key not to rush that stuff. She has a lot going on."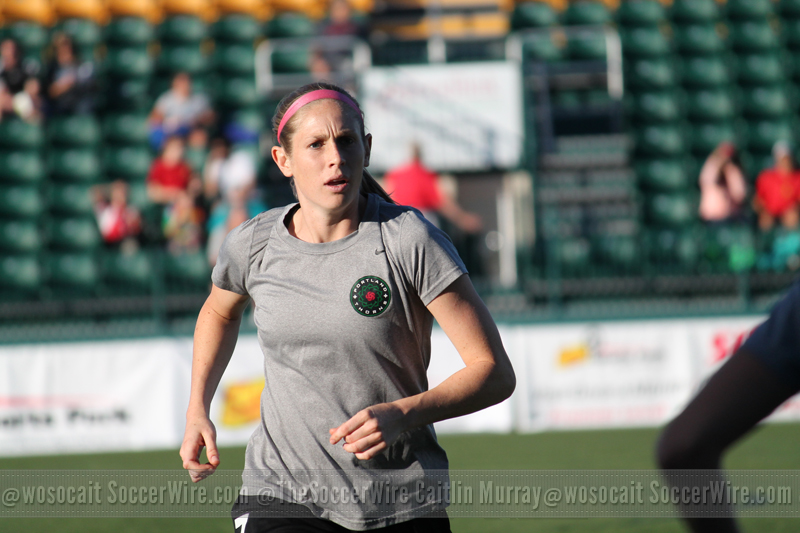 Marshall worked during this past NWSL season for Denver-based Avnet Services while playing for Thorns FC, appearing in every game. At a salary cap of $200,000 per club, non-allocated NWSL player salaries range from $6,000 to $30,000 for a six-month long season.
"I think that's part of it too. It might be time to move on and to start a more a settled life and enjoy that lifestyle," she said. "But at the same time when I think about it, sometimes playing soccer is absolutely worth it, so that's what I have to weigh and figure out in the offseason."
Marshall had a strong year in the NWSL. She started every match for Thorns FC and sat on the bench a mere 110 minutes all season of 2,190 possible minutes. The Thorns ended the inaugural season with the NWSL trophy by shutting out regular season champs Western New York Flash in the final, 2-0.
The decision to waive Marshall a week later came as a surprise to outsiders, but Marshall knew her status before playoffs – Portland made the decision three weeks before the final, she said. Without revealing specifics, she called it "a business decision" that she understood.
She made it clear she was disappointed to not be returning to Portland for the 2014 season, but expressed gratitude and praise for Thorns FC.
"I have no hard feelings toward Portland. I absolutely loved it and it was wonderful and sometimes that's just kind of how life goes," Marshall said. "I'm excited for a new opportunity – possibly at Washington, possibly somewhere else, or maybe just the next step in my life away from soccer."
[+Follow Caitlin Murray on Twitter / Read more articles by Caitlin Murray]