NWSL championship final set for Portland as league adopts neutral-site format mid-year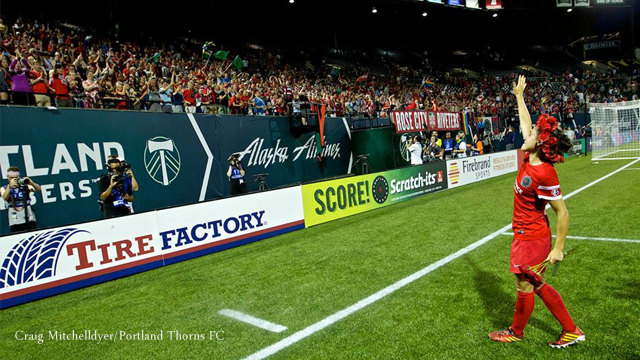 The National Women's Soccer League continues to search for the optimal recipe for success and stability in its third year of existence – and now that process has prompted a midseason change to its competition format.
Multiple sources have confirmed to SoccerWire.com that NWSL and U.S. Soccer Federation leaders have decided to locate the 2015 championship final at Providence Park in soccer-crazed Portland, Oregon, despite the fact that this season's competition format calls for the title bout to be hosted by the finalist with the most regular-season points.
An NWSL spokesperson declined to comment on the matter.
+READ: Boston Breakers goalkeeper Alyssa Naeher voted NWSL Player of the Week
The move to a predetermined site makes ample sense in business and broadcasting terms. Portland Thorns FC matches draw crowds more than twice the size of those found elsewhere across the nine-team league, while both NWSL and television partners Fox will be eager for a large, passionate turnout for the biggest showcase in North American women's professional soccer.
But altering the competition structure in midseason is a transgression in the eyes of many purists, and represents a calculated risk for any top-tier pro sport.
Should Thorns FC qualify for the postseason and reach the championship final — they currently sit in fifth place with three games left to play, three points back of the Washington Spirit, who occupy the fourth and final playoff berth — they would stand to gain a substantial advantage despite their wobbly regular-season performances.
One source said that the shift to a neutral site had in fact been agreed upon by owners and executives before the start of the current campaign, but has yet to be formally ratified and finalized.
Another suggested that NWSL leaders see neutral-site hosting as an opportunity for the league to better plan and promote their biggest event of the year, much like Major League Soccer held its MLS Cup final match at a predetermined site from its inception in 1996 until the 2012 season, when hosting rights were shifted to the finalist with more regular-season points.
+READ: Dure: NWSL producing big games – will sponsors, broadcasters notice?
This year's final has already undergone a schedule change, moving to Oct. 1 – a Thursday night nearly three weeks after the semifinals – as part of the broadcasting agreement with Fox announced in late June.
As EqualizerSoccer.com noted at the time of the deal's announcement, this year's NWSL final marked the first time in nine seasons of U.S. women's professional soccer (including the defunct WUSA and WPS leagues) that the championship has not been played on a weekend. All 19 MLS Cups have also been decided on weekends.