Report: Mallory Pugh's father says she will pass on pro contract, attend UCLA as planned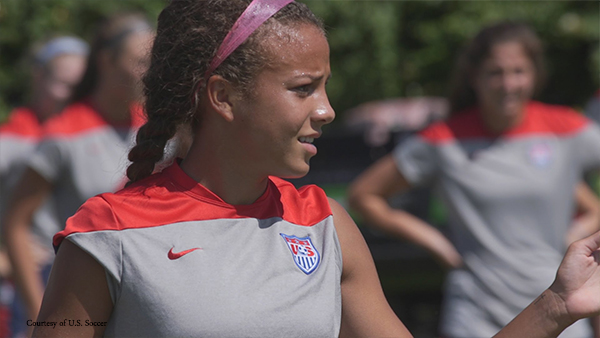 Mallory Pugh's unique story has taken another intriguing turn.
On Wednesday evening the Denver Post reported that the 17-year-old goalscoring phenom, who SoccerWire.com last week reported was set to sign a professional contract with U.S. Soccer and be allocated to the NWSL's Portland Thorns FC straight out of high school, has apparently passed on the offer after all, and will attend UCLA this fall as she originally planned. Pugh is currently in training camp with the U.S. Women's National Team as they prepare for next month's CONCACAF Olymic qualifying tournament in Texas.
+READ: Sources: U.S. Soccer set to sign 17-year-old talent Mallory Pugh, allocate to NWSL's Portland Thorns
"We did look at her possibly going pro," Mallory's father, Horace Pugh, told the Post. "It's all over the Internet she's going to play professionally. It was very close to happening, but her gut feeling was that she wanted to go to college.
"People made speculation out of Portland getting rid of this draft pick to be in the position to take the first allocated player, who would have been Mallory. People in the industry put two and two together, but nothing formally was out there. We never talked to [Portland] coaches, general manger, organization or anyone."
Just before the start of the NWSL draft on Friday morning, the league announced a new system of allocating the national-team players whose salaries are subsidized by the U.S., Canadian and Mexican federations (though reports have suggested that Mexico will not participate to the same extent in 2016).
+READ: NWSL announces new allocation process for national-team players, effective for 2016 season
The players who constitute the core of the U.S. Women's National Team sign full-time contracts with U.S. Soccer and are assigned to NWSL clubs. Under the new system, those without a club, dubbed "Unattached Subsidized Individuals," will be available for selection by NWSL clubs by "Allocation Ranking Order," a list will be determined by the reverse order of finish of the prior NWSL season, taking playoff performance into account and providing expansion teams with the final ranking spot or spots.
Minutes after the Allocation Ranking Order system was announced, Portland traded the No. 3 overall pick in the 2016 NWSL Draft, No. 4 spot in the Allocation Ranking Order and future considerations to the Boston Breakers in exchange for the No. 1 spot in the Allocation Ranking Order.
That move was made in order to acquire Pugh, though one source told SoccerWire.com that Pugh's arrangement was "not 100 percent" completed, even as another described it as a done deal, agreed to at NWSL executive meetings on Wednesday.
Sources tell SoccerWire — and other outlets — that the deal between Pugh, U.S. Soccer and the Thorns had been agreed as of Friday; besides her father's statements, it's as yet unclear what other factors may have weighed in since then. One source told SoccerWire that an annual compensation package running into the $200,000 range had been proposed, with leading NWSL and USSF sponsor Nike pitching in a large chunk of that salary.
+READ: NWSL draft: Portland Thorns pick UVa's Emily Sonnett No. 1 amid flury of wheeling and dealing
Pugh would have been just the second female player in modern U.S. soccer history to move directly from high school to the professional level, and the first to do so in a U.S. league. In 2012 Lindsey Horan, now Pugh's USWNT teammate, passed on a University of North Carolina scholarship to join French powerhouse Paris Saint-Germain straight out of high school on a contract reportedly providing a six-figure annual salary.
A gifted attacker from Highlands Ranch, Colorado who rose to prominence as a prolific goalscorer with elite youth club Real Colorado, Pugh was an underage standout on the U.S. team at the 2014 FIFA U-20 Women's World Cup, starting all four of the USA's matches at the tournament. A star prospect since age 14, she been heralded as one of the country's best attacking talents in decades.
Pugh scored 17 goals and three assists in just 13 regular-season ECNL U-17 games for Real last year, and also notched 24 goals and 12 assists for Mountain Vista High School. Pugh appeared in eight U.S. U-20 matches (all starts) in 2015, scoring seven goals and four assists in 710 minutes of play.