GotSoccer announces new rankings system for U-10, U-11 youth soccer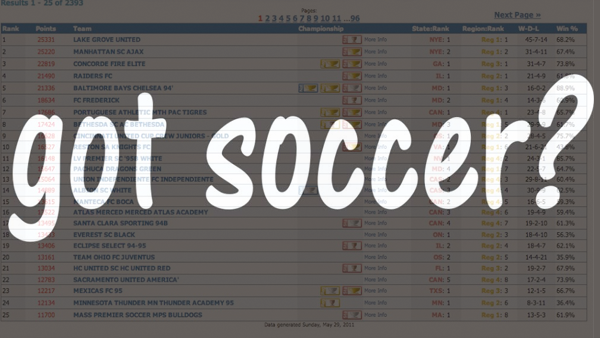 GotSoccer has announced the addition of the Under-10 and U-11 age groups to their GotSoccer.com rankings system.
The market-leading system is used by hundreds of youth soccer event organizers to determine acceptances of applied teams and group teams together with similar competition, and is also keenly followed by many coaches and parents eager to see how their team stacks up to state, regional and national counterparts.
In a press release issued by the Neptune Beach, Fla.-based company, GotSoccer states that "both small-sided and full-sided play will be included in the U10 and U11 rankings held on or after August 1, 2013. Unlike U12 and older, U10 and U11 teams will only be eligible for points at events that use the GotSoccer software."
GotSoccer's CEO Gavin Owen-Thomas said in the release that the new rankings for U10s and U11s was a "natural extension" of his company's current offerings for U-12 and older ages.
"We've always received a tremendous number of requests to rank the younger ages and I believe the time is now right," he said. "Just like with the U12s, we will not automatically include players names and photographs on the public ranking pages."
The company also promised several other major new rankings features to be unveiled in the days ahead, including additional bonus points for wins and draws and a new tier system.