Clint Dempsey's brace leads Seattle Sounders to 3-2 win over FC Dallas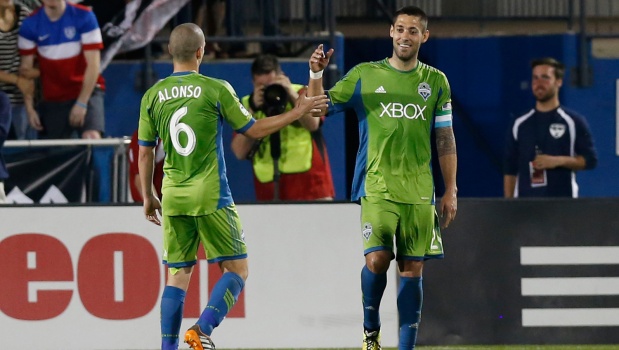 FRISCO, Tex. – Clint Dempsey scored twice, including the 85th minute game-winner, as Seattle Sounders FC (3-2-1, 10 points) beat league-leading FC Dallas (4-1-1, 13 points) on Saturday night at Toyota Stadium.
Sounders FC improved to 2-0-1 on the road this season and currently sit in a three-way tie for second place in the Western Conference.
Dempsey has recorded at least one point in all four appearances this season, totaling a league-high six goals with one assist. With five goals over the past two matches, Dempsey set the club record for most goals in back-to-back games.
Dempsey netted the late winner when he attacked the box in the 85th minute and tapped the ball to Chad Barrett, who squared it back to Dempsey for a one-touch finish to secure the 3-2 victory.
The assist marked the first of the season for Barrett, who has recorded one game-winning goal and one game-winning assist in 41 minutes of action.
Dempsey scored Seattle's first goal of the match on a long-range free kick in the 22nd minute that caromed off the underside of the crossbar and across the goal line, bringing the game level at 1-1.
Dempsey also contributed to the team's second goal when he played a ball across the box in the 75th minute that was deflected into the net by Stephen Keel for an own goal.
Dallas began the scoring in the 10th minute when the ball bounced over Stefan Frei and was headed into an open net by David Texeira.
In the 42nd minute, Dallas took the 2-1 lead with a converted penalty by Michel. DeAndre Yedlin received a caution for a foul in the box before Michel tucked the ball into the right post.
Dempsey nearly scored in the 59th minute with a half-volley to the top right corner, but Dallas goalkeeper Chris Seitz tipped it away.
Frei made a season-high six saves, including a one-handed stop in the 83rd minute on a strike by Texeira.
Seattle's Kenny Cooper started in his first appearance against his former team. Former Sounders FC midfielder Adam Moffat appeared in the 79th minute to replace the injured Peter Luccin.
Scoring Summary:
DAL – David Texeira 10′
SEA – Clint Dempsey 22′
DAL – Michel (penalty) 42′
SEA – Stephen Keel (own goal) 75′
SEA – Clint Dempsey (Chad Barrett) 85′
Seattle Sounders FC – Stefan Frei, DeAndre Yedlin, Chad Marshall, Djimi Traore, Leo Gonzalez, Kenny Cooper (Marco Pappa 67′), Osvaldo Alonso, Gonzalo Pineda, Lamar Neagle (Chad Barrett 73′), Clint Dempsey, Obafemi Martins (Micheal Azira, 90′)
Substitutes Not Used: Marcus Hahnemann, Dylan Remick, Jalil Anibaba, Sean Okoli.
TOTAL SHOTS: 13 (Dempsey, 5); SHOTS ON GOAL: 6 (Dempsey, 3); FOULS: 19 (Neagle, 5); OFFSIDE: 4 (Dempsey, 2); CORNER KICKS: 3 (Pineda, 2); SAVES: 6 (Frei, 6).
FC Dallas – Chris Seitz, Zach Loyd, Stephen Keel, Matt Hedges, Jair Benitez, Michel, Hendry Thomas, Je-Vaughn Watson (Peter Luccin 70′, Adam Moffat 79′), Mauro Diaz, Fabian Castillo, David Texeira (Tesho Akindele, 86′)
Substitutes Not Used: Raul Fernandez, Moises Hernandez, Danny Garcia, Kellyn Acosta
TOTAL SHOTS: 16 (Castillo, 5); SHOTS ON GOAL: 8 (3 player, 2); FOULS: 19 (Castillo, 6); OFFSIDE: 1 (Watson, 1); CORNER KICKS: 6 (2 players, 3); SAVES: 4 (Seitz, 4).
Misconduct Summary:
SEA – Lamar Neagle (caution) 12′
SEA – Osvaldo Alonso (caution) 18′
DAL – Je-Vaughn Watson (caution) 19′
SEA – DeAndre Yedlin (caution) 40′
DAL – Hendry Thomas (caution) 46′
DAL – David Texeira (caution) 47′
DAL – Fabian Castillo (caution) 60′
SEA – Chad Barrett (caution) 94′
Referee: Juan Guzman
Referee's Assistants: Ian Anderson, Jonathan Johnson
4th Official: Alejando Mariscal
Attendance: 17,070
Weather: Cloudy & Windy, 80-degrees