Brek Shea has had a turbulent last 16 months, and it all began when he moved to Stoke, England.
With the rumour mill circulating, it comes as little surprise that Brek Shea's name has been linked with a return to Major League Soccer. Why? Because his Premier League dream looks to have fizzled out – at least for now.
His time in England has been more memorable off the field than on it.
The infamous 'pig's head' incident on May 17, 2013 sparked a controversy when Shea posted an Instagram photo of him holding up the severed head of a swine after a Stoke City FC teammate had left it in striker Kenwyne Jones' locker.
It was never confirmed to the press who actually put the head in the locker, but having his name associated with the prank certainly didn't help things.
Shea got himself into hot water once again only a month later as the U.S. Men's National Team member was pictured holding up two large firearms back in his native Texas (below).
The picture was removed an hour later after being uploaded, but again, it certainly did not boost his already dwindling reputation in England.
Then there was the incident only one month ago during Shea's loan stint at Championship side Barnsley (pictured below), where he hoped he could produce a run of form that would put him in contention for the World Cup squad. Yet again, Shea's controversial nature would lead to his downfall: An offensive gesture towards Barnsley fans following the 5-0 hammering to Huddersfield Town.
Shea issued an apology on Twitter afterwards, but it was not going to win the fans over in their entirety.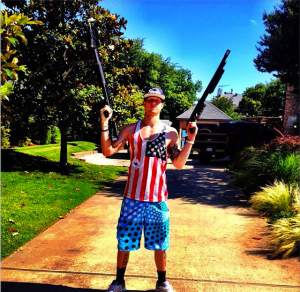 His loan was cut short and he is now back at Stoke City, where he has yet to make an appearance this season (and only three since joining the club on January 31, 2013 in a transfer deal reported to have cost the club more than $4 million).
It looks as though history is set to repeat itself all over again for Shea, who left for a move to the Premier League after his time at FC Dallas, perhaps the most successful stint of his career, ended on a sour note.
Shea, now 24 years of age, was suspended for three MLS games for kicking the ball at an assistant referee during a game on May 17 2012, then was benched for two games by coach Schellas Hyndman after arguing with the FC Dallas coach when he was taken out of a game on July 18 that year.
Shea's time at FC Dallas was coming to an end, making his multi-million-dollar move to Stoke City all the more surprising.
Injuries have not helped Shea either, who was once tipped to be the USMNT's next bright star. At his best, Shea, who is blessed with a turn of explosive pace for a man standing six feet tall, offers a style of play reminiscent to that of Real Madrid "Galactico" Gareth Bale.
Though an unsuccessful trial stint at Arsenal FC in November 2011 toned down the hype a bit, by the 2011 offseason Shea was truly the man of the moment.
But the once-prodigious talent would  have a 2012 season riddled with injury, as he scored just three goals.
Shea had a limited impact on his start at Stoke City in 2013, managing only two substitute appearances. The constant battle with fitness and injury kept him sidelined for longer than expected with Tony Pulis, the Potters' head coach at the time, claiming him to be 'one for next season.'
The 2013/14 season began with injury, as Shea netted a goal in Stoke's preseason match against the Philadelphia Union before sustaining medial ligament damage 30 minutes in due to an opponent's clumsy tackle.
His antics, combined with a career plagued by injuries, have led Shea to a career crossroads yet again.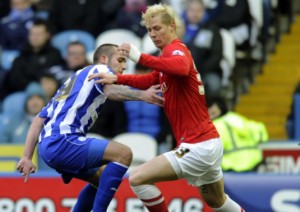 He made only eight appearances at Barnsley and failed to make a single goal or assist.
Though he was called into the USMNT's friendly against Ukraine in Cyprus last month, his prospects of going to Brazil this summer as part of coach Jurgen Klinsmann's World Cup roster look to be slim, despite the fact that the team's left wing slot is lacking depth.
With 18-year-old Bayern Munich wunderkind Julian Green looking a bit out of his depth in his 30 minutes vs Mexico on April 2 and question marks over whether Brad Davis could bridge the gap from playing regular MLS minutes to going up against the world's elite, Shea still has a chance.
[ +Should Bayern Munich starlet Julian Green have a place on the USMNT's plane to Brazil? ]
However, getting regular playing time beforehand could prove difficult on a Stoke City side who look set to finish the season in their highest-ever league position.
Another loan spell in England this late into the season, especially after the issues at Barnsley, does not seem worthwhile. Perhaps he should follow the current trend and move back to MLS, where minutes would be virtually guaranteed.
And that's where Toronto FC comes in. TFC general manager Tim Betzbatchenko and head coach Ryan Nelsen have both hinted at the possibility of bringing the enigmatic winger in, even though all three of the newly ambitious club's Designated Player spots are occupied.
Yet with Toronto's financial muscle and Betzbatchenko's extensive knowledge of MLS' salary cap rules, freeing up capital to spend on Shea could be a distinct possibility. Toronto are also first in the allocation order (the running list by which MLS selects where most U.S. and Canadian internationals will play upon their return home), making their position all the more interesting.
It feels as though it is just the kind of break Shea needs. Playing frequently in a side with ferocious ambition, willing to gamble all the resources required to taste success in their ruthless pursuit of overcoming years of underachievement to become kings of the continent.
[ +The DeMerit Factor: Should MLS try loaning youngsters to England's lower divisions? ]
Playing alongside Jermain Defoe, Julio Cesar and Michael Bradley must be more enriching than the potential prospect of lingering with the Stoke Under-21 team.
The salary may be better in Staffordshire (at least in the short term), but a repeat of Maurice Edu's last few seasons – at the age of just 24 – would surely prove hugely detrimental to his career and his status with the USMNT. Edu sat on the bench for long periods at Stoke and watched as it chipped away at his USMNT prospects, only to find his World Cup hopes reborn now that he's joined the Philadelphia Union and assumed a prominent midfield role.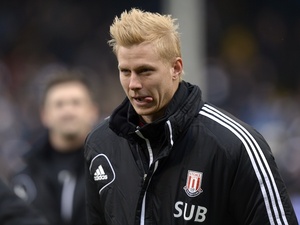 In a career marked by the briefest of flashes of brilliance — both at club and international level — consistency and regularity looks to be what is required of Shea.
He appears to be yet another example of a talented American player hyped up too early. At the age of just 18, Shea was terrorizing MLS defences, but the injuries set in, as did the insatiable expectation for more, and perhaps a growing ego to boot.
But now Shea, now aged 24, looks to have his last chance at silencing the doubters and showing Klinsmann that he is by no means a lost cause. His 2013 Gold Cup performances certainly proved to Klinsmann that he is one worth keeping an eye on.
Moving back to MLS looks likely to become a question of 'when' rather than 'if'.
Brek Shea may still get into the World Cup squad. He may even play a solid amount of minutes, but it would seem unfair to predict that being on the fringes of the USMNT could elevate him back to "nation's soccer sweetheart" status.
It's time for Shea to make a pragmatic career move and cut out the attitude issues. Then maybe the dreaming can start again.