By Charles Boehm
U.S. Women's National Team star Megan Rapinoe jetted across the Atlantic and began her six-month stint with Olympique Lyonnais, the French club which owns a dominant position in both its domestic league and all of European women's club soccer.
"Headed out to France today!!! And not for holiday either. I am pleased to say Lyon will be my home for the next six months!!!" announced Rapinoe on her Facebook page on Monday. "I am thrilled at the challenge of being apart of one of the best football clubs in the world. More updates to come!! France here I come!"
The 27-year-old Northern California native is joining "OL Feminin"  along with Japanese striker Shinobu Ohno as part of the club's push to win a third consecutive UEFA Women's Champions League title and a seventh straight French league championship.
One French media outlet reported that Rapinoe is being paid 4,000 euros a month, equivalent to $60,000 a year, which probably outpaces what the vast majority of players will be making in the new National Women's Soccer League here in the U.S.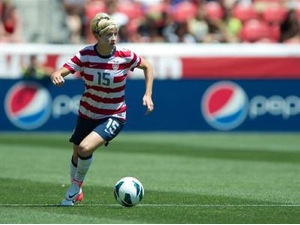 Her new club, which also fields one of France's top men's teams, welcomed Rapinoe on Twitter. Lyon currently lead their domestic league by 11 points thanks to a 17-0 start to the season, and have not lost a competitive match in regulation time since March 2010, a 102-game unbeaten streak. They resume Champions League play in March against Sweden's Malmö.
Rapinoe recently returned from a vacation to Australia and stopped off for a brief period in the United States before heading to central France, where she will join a star-studded Lyon squad which features French national team stars Louisa Necib, Camille Abily, Elodie Thomis and Sonia Bompastor and prolific Swedish striker Lotta Schelin.
Rapinoe is expected to return to the U.S. at the close of the European season to join an NWSL team. A product of Portland University, she has deep roots in the Oregon city and was seen as a leading candidate to be allocated to the NWSL's Portland Thorns FC.
But the Rose City is a preferred destination for many U.S. National Teamers and given the fact that NWSL is expected to allocate its top international players this week, it's unclear whether a place would be held for her there.
[ +Check out pictures of Rapinoe in her first OL training session on the club's Facebook page ]