PORTLAND, Ore. — Most coaches would go ballistic if their team went up 3-0 on its arch-rival in the playoffs. But after the Portland Timbers scored their third goal on Seattle Sounders FC on Thursday, Caleb Porter only turned toward the television cameras and silently pumped his fists by his side.
Even as his assistants went crazy, Porter stood silently. After the game, which Portland won, 3-2, to advance to the Major League Soccer Western Conference final series, he appeared stoic and largely unemotional in front of the media, as he usually does.
"I think it means that we're three games away, and we have two teams in our way," he said. "I'm so locked in right now. Obviously, the rivalry's big, and it means a lot to our supporters, but I don't hate [Seattle head coach] Sigi Schmid. I don't hate the players. I understand that there's a rivalry, and I understand that we want to beat Seattle. I'll always want to beat everybody."
However, not only was Porter looking toward the NBC cameras after that third goal, he was staring in Schmid's direction. It was silent (and perhaps inadvertent) confirmation of a fact Porter should know well: he completely out-coached his opposite number in both legs of the series.
Diego Valeri, a Most Valuable Player candidate who signed a Designated Player contract after an initial loan from his hometown club Lanús in Argentina, credited the coach with all the team's 2013 success.
"He's the author all of this. Of course, the players are very important, but … all of this is down to him," Valeri said in Spanish. "Day to day, he's like a professor at school. He does a lot of work. He's always at the club, always working, constantly trying to make the team better. He's very busy, but things are going well, and he tries to influence things to make them better."
The strategy is simple, Porter said, belying the nuanced nature of coaching teams that exhibit a high tactical quotient. He wants his players to express themselves, he said, and he wants to give them the freedom to perform at their best, trusting that they have the ability to do so if they're put in the right positions.
"I think it's organizing them enough where they know their role — there's clarity there, there's a definition of how we want to do things — but also giving them a bit of freedom," Porter said. "You don't see our team just running around, scattered, but there's definitely some freedom, mostly to perform and do the things that they like to do. I think you saw a lot of smiles … tonight, and I've never seen a team or a player not play well when he's having fun."
Porter's lack of smiles, even on the back of the most dominant half his team has played all season in the first period against Seattle, is just another part of his business-as-usual mentality.
"He's pretty much game face all the time," said midfielder Darlington Nagbe, who also played for Porter at University of Akron. "He'll poke a little joke here and there, but for most of the time, he's game face, and he's ready, trying to keep up on the edge because we've been having a lot of success."
Porter seems to be able to get the best out of every player on his roster, regardless of past success or failure. Forward Ryan Johnson said the team feels it never has a moment of low expectation from its coach, which creates an atmosphere of accountability and internal reliance among the players.
Especially compared to these last two games against Schmid, perhaps a more apt term than "professor" would be "scientist." Porter has found a formula for success by placing players in positions where their natural tendencies can shine, mixing the right combination of tactical instruction and instinctual creativity to rip Seattle apart in the first half on Thursday.
"That was the plan all along," Porter said, nonplussed. "We were OK with them having the ball on the road [in Seattle] and hitting them on counters. Tonight, it was a different story. At home, we want to run an opponent over. … I think there's still more in this team. That's what's scary."
There should have been much more to the Sounders as well. The Timbers showed extreme tactical adaptability, winning on the break in Seattle before their onslaught in Portland, but the Sounders could only show an opportunism on dead balls that teams fall back on when they have nothing else.
Portland combined in tight spaces and unlocked areas of the field; Seattle dumped balls forward and looked for knockdowns. That's not down to talent (the Sounders have nearly twice as much money tied up in Clint Dempsey and Obafemi Martins as the Timbers have in their entire roster) — it's down to coaching.
"Whoever is out there, there's enough experience up top to score goals — bottom line," Sounders forward Eddie Johnson said. "We've got enough quality up top to score goals. In a big game like this, guys have just got to step up and score goals."
Still, Seattle wasn't set up for success, despite the caliber of attacking players it has. Starting Shalrie Joseph at forward looked to be a disaster in the making even before kickoff, and it panned out exactly as such. Schmid tried so hard to shoehorn one expensive player (Dempsey) into the lineup that his team lost what little semblance of tactics it had before his arrival.
"When you're adding people during the season, it's sometimes tough," Schmid said. "We were never able to build upon that and never be able to get the roles down. The roles for people were changing, and the roles for people today in the game changed; all that makes it tough."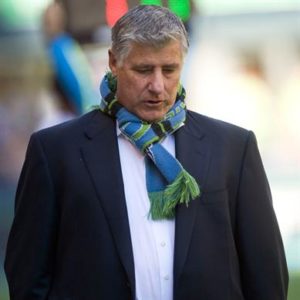 A coach with Schmid's experience, through the college and youth national team ranks to two MLS Cup titles with two different clubs, should be able to sort it out. Especially with Dempsey, Martins, and Johnson spearheading the attack, players who have played all over the world and excelled on the international stage, the goal-scoring process shouldn't feel like pulling teeth.
Meanwhile, the studious Porter has his team playing its most dangerous soccer at supposedly the most difficult time of the season to do so.
When he stared into the camera at 3-0 on Thursday, fists at his side, he looked ready for a fight. The Timbers have been preparing all season, building to a knockout punch that they are three games away from delivering.