It's a familiar, and controversial, idea among women's soccer observers: Should the WNBA (and the crucial support it receives from the NBA) be more of a model for professional women's soccer leagues?
With the Houston Dash's arrival to the National Women's Soccer League (NWSL), there are now two teams in the league affiliated to a side from Major League Soccer.
[ +READ: NWSL hopes skimpy roster sizes balance budgets, competitiveness ]
The Dash are backed by the Houston Dynamo, while the Portland Thorns are affiliated to the Portland Timbers in what was the two leagues' first formal team link. Both play at their MLS counterparts' stadia and are owned by the same owners as their male counterparts as the NWSL looks to give women's pro soccer greater exposure.
In fact, the duo featured in NWSL's 2014 season opener on April 12, a 1-0 Thorns win.
As the new NWSL season begins with nine teams spread across the country, league commissioner Cheryl Bailey expressed excitement that MLS teams are prepared to involve themselves with growing the NWSL, and believes it reflects a growing interest in the women's game.
"Obviously we're excited about the opportunity to have an expansion team coming in that is so well organized and has the background to be able to immediately come along to be a partner with the NWSL," Bailey told reporters on a conference call. "Going forward, we need to look at any partners in NWSL who want a link, whether it's MLS or not. We have a variety of different people who have shown an interest in having a team in NWSL, which is very exciting. Some are from MLS teams, some are not.
"It's something that people bring to the table, different opportunities that we'll be able to provide out there, so it's not necessarily what has to happen. But it is certainly something that when we looked at having a team in Houston, it made sense for them to join."
[ +READ: Dash earn first-ever victory with 3-2 comeback road win over Boston Breakers ]
The Dash themselves feel that their close links to the Dynamo gave them great momentum in their first preseason. They say it was especially noticeable when trying to spread the word about Houston's newest professional sports team, as they already had a support structure in place.
"I like the organization from top to bottom, having the front office staff already in place, having a culture already developed by the Dynamo that is well-recognized in the city," Dash head coach Randy Waldrum said. "All of those things and our facilities, I think people are going to find once they get into Houston and play at our facility, I think it's going to be a place where every player in the league wants to play at.
"I just think it's a win-win for the development of the women's game that we see more of the MLS teams come in. My hope is personally that we get more of the MLS teams to come in, because I think that's really going to help ensure the overall growth of our league.""It's a top-class facility, and I think it's really important for the continued growth of the league to see more MLS teams come in. I think it bodes well for the league that we've got two in here now, and the entire league has done a great job of integrating the MLS teams into the league.
Dash midfielder Brittany Bock, a player who has now been a part of three different pro or pro/am women's soccer leagues, agrees. A onetime first-round draft pick of the Los Angeles Sol in the now-defunct Women's Professional Soccer league, she has seen first-hand how leagues can run into difficulties.
"Already we have a huge market to go off," Bock added. "You look at the WNBA being backed by the NBA, and that's huge.
"For the future of women's soccer, I think if we can connect with an MLS team, even do some doubleheaders here and there, I think that's huge for the awareness of the league. We've not got the money to go out and do the marketing, so to be able to go out and be connected with an MLS team is huge."
In addition to their link with the Houston Dynamo, the Dash finalised an agreement in the preseason with CSN Houston to broadcast 11 of their 12 home games live, with the only exception being their inaugural league match against the Portland Thorns, which was broadcast on delay. The team see this deal as another massive boost, as they look to showcase themselves in what is a large soccer market in Houston.
"For us, with CSN being our partner and televising our games, I think any time we can continue to get media coverage whether that's the written media or through social networking or streaming or whatever it's only a plus," Waldrum said. "I think it's certainly going to be throughout the Texas market with the deal we've struck. I think it's going to be great for us.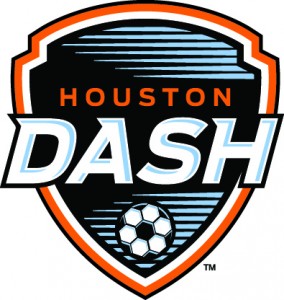 "The more we can become visible and the more people see us, it can only benefit and grow the game and grow our brand and the league itself. It's a continual process, and any time that any of our teams can get any kind of regional or local broadcasting, I think it's a huge plus.
"I'm really excited about it, I think we've got all of our games except maybe one that are covered on the television network. I can't wait for the matches to get out and for fans who haven't caught on yet to see it. Hopefully that translates into more ticket sales and more fans out there."