D.C. United improved on their 3-0 opening-day loss to Columbus, but it still wasn't enough to earn a victory, or even a goal, on Saturday as the Black-and-Red lost 1-0 to Toronto FC at BMO Field.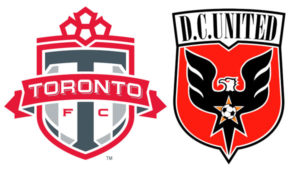 TFC's new English forward Jermain Defoe scored the game-winning goal, slotting home a rebounded effort by Gilberto on the hour mark, as his fellow newcomer Michael Bradley dominated the midfield.
The goal came after Bradley slipped a weighted pass to Gilberto, who took a shot at United goalkeeper Bill Hamid.
The D.C. 'keeper made a big save but the ball rebounded to the foot of Defoe, who slotted home for the game-winner.
Davy Arnaud and Bradley got into a scary head-to-head collision that caused a long stoppage some 20 minutes into the second half. Bradley was bandaged up and continued the game, but Arnaud, looking much the worse for wear, was subbed off for Kyle Porter.
D.C. controlled much of the play in the final 15 minutes of the game, with Toronto FC trying to hit back on the counterattack.
Penning Toronto into their own half, D.C. attempted to find an equalizing effort but both Eddie Johnson and Fabian Espindola could not beat TFC 'keeper Julio Cesar.
United play host to the Chicago Fire this Saturday at RFK Stadium (4 p.m. ET, broadcast live on NBC Sports Network) as they continue to seek their first win of the season.
[ +Find more match coverage at DCUnited.com ]
Box Score
Goal: Jermain Defoe 60′ (unassisted)
Discipline: Jackson 50′; Davy Arnaud 55′
DCU Starting XI: Hamid; Franklin, Boswell, Park, Fernandez (Doyle 82′); DeLeon, Kitchen, Silva, Arnaud (Porter 66′); Johnson, Espíndola
TOR Starting XI: Cesar; Bloom, Henry, Caldwell, Morrow; Jackson, Osorio, Bradley, Rey (Orr 83′); Gilberto (De Rosario 63′), Defoe