WASHINGTON – D.C. United are still a long, long way from breaking ground – much less kicking a ball – at their new home.
But the club's lengthy quest for a soccer-specific stadium took a significant step forward on Friday as D.C. Mayor Vincent Gray announced the official completion of final business terms between United and the city on a $300 million plan to build the venue at Buzzard Point, a disused corner of Southwest D.C. near the Nationals Park baseball stadium on the shores of the Anacostia River.
The plan was presented to the D.C. City Council Friday afternoon and could be taken up for discussion as early as next week. Full details of the stadium's design have not yet been released, but the plan is for a 20-25,000-seat venue with adjacent mixed-use retail and entertainment space.
[ +READ: D.C. United step up outreach on stadium project as election season arrives ]
"This is a major step forward for economic development in the District of Columbia," said Gray in a statement. "The new soccer stadium will be the connector between developing areas around our baseball stadium and the new Wharf development along our Southwest Waterfront.
"The new soccer stadium is the final catalyst for what is certain to become one of the most vibrant and sustainable sports and retail districts in America."
Gray's office reports that the city controls 88 percent of the land needed for the stadium and has agreed in principle with the owners of the remaining territory. That detail looked far from secure just this week, as Allen Lew, the mayor's point person on this project, raised the possibility of an eminent domain seizure of that chunk, which is controlled by local property magnate Mark Ein.
But Gray, who is a lame duck thanks to his defeat at the hands of City Council member Muriel Bowser in last month's Democratic mayoral primary, must now convince the council to sign off on the plan, which commits as much as $150 million in city funds towards land acquisition and infrastructure. (United will pay a similar amount for construction of the venue itself.)
Those costs will be covered via a complex land swap with the Akridge real estate development company centered on the Reeves Center, an aging city government office building which sits on a valuable plot of land at 14th and U streets NW.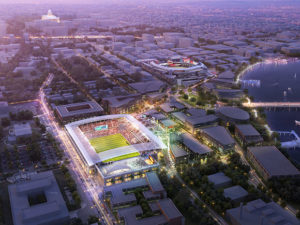 Bowser and other members of the council have expressed skepticism and in some cases, outright opposition to the land swap, which would trigger a relocation of the offices now inhabiting the Reeves Center.
"This is another complex, public-private partnership with many moving parts that advances economic development in the District," said Lew, who served as lead negotiator and previously brokered the controversial process by which Nationals Park was created.
[ +READ: D.C. United blank Houston 2-0, climb to second in MLS Eastern Conference ]
"Throughout this process we listened to the community and discussed our progress with the Council. Ultimately I think we have negotiated a deal that spurs economic development across the city, provides for needed infrastructure improvements and continues our efforts to create jobs and business opportunities for residents."
Only a few important details have changed from the tentative agreement announced between United and Mayor Gray last summer – most notably, a vague profit-sharing arrangement has been replaced by a tax framework which starts out at very low levels and ramps up in future years.
[ +Find further details about the D.C. stadium partnership from the Washington Business Journal ]