NEW YORK — David Villa is heading to Washington D.C. to begin World Cup preparations and was unavailable to the media, but that didn't stop NYCFC officials from officially welcoming the club's first ever striker via conference call this afternoon.
In one of the toughest professional markets in the world to make headlines, NYCFC did just that bringing in the 32-year-old veteran striker on a three-year contract.
He'll be playing some games, but we can't reveal just yet where that would be.
– Claudio Reyna
While the club's first season won't kick off until 2015, his new Director of Football Claudio Reyna indicated strongly on today's call that the World Cup Champion would go out on loan prior to joining his yet-to-be-named teammates in the third week of January for the MLS preseason. Just where he will keep his match sharpness prior to January is still unclear.
One locale Villa will not be heading is to England as Reyna ruled out the possibility of the Spanish striker joining parent club Manchester City.
"The most important thing is he's ready for 2015 and we know he will be for New York City FC. He'll be playing some games, but we can't reveal just yet where that would be. We can state it will not be at Manchester City, he will not be playing for Manchester City," said Reyna.
Not only does the club sign one of the most accomplished strikers to play in La Liga and the Spanish National Team, they were able to get their man on a free transfer. He heads stateside without any hefty fee exchanging hands with Atletico Madrid.
While in the past at Real Salt Lake head coach Jason Kreis liked to sit down with players face-to-face to see what kind of a fit they'd be for the team. That wasn't the case with the fledgling club's first signing.
"Truth be told, Claudio and the rest of the staff of New York City FC have had the opportunity to sit down with David and his family quite extensively. Our schedules haven't matched up quite yet, but I certainly have full trust and faith in Claudio to make the right decisions," said Kreis. "I'm very much looking forward to that meeting."
The technical staff and the vast scouting network of the City Football Group have been scouring the globe to find the right fits for the Major League Soccer club. With what Villa, who is the first player to reach 50 international goals for Spain, brings to the table made it an easy choice for him to be the club's first ever signing.
"When you're looking at the three designated positions, we have to make sure they are the right ones on and off the field. David ticked all of the boxes. We always wanted to sign a player that could score goals, create goals, lead the line up front, be a leader and where he's at in his career, playing at the highest levels, for us it was an easy fit," said Reyna.
"We're incredibly excited to be where we are today and we really believe there is no other player to be more fitting to be a New York City FC player and the perfect signing for our club."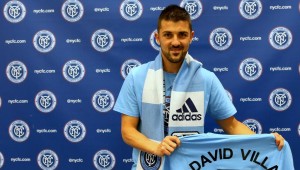 Villa has spent his entire career in Spain and will play for a professional club outside his homeland for the first time when the NYCFC inaugural season kicks off in March of 2015. Although New York City comes with the rigors of national and local pressure to perform, Reyna feels the Spaniard's experiences make him fully equipped for what lies ahead.
"He's been at the highest level with the highest amount of pressure you can have with the clubs he's played at and the national team he's represented. He was not going to shy away from this challenge of being a critical piece of this team. There's no doubt in my mind he can handle any big city pressure here in New York," he said.
As a player of his world stature, Villa is taking a huge leap of faith. The club doesn't have a roster around him and there have been no games for the striker to gauge the style of play. However, in his meetings with Reyna it was a point of discussion on how the roster is expected to come together.
"We talked about it. I briefly touched on sort of the building of the team and how we're going to do this and the work that's going on everyday around this so he's aware of it. It's a credit to him to take this challenge up. There is no team, we're really starting this from scratch. A player of his caliber and his pedigree to decide to do this and be one of the leaders of this team is very exciting," said Reyna. "He trusts that we are doing our work over here. I'll probably sit with him later this week and answer any more questions he might have."
"We'll keep him in the loop so he's aware and it's very important. He's one of us, he's part of the family and we're going to lean on any support he can give us as well."
In terms of building out the roster, Reyna indicated that there may not be as many current Manchester City players heading to New York as thought when the club was announced.
"It's not something we're going to bring over a multiple amount of players from Manchester City. Our search for players is not only concentrated with Manchester City, it's all around the world. It is an advantage if we need a player in a certain moment to come play for us," he said referring to relationship with the UK team.
Kreis has worked alongside the youth teams at Manchester City from the U-11s to U-21s and it wouldn't come as any surprise to see at least one player from the City academy getting a chance at first team minutes in MLS.
Another player that has been rumored to be on his way to New York is Frank Lampard. However, the club wouldn't confirm or deny the recent reports of the English midfielder's signing.
"There's no comment on Frank Lampard, we want to talk about David Villa," said Reyna.