In a game marked by the return of San Jose Earthquakes and U.S. Men's National Team forward Chris Wondolowski from the World Cup, it was Bill Hamid who looked the most impressive.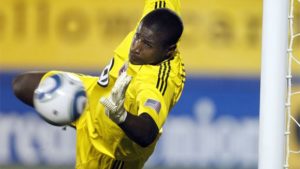 The homegrown D.C. United goalkeeper made a number of superb saves to help United take a 2-1 win at Buck Shaw Stadium in Santa Clara, California, their third straight away win in MLS play and just their second at Buck Shaw since 2008.
The Quakes entered the game goalless in 315 minutes, and while Wondolowski broke their duck in the first half with a deflected finish, it would not be enough as an Eddie Johnson penalty and a sliding finish from Luis Silva combined with Hamid's stellar performance made the difference for the visitors on a clear night in Santa Clara, Calif.
San Jose made three other changes to the team that lost 1-0 to Chivas USA last time out, with Wondolowski slotting straight back in up front. Clarence Goodson, Victor Bernardez and Atiba Harris were the others to come into the starting XI, with Ty Harden, Jason Hernandez, Cordell Cato and Jean-Baptiste Pierazzi the ones to make way.
Meanwhile, United were unchanged from the team that beat Toronto FC 2-1 in their previous game, and they started brightly as Steven Birnbaum headed a corner from Silva just over the bar within the opening five minutes.
They would go ahead just over five minutes later, as Chris Rolfe turned well inside the box and saw his shot handled by former Black-and-Red defender Brandon Barklage. Referee Jair Marrufo awarded the penalty without hesitation, and Johnson finished easily from the spot to give United the lead with his second goal of the season.
In the following minutes, both sides struggled to hold onto the ball for any length of time or create further chances. That all changed on the 25-minute mark as Rolfe once again caused problems on the left for United. His teasing low ball was met by the sliding Silva at the near post, who diverted the ball into the net to hand the visitors a 2-0 lead.
The Quakes seemed stung by going further behind, and immediately came forward on the counter led by Jordan Stewart. However, the defender's shot from distance went sailing over the crossbar. At the other end, Rolfe was again in the thick of the action as he played Johnson through, but the forward's low shot went into the side netting.
San Jose seemed galvanized in attack, but defensively they looked shaky as Rolfe almost scored one himself next, only to be foiled by a strong low save by Jon Busch.
The hosts would claw their way back into the game late in the first period, as Wondolowski's long-range shot was deflected past Hamid off Davy Arnaud to cut the Quakes' deficit heading into halftime.
The second half started at a furious pace, and Wondolowski had the best early chance but saw his chipped attempt well blocked by Hamid. The overlapping Chris Korb also caused some problems for San Jose on the hour-mark, but Silva could not keep his shot down having received a low cross from the left-back.
Harris then had a good chance at an equalizer but saw his effort well saved by Hamid. As the half wore on, United looked more and more cautious and were starting to cling on a little as their 2-1 lead looked unsafe.
Both sides were clearly fatigued as they entered the final 20 minutes, but the home side looked more likely to score again as they poured forward in search of an equalizer. Hamid once again made a strong save in the last 15 minutes left from Sam Cronin's lashed shot and had to stay alert as San Jose continued to look dangerous in attack.
With Alan Gordon joining the fray for the Quakes alongside Steven Lenhart up front, the so-called "Goonies" were once again chasing a late goal. The hosts thought they had scored in the final minutes, but once again Hamid came up with what seemed like an improbable save with Arnaud deflecting a follow-up away to prevent San Jose drawing level.
The final whistle sounded shortly after to the delight of D.C. United, who were indebted to Hamid after another brilliant display of goalkeeping. The win kept them atop the Eastern Conference, while San Jose would rue missing a host of chances, especially as they looked the better team for the majority of the game.
Goals
DCU — Eddie Johnson 12' (PK)
DCU — Luis Silva 25' (Chris Rolfe)
SJ — Chris Wondolowski 39' (Khari Stephenson)
Disciplinary
DCU — Perry Kitchen 71' (caution, foul)
DCU—Eddie Johnson 87' (caution, time wasting)
SJ — Alan Gordon 90+2' (caution, foul)
Attendance: 10,525
San Jose Earthquakes XI: Busch; Barklage (Francis HT), Bernardez, Goodson, Stewart (Gordon 81); Harris (Salinas 67), Cronin, Stephenson, Djalo; Wondolowski, Lenhart.
Subs not used: Bingham, Hernandez, Schuler, Pierazzi.
D.C. United XI: Hamid; Korb, Birnbaum, Boswell, Franklin; Rolfe, Kitchen, Arnaud, DeLeon; Silva (Neal 75'), Johnson (Doyle 88).
Subs not used: Dykstra, Attakora, Kemp, Jeffrey, Martin.