By Joe Dougherty
Mark Parsons' life changed dramatically in 24 hours.
Parsons, who on Sunday was the coach of the Washington Spirit reserve team, on Monday was named head coach of the Spirit first team following the release of former coach Mike Jorden the same day.
Parsons wasted no time in his new role, getting about 90 minutes' sleep after leading practice and reviewing Spirit game film. His first game in charge will be Wednesday, when the Spirit host FC Kansas City.
It was a surprise appointment for Parsons, who was unaware of Jorden's departure until he was summoned by Spirit management.
"Looking forward, I can only be positive and excited about this team," Parsons said during a conference call with reporters Tuesday.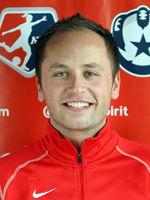 Parsons led the D.C. United Women Under-20s team to the 2012 USL Super-20s National Championship finals and previously spent six years in multiple coaching roles at Chelsea FC in England.
Jorden was named the first coach of the Washington Spirit after leading the D.C. United Women W-League team to the Eastern Conference championship and W-League championship semifinals in 2012.
Spirit captain and U.S. international Lori Lindsey said the past several weeks – a stretch of five consecutive losses – have been a struggle for her and her teammates.
With just nine goals in 11 games – and a league-worst record of 1-7-3 (6 points), Lindsey said she wants her side to move the ball better on the ground and be more aggressive going to goal.
"We want to be a lot more dangerous in the final third of the field, create more chances and score goals," Lindsey said.
Parsons is not the only new face on the Spirit, as the club on Monday acquired forward Lindsay Taylor and a conditional fourth-round pick in the 2014 NWSL college draft from Seattle Reign FC in exchange for the Spirit's 2014 second-round selection.
"We've had our eye on Taylor for a while," Hummer said. "We have high hopes for what she can bring to our attack throughout the remainder of this season and beyond."
Taylor, 23, has made six appearances for the Reign in 2013, scoring a goal in a 4-2 loss to the Spirit on May 16. A native of Palo Alto, Calif. and product of Stanford University, Taylor was the sixth overall pick in the 2012 WPS draft and spent the season with Arna-Bjørnar in Norway. She also has experience with the U.S. Under-23 national team.
Hummer said Taylor is scheduled to fly into Washington overnight and be in uniform against Kansas City.
Taylor helped the Cardinal capture its first national championship in 2011 and finished her college career with the most starts (98) and tied for the most games played (102) in program history. She is fourth on Stanford's all-time scoring list (53 goals) and seventh all-time in assists (27).
To make room for Taylor on the 20-player roster, Washington waived rookie midfielder and University of Maryland product Domenica Hodak.