It was a long time coming, but the San Diego Flash's return to the Lamar Hunt U.S. Open Cup for the 2014 tournament is just the start of what the team hope will be a steady rise to the top levels of soccer in the United States.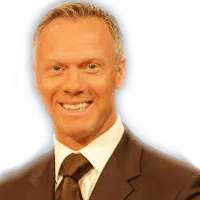 Currently playing in the National Premier Soccer League (NPSL) in the Southwest Conference of the West region, the Flash were dormant for almost a decade after withdrawing from the then-A League with financial difficulties in 2001, and only re-appeared again in the 2011 season.
Now coached by Newcastle United legend and current Fox Sports analyst Warren Barton, the Flash were delighted to secure provisional Open Cup qualification from the NPSL West region's qualifying tournament thanks to a 2-1 win over FC Hasental after falling just short in previous years.
"First, qualifying is gratifying because we've been away since 2001," Flash CEO Clent Alexander told SoccerWire.com. "I was part of the ownership group back then, and so I am the one who restarted the club five years ago. Second, we've been knocking on the door for the last three years that we've been in the NPSL, though we kept losing in the past
"It feels very good to be able to do this for the people of San Diego."
The team is built with homegrown talent from the San Diego area, as the Flash believe that the city is a superb location for soccer and is filled with plenty of talented players for their roster.
"Downtown San Diego is less than 30 miles from the border to Mexico, so there's a cultural influence," Alexander said. "It's not just a Mexican-Latin thing. There's a multicultural population here in San Diego, and that's what our team is made up of. We don't strive to bring in players from outside, we grow homegrown talent. That's what Warren's agenda is.
"We're not looking to bring in players from outside areas. There's various youth soccer clubs and academies that are producing good talent. We find ourselves at the top of the pyramid. We've worked for the last four or five years to establish partnerships. Warren comes from that environment, so we want to integrate that with what we're doing. We're doing it not only on the field, but off the field too.
"We've got a good mix of young guys and older guys, and we still have a couple of guys who are still clearing their paperwork to play for us."
The Flash are something of a trendsetter in American soccer, given that they are the first team to be publicly traded, with investors coming from around the country to help support the side grow. For Alexander, this business model is more preferable than others in professional sports, as it helps ensure that the power stays in the hands of the supporters.
[ +U.S. Open Cup: Four-time winners New York Greek American confident on 2014 return ]
"When I restarted the club five years ago, I put a business model in place along the line of thinking like the Green Bay Packers, where the fans own the team," Alexander said. "About a year later I met Warren Barton, who came on board and moved to San Diego about the same time as myself in 2008. Since then, it's been a magical ride.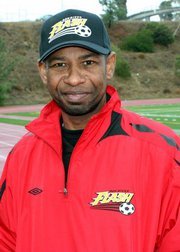 "All the players want to play for him, so we're getting the best players, and the fans appreciate what we have to offer. Because the flipside of the fan experience in San Diego is that there's no basketball here, because they packed up and moved to L.A. The Chargers are threatening to leave San Diego at the whim of one person, which is the owner.
"When it's a fan-supported type of entity like the Green Bay Packers is, you have a better opportunity for the team to stay put if it's a fan-owned type of business model."
Alexander has already explored the possibility of the Flash entering the North American Soccer League, having had meetings and correspondence with the league. However, despite this being their long-term ambition, it perhaps is not financially viable in the current climate.
"I don't believe in the business model of joining a league just to spend extra money," he said. "Because as a businessman and as the guy who literally writes every check, am I going to write a check to join a professional league? I had conversations with David Downs [former NASL commissioner], then subsequent to that, Bill Peterson [current NASL commissioner]. He actually came here to San Diego.
[ +Lines drawn: MLS expansion raises knotty issues for NASL commish Bill Peterson ]
"To go out and spend $2 million to join a league and then put ourselves in a position where every away game is a flight somewhere is an upside-down business model in my head. It's the same with USL PRO. We have a guy just up the road from us at the Orange County Blues, who is living with that right now. Every away game is about 25 guys on a plane to somewhere like Pittsburgh, which is their closest competitor.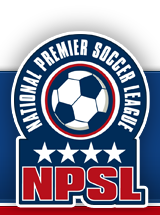 "At the home games, you can't sell enough $10 or $20 t-shirts to cover those costs. It just doesn't make any sense to me. We aspire to be bigger than just an NPSL club, and along those lines we've looked into the possibilities of working on a stadium project for the city of San Diego.
"That I think is the tipping point, that when people see that announcement coming from us, is really going to give us the type of credibility that we want as a soccer club – regardless of what league we play in. I've been working on it for about a year and a half, and we'll probably have an announcement sometime soon. It's all kind of coming together."
While this year's tournament is the first time since 2001 that the Flash will be present in the U.S. Open Cup, they gained some fame in the 2000 tournament, when they played host to the LA Galaxy of MLS in the third round. They may have lost 2-0 in that game, but Alexander believes this year's Flash can follow on from the example of Cal FC, who in 2012 sensationally defeated the Portland Timbers 1-0 after overtime at the MLS club's home ground.
[ +After 2012 win over Timbers, Cal FC looking forward to USOC return ]
"I go back to two years ago, obviously when Eric Wynalda took Cal FC to the fourth round," Alexander added. "He's one of our partners as well in our company. For us to make it to the [Open] Cup, everyone's pretty excited about that here in San Diego. You've got the American Outlaws organization, who are very excited about what we do.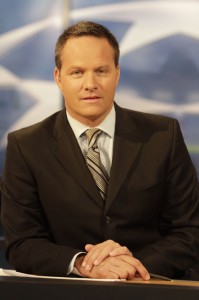 "There's multiple groups down here that support different MLS and even European clubs who recognize that us being in the U.S. Open Cup is kind of a big deal. Everyone is pretty much waiting for us and asking us all the time about who we're going to play. Now, we're just waiting for that draw to take place. It has created a little bit of excitement for the city of San Diego.
"We want to try and advance as far as we can. The talented players that we've assembled, let's see where they can go. With Cal FC's example from just two years ago, it shows that the state of soccer in the USA is such that any team can beat another team on any given matchday. We'd like to see ourselves progress as far as we possibly can.
"When we had the Open Cup back in 2000, we played the LA Galaxy here in San Diego. If we can have another scenario like that, it would be awesome, it would be brilliant. To host an MLS team would be awesome for the whole city."