RICHMOND, Va. — It's one of the biggest events on the youth soccer calendar, marking the unofficial start of the spring season, and it's finally here.
Welcome to Soccerwire.com's live coverage of the 2013 Jefferson Cup in Richmond, Va. We're live on site here in the River City for the next two weekends, starting with today's packed schedule of Boys Weekend showcase games, bringing you scores, stories and plenty of exclusive Jeff Cup content.
If you cannot be in Richmond, we'll be there for you. Follow along here all weekend as we post updates during all three days of game action at this event, which is hosted by the Richmond Strikers. We'll track championship matchups for younger ages, and we'll track the top flight showcase action and college coaches' buzz for the older groups.
Through it all, this page will have the most recent blog posts and short updates, which will link to stories, videos and other resources as we produce them.
We want to hear from you! Please leave comments below, telling us what you think about the tournament, our coverage and anything else related to this fantastic weekend.
But, if you are on the run, there are ways to keep track. For a central location of news, follow the @JeffersonCup Twitter feed, where you will find links to all the stories we post on our home page here.
To follow our Soccer Wire reporters as they send in their reports, follow us on Twitter @TheSoccerWire.
Day 3
7:30 p.m. – While the games may be done, we at Soccerwire.com are not! We will still be providing extensive coverage as the day continues. But for now, here is a list of the tournament winners:
U15
Championship: Bethesda SC Lions (Md.) 2-0 Brandon FC E 97 Boys Elite (Fl.)
Elite: Black Watch Premier Academicals (N.Y.) 1-0 Charlotte United FC (N.C.)
Superior: Virginia Rush (Va.) 1-0 Force FC (Mi.)
Platinum: Arsenal FC Elite (Pa.) 1-0 Soccer Plus Academy PSC Heat (N.Y.)
Classic: TSF Academy Blue (N.J.) 2-1 Spirit United SC Barca 97 (Pa.)
Premier: River City Rovers 97 (Ky.) 2-1 Century United V (Pa.)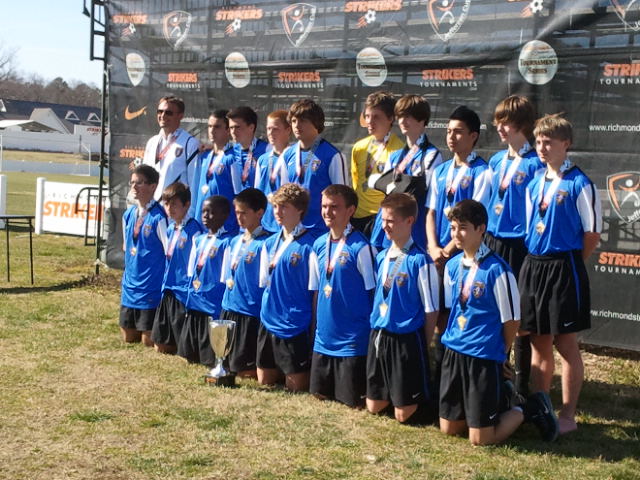 U14
Championship: CESA 98B (N.C.) 1-0 Arlington Attack Royals (Va.)
Elite: Century United North Predators (Pa.) 2-1 FC America Boys (Fl.)
Superior: FSA FC U14 Boys Navy (Ct.) 3-0 Cincinnati United Cup Crew Juniors (Oh.)
Classic: Cape Fear (N.C.) 2-0 River City Rovers (Ky.)
U13
Championship: United Futbol Academy (Ga.) 2-1 SC United FC Mount Pleasant 99 Elite (S.C.)
Elite: Charlotte CSA Cabarrus Elite (N.C.) 2-1 Revolution Empire Roc B13 Blue (N.Y.)
Superior: Richmond Kickers Elite White (Va.) 2-0 Carolina Elite 99 Premier (S.C.)
Platinum: Century United of Pittsburgh FC (Pa.) 3-1 Va Rush Nike (Va.)
Classic: Matanuska AKFC 00 United (Ak.) 5-4 Triangle United Gold (N.C.)
U12
Championship 11v11: Cedar Stars Academy (N.J.) 1-0 TSF Academy (N.J.)
Elite 11v11: FCCA Huntersville Wee Highlanders (N.C.) 2-0 Westminster Wolves Red (Md.)
Superior: 11v11: United Futbol Academy (Ga.) 3-0 Methacton United SC Galaxy (Pa.)
Championship 8v8: Soccer Plus Academy Roughnecks (N.Y.) 3-2 FPYC FCV Fury (Va.)
Elite 8v8: Beach FC 00 Red (Va.) 2-1 Bethesda BSC Green (Md.)
Superior 8v8: New River United (Va.) 2-1 Trinagle Football Barcelona (N.C.)
U11
Championship 11v11: Cedar Stars Academy (N.J.) 1-0 Jigs/Elmont Roma (N.Y.)
Championship 8v8: Bethesda Blue (Md.) 8-1 Richmond Strikers (Va.)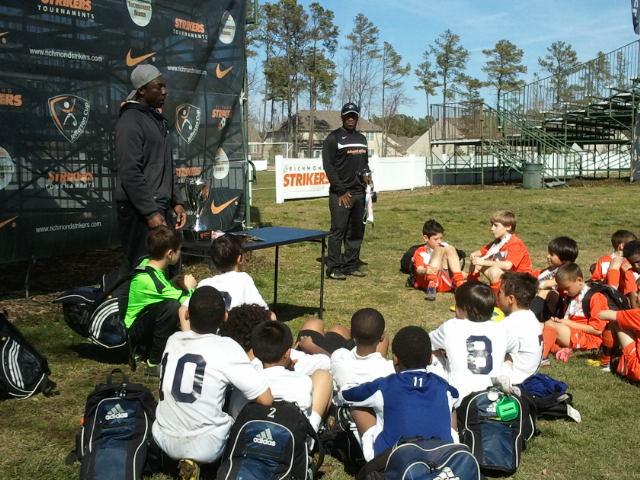 Elite 8v8: TFS Cosmos (N.C.) 3-2 FCCA Cabarrus Elite (N.C.)
Superior 8v8: TRiangle United 01 Barcelona (N.C.) 5-4 Bethesda BSC Orange (Md.)
U10
Championship 7v7: Bethesda Blue 02TR (Md.) 6-1 Richmond Kickers U10B Elite (Va.)
Championship Elite 7v7: PWSI Courage 02 Red (Va.) 2-1 Richmond Strikers Arteta (Va.)
Championship Premier 7v7: Triangle FC Fast Classic Chivas (N.C.) 6-0 Premier AC Elite '02 (Va.)
7:15 p.m. – Michael Willis brings fans a Q&A with VCU's head coach here.
6 p.m. – There is a team taking the tournament by storm. Find out more by clicking here.
4 p.m. – Cedar Stars nab narrow victory, says Jimmy LaRoue:
Cedar Stars Academy rode the strength of a first half penalty to defeat JIGS/Elmont Roma 1-0 and come away with the Jefferson Cup's U11 11v11 Championship title.
It was the second time over the weekend that the two teams faced off and the second win for Cedar Stars.
Cedar Stars Academy brought three teams to Richmond for the Jefferson Cup, and will go back to New Jersey with two titles.
Not bad at all for a club that's only been around for a year-and-a-half.
Things have just about wrapped up here at River City Sportsplex, with just one U16 Atlantic Soccer League bracket game left to be finished – Freestate Diplomats against the Richmond Kickers U16B Elite.
3:15 p.m. – Soccer Plus Academy had quite the Sunday at Jefferson Cup, writes Charles Boehm: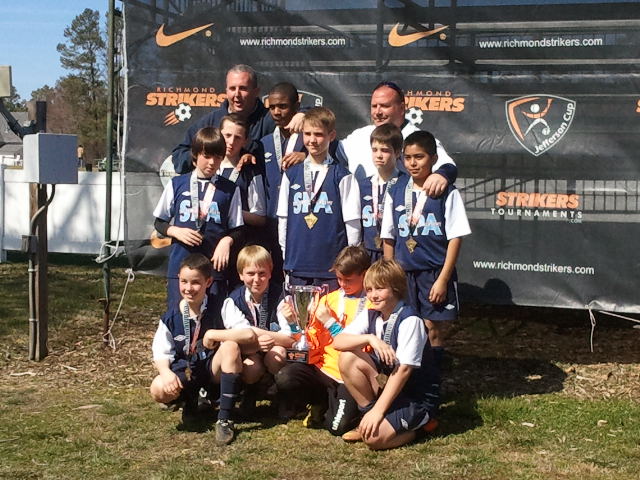 It took a stirring collective effort for New York side Soccer Plus Academy Roughnecks to defeat FPYC FCV Fury (Va.) in the final of the U-12 Championship bracket on Sunday.  Karim Selmon Kyreem Selman and Devon Scully popped up to net important goals, for instance.
But one particular contributor probably deserves special mention for his heroics in the tense penalty-kick shootout that decided the winner, after neither regulation nor two periods of extra time could break the two teams' 2-2 deadlock.
Dylan "Minivan" Sullivan is a midfielder. Yet on Sunday gave his team a ride to the championship trophy by volunteering to don goalkeeper's gloves for the PK shootout, where he blocked one FPYC spot kick and tipped another onto the post and away from the target.
"He's the heart and soul of our team," said Roughnecks coach Ed Evans, whose team was left shorthanded by injury and illness for most of the tournament. "Our Under-11 'keeper was playing for us this weekend, so we don't even have our permanent 'keeper with us.
"So during PKs, we asked if anyone wanted to jump in. Of course, [Sullivan] does everything for us, so he said, 'let's go.'"
2 p.m. – The final U17 Championship division games wrapped up on a beautiful Sunday afternoon over at the West Creek facilities. The OBGC Soccer Rangers of Olney, Maryland surprised some teams and came out with the highest point total after their 0-0 standoff against Lehigh Valley United 95.
The two teams never ceded an inch on the grass pitches at West Creek, matching one another's every attempt at scoring in what seemed like a game of chess. Lehigh Valley United came in with very high acclaim, but certainly looked to be taken aback by the level of sheer skill present in the U17 grouping. LVU ended up placing seventh in total points, with their lone win coming against CESA 95 Premier.
The team with the second highest point total of the grouping, Penn Fusion 95, playing adjacent to the U17 OBGC Rangers over at West Creek, capped off a successful weekend with a 3-0 win over TSF Academy Ginga of New Jersey. The Fusion, who compete in Pennsylvania east, were the only team in their grouping to only allow one goal over three games.
1:30 p.m. – Charles Boehm has some updates for you all on the final day. He writes:
Scores from Striker Park championship/consolation games in progress:
Yardley Makefield Wolves lead fellow Pennsylvania side West Chester United Predators 1-0 at halftime in the consolation game of the U-12 8v8 Championship bracket.
Next door on Field 6, Soccer Plus Academy Roughnecks (N.Y.) are up 2-1 on FPYC FCV Fury (Va.) early in the 2nd half of that same bracket's championship final.
In the U-15 Premier consolation game, FC York 97 Elite are up 3-0 and cruising in the second half versus Black Watch Premier Aberdeen. York scored a near-post header off a corner kick just before halftime, a real shot to Black watch's hopes that they are struggling to recover from.
1 p.m.  – Jimmy LaRoue writes:
We had a chance to catch up with the action in Williamsburg, and in particular, with the coach of a couple of the more intriguing teams in the tournament.
Troy Letherman coaches the Mantanuska AKFC 98 and 00 United teams, based in Wasilla, Alaska. He, the 27 players and one assistant coach faced 15 hours worth of flights to get to Richmond (Anchorage-Denver-Chicago-Richmond), and then another hour or so on the road to get to Williamsburg.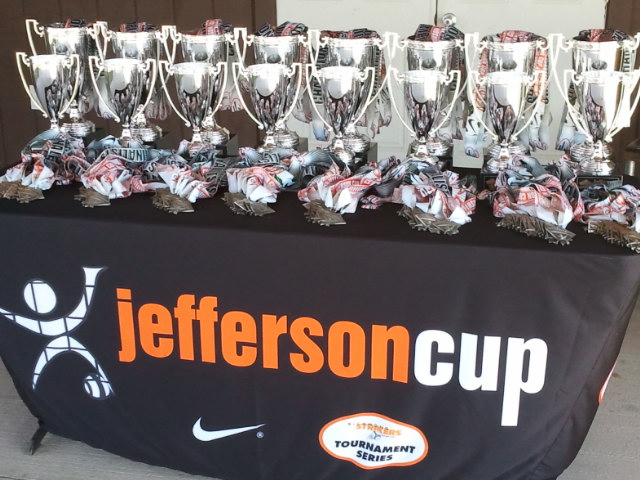 They had a chance to play tourist – the U15s visited Yorktown, while the U13s went to Ripley's Believe It Or Not Museum.
Letherman said the club has to travel to find meaningful games and has been pleased with its first foray to the East Coast and hopes to come back.
This weekend, both teams have fared well, with the U15s going 1-0-1 Saturday in the Platinum bracket, with the U13s undefeated so far at 3-0-0 and reaching the final of the Classic bracket.
Look for a longer story on this group.
12 p.m. – We have an update on some of the scores: In the U18 Championship division, FSA FC Boys Navy and Valparaiso United Futbol 95 ended tournament play winless with a 1-1 draw. Both teams arrived in Richmond from some of the farther regions in the US with FSA being from Connecticut and Valparaiso from Phoenix, Arizona. They also both will finish the Jefferson Cup 0-2-1. Both squads may have reason to gripe, however, for their own specific reasons. Valparaiso played the entire tournament without a bench, whereas FSA, at least during this game, had two goals disallowed. One such header looked like a certain goal before a late whistle negated FSA's effort.
11 a.m. – A little reading material between games for you all from Michael Willis:
Click here to read his story on refereeing at the Jefferson Cup.
10 a.m. – This, from Michael Willis:
Despite Daylight Savings Time nicking an hour of sleep from the attendees and parents at the Jefferson Cup, none of the players in attendance seem to be fazed by it. At 8 a.m. at the West Creek fields, a handful of teams still played their final games with an intensity that matched Friday's game.
One early winner and big storyline of the U17 Championship division was the Cincinnati United Cup Crew Juniors, who capped off the weekend with a 1-0 victory over Carolina Elite SA 95 premier. The victory puts them at 2-1 on the weekend, and has certainly merited an adjustment of the national rankings for their age group.
Parents on the sidelines from both teams echoed nothing but high praise for the unit, and admitted a bit of surprise about their performance during the Jefferson Cup.
9 a.m. – The final group games have kicked off and the trophies are being lined up and polished: It's championship day at Boys Weekend of the 2013 Jefferson Cup!
While Under-16, -17 and -18 divisions continue with the final of their three showcase matches, participants in younger age groups are making their final pushes for those precious spots in the championship finals, most of which take place around midday.
Most of the teams who reach that stage will be playing their fourth game in two days. It's an intense physical challenge, and one that requires careful preparation and intelligent decision-making from young players, not to mention a unique kind of mental strength.
"It's more of a battle of your will and your mentality not to give in to the tiredness than it is actually being fit," said Matt Ney, coach of the Bethesda Blue U-14 squad, who won both of their Saturday matches and are on track for a run at a trophy in the U-14 Championship bracket.
"The preparation is just as important – or probably more so – than the game itself. We give everybody nutrition information prior to the start of the season, what they should be doing prior to games, postgames, things like that," said Brad Wylde, executive director of the Charlotte Soccer Academy and coach of CSA's U-15 pre-academy team, on Saturday. "When you want to play at the highest level in the country, what you do off the field is just as important, if not more so."
Sam Mitchell, the coach of Florida U-15 side Brandon FC 97 Boys Elite, had similar thoughts. His squad won both of their Saturday games but had several players suffering from cramps by the end of the second match.
"Recovery, regeneration – the warm-up's got to be spot-on, cooldown as well," he said. "We encourage them all to get ice baths and take advantage of the hotel's facilities. Hopefully we'll be a little bit more loose tomorrow.
"I say it over and over again – I'm constantly chirping away at them," he added with a chuckle.
—